The devaluation of black lives doesn't happen overnight, nor is the process of dehumanizing those associated with blackness limited to a single ethnic group. The stereotypical representations—or omission altogether—of people of color in modern children's literature promote a Eurocentric worldview and value system that denotes nonwhiteness as inferior.
Too often, children's books are assumed to have white or animal main characters unless assigned an essentializing ethnic label such as African-American, Latino, or "diverse children's literature." Reflecting on the importance of who gets seen, when, where, and doing what in books for children has led me to conclude that children's literature represents one of the most valuable pieces of real estate in the fight against bigotry and racism in American culture.
Paul Verhaeghen and other social psychologists have used word analysis and pattern recognition to show how reading material influences the adoption of stereotypical and racist views. Other researchers have found that stereotypical word pairings such as black-poor, black-violent, white-wealthy, and white-progressive in standard American reading material for adults literally prime Americans to be racist.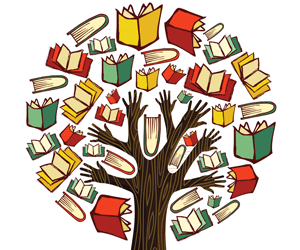 While, to my knowledge, there has been no similar analysis of stereotypical word and image pairings in children's literature, a growing number of people recognize the need for diversity in children literature. A grassroots organization, aptly named We Need Diverse Books, advocates changes in the publishing industry to produce and promote literature that reflects and honors the lives of all children. After a successful crowdfunding campaign in 2014, WNDB partnered with Scholastic to offer a special collection of diversity-themed books for young people.
As a former New York City elementary school teacher, a professional stand-up comedian, and a budding social entrepreneur, I am also working personally to inspire young black boys to identify as readers. In 2013, I founded Barbershop Books, a community-based literacy program that places child-friendly reading spaces in barbershops to increase black boys' access to and engagement with culturally relevant, age-appropriate, and gender-responsive books.
Despite these and other efforts, accurate and dignifying portrayals of the experiences and history of people of color remain an ongoing challenge in children's literature. Last month, for instance, a high-profile controversy over the depiction of slaves in a Scholastic children's book, A Birthday Cake for George Washington, led the publisher to stop its distribution.
As publishers increase the number of children's books that feature nonwhite children, they must be careful to include diverse representations of the people and groups they seek to highlight. Otherwise, they run the risk of reinforcing stereotypes and propagating racist ideology.
In response to recent debates over the lack of positive representations of nonwhite characters in children's books, far too many people echo the U.S. Supreme Court's 1896 majority opinion in Plessy v. Ferguson, which asserted that if "separation of the two races stamps the colored race with a badge of inferiority ... it is not by reason of anything found in the act, but solely because the colored race chooses to put that construction upon it."
Children's literature represents one of the most valuable pieces of real estate in the fight against bigotry and racism in American culture.
Are we to believe that stereotypical, degrading, and dehumanizing representations of nonwhite people in children's books do not communicate messages about good and bad, significance and irrelevance, superiority and inferiority?
How educators use children's books also significantly shapes students' self-perceptions and their perceptions of others. Relegating books with nonwhite main characters to diversity/ethnic book lists or social studies units created for Black History Month, National Hispanic Heritage Month, or Native American Heritage Month creates a form of implicit and de facto segregation.
As children's book author and illustrator Christopher Dean Meyers noted of children's literature in a 2014 New York Times op-ed essay, "characters of color are limited to the townships of occasional historical books that concern themselves with the legacies of civil rights and slavery but are never given a pass card to traverse the lands of adventure, curiosity, imagination, or personal growth."
No child's introduction to African-Americans in children's literature should be limited to slavery, the civil rights movement, or the countless other oppression narratives that so often characterize books about the African-American experience.
Negative and misleading depictions of nonwhite people in children's books, often under the guise of diversity or celebration, interfere with students' right to an equitable and humane education.
According to the 2015 National Assessment of Educational Progress results, 85 percent of black male 4th graders in the United States read below "proficient." Low literacy of this proportion is not merely a matter of deficient reading skills. The reading struggles of many nonwhite children, especially those living in poverty, reflect a revolt against reading experiences that omit or misrepresent their interests and culture and, in effect, diminish their self-worth.
The persistence of disproportionately low reading scores among black boys and other underserved student populations reveals a systematic failure by American society and our education system.
The societal indifference toward the struggles and disenfranchisement of nonwhite citizens didn't begin in adulthood at a voting booth, but on the colorful rugs of early-childhood classrooms during read-alouds. Children's literature, read-alouds, and the resulting discussions will continue to shape children's perceptions. The extent to which all children, especially white children, are exposed to books with diverse characters in diverse settings across diverse topics will determine, at least in part, if future generations of Americans gain a genuine appreciation of difference or languish in bigotry, racism, and white supremacy.
Publishers must publish more diverse children's books, and teacher-preparation programs must better equip educators to create engaging year-round learning experiences using diverse titles. In sum, I advocate for diversity in children's literature that affirms the humanity and culture of all children.
A version of this article appeared in the February 17, 2016 edition of Education Week as Beware the Racist Subtext Of Children's Books