After years of layoffs, Highland School District's budget finally started to stabilize last year, and Mike Sutton, the Southern Illinois district's superintendent, told his staff that they could now start planning for the future.
He might have spoken too soon. A large chunk of the 2,900-student district's budget will soon be gobbled up by the demands of a new law almost doubling the state's minimum wage in the next four years.
More than a quarter of Highland's employees, including its paraprofessionals, secretaries, and maintenance workers, make at or slightly above the state's existing minimum hourly wage of $8.25. Bumping all of their wages up to $15, as the state will require by 2025, could cost the district hundreds of thousands of dollars.
"We don't like the idea of our folks making minimum wage," Sutton said. "But we don't have the resources to raise wages at such a rapid acceleration. The impact is not just at the beginning of the pay scale. It's all the way through."
Since 2014, more than 26 states and 44 localities, including Berkeley, Calif., and Birmingham, Ala., have raised their minimum wage requirements in response to a widespread grassroots labor movement. The new hourly wage hikes, many of which go into effect next year and increase annually over the next five years, are having an outsized impact on school district's budgets.
School districts in recent decades have hired millions of low-wage workers to run after-school programs, mop hallways, cook food, drive kids to school, file paperwork, and help out overburdened teachers in the classroom.
The swelling of nonteaching staff in schools—a 700 percent increase in the last half century, according to the Thomas B. Fordham Institute—has largely been in response to higher expectations of schools, the rise in staff needed to work with English-language learners, and students with special needs and teacher shortages.
Today, those nearly 3 million support staff members' salaries and benefits make up more than a quarter of overall K-12 spending.
Bracing for Impact
No state so far has explicitly set aside extra money to compensate school districts for new, costly minimum wage requirements, a far less politically savvy move than, for example, raising teacher salaries.
But administrators who have been through the process say that in order to meet the new requirements they've had to upend their entire employees pay structure.
Other superintendents say they are having to renegotiate major contracts with substitute teachers and transportation and food service vendors.
District budget managers with already tight budgets say they have few good choices: They can go to voters and ask to raise taxes to afford the new wages; lay off classified employees or freeze hiring; or give low-wage workers the required increases and forgo other priorities such as raising teacher salaries, repairing crumbling facilities, and instituting other academic initiatives.
"We've already made all the cuts we could make to keep us out of the red and get us through lean times," Sutton said. "I don't think we will consider laying people off or not replacing staff, but this might limit our ability to hire on new positions."
Labor activists have long complained that those at the bottom of the pay scale have had to take on second and third jobs in order to afford to pay for groceries, utility bills and rent.
As the economy surged and cities gentrified, minimum wages stagnated—the federal minimum of $7.25 per hour, for example, hasn't been increased since 2009. Since 2012, service and fast food workers in the private industry began to stage massive walkouts, traffic-halting rallies, and weeks-long strikes in Chicago, New York City, and Los Angeles.
"The 'Fight for $15' movement totally reset people's expectations for what the minimum wage should be," said David Cooper, a senior analyst for the Economic Policy Institute, a think tank that advocates for higher wages.
EPI estimated recently that only 6 percent of public school employees will be affected by new, higher minimum wage requirements, though district superintendents dispute those figures. Cooper said raising wages can lead to more satisfied employees, less turnover and increased state sales and income tax revenue.
Political Reaction
The "Fight for $15" minimum wage movement is having an impact on districts' budgets akin to that of the teachers' "Red for Ed" movement that forced substantial pay increases in Arizona, Oklahoma, and West Virginia.
In some instances, school boards have joined the movement, leaping ahead of lawmakers and pledging to pay their low-wage workers living wages.
Denver's school board earlier this year passed a resolution that said that by 2023 it will pay all its 3,000 hourly employees at least $15 an hour, which is almost $4 more than the current minimum wage in Colorado. Administrators expect the wage increase to ultimately cost the district $9 million over the next four years.
In its resolution, the Denver board pointed out the cyclical nature of paying wages that leave local families impoverished and then having to pay for counselors and wraparound services to ameliorate the effects of poverty in the classroom.
"Our students and families living in poverty face unique challenges of housing instability, challenged access to mental and physical health care, and an opportunity gap that exists before even starting kindergarten," the resolution said. "These families are often forced to choose between rent and other necessities for their children."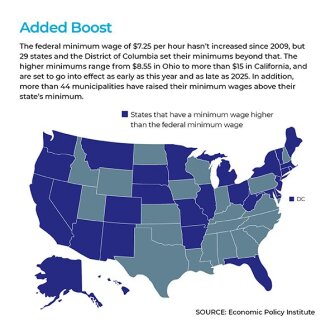 In other instances, school districts have become the last major holdout in the fight to raise minimum wages.
Earlier this year in Memphis, the local clergy, along with black civil rights and labor activists, convinced the county commission to pass an ordinance that raised the minimum wage to $15, more than double Tennessee's minimum wage.
Local hospitals, warehouses and retailers followed suit, but Shelby County Schools, one of the largest employers in the region, said raising the wages of its 700 workers who make at or below $15 will cost anywhere from $15 million to $25 million, a cost they could ill afford.
The county commission, which partly oversees the district's budget, is currently trying to find a way to pay for the raises.
"I think the desire is there," Commissioner Mark Billingsley told the local press in August. "It's just, 'How do we pay the bill?'"
Bargaining Table
Many of the new statewide wage requirements will start kicking in next school year, sending some districts and their local classified employees' unions to the bargaining table. The challenge, superintendents say, is figuring out a new pay scale that avoids having certain low-wage workers make more money than their bosses or employees with fewer qualifications or years of experience.
Superintendents and union leaders who have raised their minimum wage say the process can be contentious, take several years, and require the district to effectively upend the entire district wage schedule for several employee groups.
Bruce Abbott, the associate superintendent of Sonoma Valley Unified School District said in order to meet California's new minimum wage requirements of $15 an hour by 2022, up from the current $12, he had to collapse the district's long-standing 15-step salary ladder and provide "the bulk" of the 4,700-student district's employees raises that ranged from 6 percent to 30 percent. He decided to start the process early so that employees didn't feel like he was "nickel and diming" them, he said.
The process has been ongoing.
"Now, it's starting to be where the people who were slightly above that $15 rate are feeling like they're not as valued as they used to be," Abbott said.
But for the dozens of teacher assistants, secretaries, maintenance, and cafeteria workers that keep the district running, those 30 percent wage increases were invaluable, said Terri Hernandez, the president of the district's classified union.
Wildfires have devastated the picturesque region in recent years, and many of the outlying low-income neighborhoods have either burned to the ground or been flipped into Airbnbs.
"The minimum wage was extremely low for this area," said Hernandez, an office manager at the district's alternative high school. "The cost of living here is just so astronomically high. The average, cheap home is running for half a million. When you're paying people ... $12 an hour, where do you think you're going to live?"
A version of this article appeared in the October 30, 2019 edition of Education Week as Minimum Wage Hikes Stress Districts