Students applauded politely for the dignitaries who were visiting Jefferson Junior High School in Washington yesterday for the launch of a new grant program to promote technology-based learning. But most had never heard of John Holdren (from the White House technology office), William Wilhoyte (the instructional superintendent for D.C. public schools), or Don Knezek (executive director of the International Society for Technology in Education).
The students waited patiently, however, for each introduction, and listened quietly to remarks about the initiative, called HP Digital Assist. But they broke into wild clapping and cheering for the real celebrity, professional basketball player Antawn Jamison.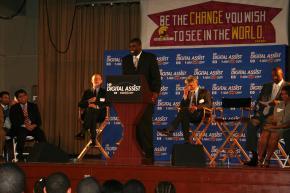 Jamison, who plays for the Washington Wizards, was there to represent the NBA, which is partnering with ISTE and Hewlett Packard to encourage students in D.C., Chicago, Dallas, Houston, Miami, and the San Francisco Bay Area to create multimedia, sports-themed projects that demonstrate their math, science, and technology skills.
The best presentations from each region will be selected in December, with the winners earning HP products for their classrooms and NBA tickets and merchandise.
Once they hone their technology skills, students at Jefferson are planning on creating photo essays and Web sites, as well as producing videos, all of which will require them to build their math and technology proficiency, according to teacher Taiwanna Anthony.
"We want them to get a broad ranger of technology skills and utilize math and science concepts and see how they relate to each other across content areas," said Anthony.
I'm not sure the students see those kinds of content-area lessons as the real benefits of the program. It was clear that the basketball connection was the exciting part for them. A cynic might question whether the HP and NBA sponsorships are all about the potential for learning, given the inherent public relations potential of such a program, but Anthony and others say that linking learning to something that students are passionate about can engage them more deeply in the subject matter.
Holdren pointed to President Obama's combined passions for education, technology, and basketball as evidence of the president's support for such approaches.
"I can't think of a better way for students to learn math and science by engaging them, by making it fun, linking it to technology, and linking it to basketball," said Holdren.
Photo: Antawn Jamison, center, at the launch of HP Digital Assist program at Jefferson Junior High School in Washington. Photo by Kathleen Kennedy Manzo/Education Week
A version of this news article first appeared in the Digital Education blog.