Sen. Barack Obama wants to start a new program supporting an innovative-schools fund that his campaign says would allow districts to create "portfolios" of schools modeled after existing success stories.
The proposal, released in a summary Sept. 9 when the Democratic presidential nominee gave a speech on education in Riverside, Ohio, sounds similar to a bill he has introduced twice since entering the U.S. Senate in 2005.
But the Obama campaign's summary omits one detail of the legislative plan: The bill would require participating districts to experiment with linking teacher pay with students' academic growth.
The omission highlights the difference in how Sen. Obama has proposed experimenting with teacher pay as a legislator and as a candidate.
The bill introduced by the Illinois Democrat would open the door for participating districts to design merit-pay programs without the input of teachers' unions. But throughout his candidacy for the presidency, Sen. Obama has said he wants such programs to be negotiated through collective bargaining.
With such assurances, teachers' union leaders say that they wholeheartedly endorse his candidacy and are mobilizing their members to vote for him.
"He says it ought to be done with teachers, not to them," Dennis Van Roekel, the president of the 3.2 million-member National Education Association, said, referring to such pay plans. The NEA endorsed Sen. Obama for president in July.
"Everyone's looking for where Senator Obama diverges from the labor unions," said Randi Weingarten, the president of the 1.4 million-member American Federation of Teachers, which endorsed Sen. Hillary Rodham Clinton of New York in the primaries but has since thrown its support to Sen. Obama.
Such differences are "in fine print," Ms. Weingarten added. "To me, the more important piece is the [senator's] tone and the willingness to see where the common ground is."
Sensitive Topic
In July 2007, seven Democratic presidential aspirants addressed the NEA's annual convention in Philadelphia. Sen. Obama was the only one to suggest paying teachers based on the achievement of their students.
"I do think that there should be a way for us to work with the NEA, with teachers' unions, to think about: Are there ways of measuring success that help determine how teachers are compensated?" Sen. Obama told the more than 9,000 delegates to the union's Representative Assembly.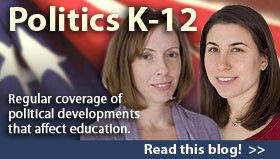 "What I'm not willing to do is impose that on teachers," he added. "I want to work with teachers."
Although merit pay is not popular among union members, Sen. Obama's remarks on the topic didn't draw a noticeable reaction from the NEA members.
This year, in accepting the NEA's endorsement for the fall campaign, Sen. Obama again brought up the topic while speaking to the union's convention in Washington via satellite. Some audience members booed.
"I know this wasn't necessarily the most popular part of my speech last year," the senator said
Sen. Obama repeated that message a week later to AFT members, who did not voice any objections.
The teachers' unions usually oppose proposals that diverge from pay scales that set salaries based on teachers' experience levels and the degrees they have earned, education observers say.
The unions' goal is "to protect everybody rather than empower a few," said Bruce S. Cooper, a professor of educational administration, policy, and urban education at Fordham University's graduate school of education, in New York City. "It makes it very hard to innovate."
In Opposition
Sen. Obama found out that when the NEA opposed his Innovation Districts for School Improvement Act. He introduced the bill on the day the 110th Congress convened in 2007—the day lawmakers introduce the bills they consider their top priorities.
The bill would authorize Congress to spend up to $1.5 billion a year to finance 20 "innovation districts." To participate in the program, a district would have to establish a testing system to track students' academic progress in grades 1-12.
Participating districts also would have to "evaluate and reward teacher effectiveness" and could use students' academic growth as one of the measures in setting those rewards, the bill says. Districts would have to design those systems "by working with unions and other community stakeholders," it adds.
Elsewhere, the bill says that "increased compensation may be established in a collective-bargaining agreement." But the measure wouldn't require that additional pay be negotiated with unions.
The NEA included Sen. Obama's bill on a list of 18 Senate bills it would oppose if they were considered as part of a reauthorization of the No Child Left Behind Act. The AFT did not take a position on Sen. Obama's measure.
Of those 18 NCLB-related bills opposed by the NEA, Sen. Obama's was the only one sponsored by a Democrat.
Congress never made significant progress on revising the NCLB law, which was due for renewal last year. Work on it now is not expected until 2009 or later.
It's rare for the NEA to formally oppose a bill by a prominent Democrat with presidential aspirations, said Mike Antonucci, the director of the Education Intelligence Agency, an online newsletter and blog that reports on, and criticizes, teachers'-union activities.
"It seems strange to me that they singled this one out," Mr. Antonucci said of the NEA's stance on the bill. "Most of [NEA leaders] assumed [in 2007] that Hillary [Clinton] would be the nominee and they would endorse her very early on."
The NEA remained neutral throughout the primary season.
Making Peace
Although the NEA formally opposed the innovation-districts bill, the union has resolved its differences with Sen. Obama, said Joel Packer, the union's director of education policy and practice.
"That was 21 months ago. We've had lots of discussions with him," said Mr. Packer, who noted that the NEA has supported other bills of Sen. Obama's, including ones to improve middle schools and to establish teacher-residency programs. The latter became law this summer as part of the reauthorization of the Higher Education Act. ("Congress Approves New HEA," Aug. 13, 2008.)
"On the issue of performance pay, we're on the same page," said Mr. Packer.
By contrast, Sen. John McCain of Arizona, the Republican nominee, wouldn't give unions any voice in crafting alternative teacher-pay plans, Mr. Packer added.
Among his education policy proposals, Sen. McCain would dedicate 60 percent of the money from the NCLB law's $2.9 billion program for teacher quality to providing "incentive bonuses" to recruit teachers who work in hard-to-staff schools and in subjects suffering shortages, such as mathematics and science. Principals could use the money to reward teachers who helped improve achievement.
Ms. Weingarten said that although the AFT doesn't always agree with Sen. Obama, the Democrat is much closer to addressing the concerns of her union's members than Sen. McCain is.
"Barack Obama actually takes a huge stand for common sense and for [school] reforms that work in the face of McCain's demonizing of teachers and their unions," she said.
A version of this article appeared in the September 24, 2008 edition of Education Week as Obama Slips Merit Pay Into Larger Plan on Schools