The No Child Left Behind Act has been the subject of intense debate in school board meetings, state legislatures, and Washington policy circles.
Everywhere, it seems, but the presidential campaign—the winner of which may have the most important voice in reshaping the federal role in K-12 education.
In their education proposals, Democratic Sen. Barack Obama and Republican Sen. John McCain have outlined specific plans to address provisions of the almost 7-year-old federal education law. Both would refocus the teacher-quality section to bolster the recruitment of new teachers and to experiment with new forms of teacher pay. Sen. McCain promises to make school choice and tutoring available to students in struggling schools sooner than the current law allows.
But neither candidate has said what he would do to address significant questions about the NCLB law's future, such as whether to keep its goal of universal student proficiency in reading and mathematics by the end of the 2013-14 school year, how to increase the rigor of states' academic standards, and how to improve the interventions in schools failing to meet achievement goals.
Such questions are central to the debate over the future of the NCLB law, which passed Congress in 2001 as the latest reauthorization of the Elementary and Secondary Education Act of 1965 and governs $24.5 billion a year in federal spending on K-12 programs.
The presidential nominees haven't discussed such issues because voters aren't demanding it. Instead, the candidates are responding to sentiment for answers on the economy, in particular, as well as foreign policy and other matters. This week, the candidates altered their campaign schedules to meet with President Bush about what the federal government should do to help shore up leading financial institutions and prevent a worsening of the nation's economic situation.
"Some very big, very bad events have riveted the public's attention on these immediate pocketbook issues," said Amy Wilkins, the vice president of government relations and communications for the Education Trust, a Washington group that advocates on behalf of disadvantaged children and is a strong supporter of the NCLB law. "Candidates only get specific when they're pushed to be specific."
Not Much to Say
The absence of detailed debate about education has been noteworthy in the presidential campaign, dating back to the long preprimary season last year. ("The Next Education President?," Nov. 7, 2007.)
That hasn't changed since Sen. McCain and Sen. Obama accepted the nominations of their parties.
John McCain, answering a question at a Nov. 17 town meeting in North Haverhill, N.H.
"No Child Left Behind was a good beginning, in my view. No Child Left Behind was the first time we had the chance to compare our kids' performance in Arizona with that of New Hampshire. … But it was a beginning. It was only a beginning.
We now, after a number of years of examination and practice with it, know there's some things that badly need fixing. I see politicians stand up and say: 'Scrap the whole thing.' My friends, if you scrap the whole thing, then you're back at square one again. … There's a whole lot of things we need to fix. We didn't probably consider enough the language situation that prevails in many school districts, as you know. We didn't probably take into sufficient consideration the special education needs. … To say, and some of my Republican colleagues are saying 'well, scrap the whole thing.' Then are we going to go back to the status quo before?"
Barack Obama in a speech Sept. 9 in Riverside, Ohio
"Of course, we also have to fix the broken promises of No Child Left Behind. Now, I believe that the goals of this law were the right ones. Making a promise to educate every child with an excellent teacher is right. Closing the achievement gap that exists in too many cities and rural areas is right. More accountability is right. Higher standards are right.
But I'll tell you what's wrong with No Child Left Behind. Forcing our teachers, our principals, and our schools to accomplish all of this without the resources they need is wrong. Promising high-quality teachers in every classroom and then leaving the support and the pay for those teachers behind is wrong. Labeling a school and its students as failures one day and then throwing your hands up and walking away from them the next is wrong.
And by the way—don't tell us that the only way to teach a child is to spend most of the year preparing him to fill in a few bubbles on a standardized test. Let's finally help our teachers and principals develop a curriculum and assessments that teach our kids to become more than just good test-takers. We need assessments that can improve achievement by including the kinds of research, scientific investigation, and problem solving that our children will need to compete in a 21s century knowledge economy."
At the Republican National Convention in St. Paul, Minn., Sen. McCain called education the "civil rights issue of this century" and promised to address teacher quality. His most extensive discussion of education focused on school choice. ("Palin Takes Measured Tack On Alaska's School Issues," Sept. 10, 2008.)
At the Democratic National Convention in Denver, Sen. Obama said he would recruit "an army of new teachers," while also increasing teacher pay and holding teachers accountable for improving student achievement. ("Top-Notch Education 'A Moral Obligation,' Obama Tells Throng," Sept. 3, 2008.)
Neither mentioned the No Child Left Behind law by name.
In the first week of campaigning after the conventions, Sen. Obama discussed the law in a speech in Riverside, Ohio, near Dayton. The Illinois Democrat repeated positions he had taken during the primaries, calling the law's goals "the right ones." He also criticized its reliance on multiple-choice tests to make accountability decisions and said it has been underfunded.
In promoting the speech, however, the Obama campaign focused on the candidate's proposal to double the amount of money the federal government spends on charter schools.
In July, Sen. McCain didn't mention the NCLB law by name in his most significant education speech of the campaign, given to the National Association for the Advancement of Colored People's annual meeting in Cincinnati. The Arizona Republican did, though, discuss his proposals for choice and for teachers that clearly are designed to come about as part of the law's reauthorization.
In response to a question from the audience, Sen. McCain said he would "fully fund" the law. Congressional Democrats say the law was $14.8 billion short of its authorized amount in fiscal 2008, which ended Sept. 30. But Sen. McCain said its current funding level is adequate.
On his campaign Web site, Sen. McCain says he would "build on the lessons of No Child Left Behind," particularly its emphasis on standards and accountability. The statement is similar to what he said at a town hall meeting in New Hampshire late last year.
But the Web site doesn't explain what specific changes Sen. McCain believes need to be made.
The lack of detail about the NCLB law reflects, in part, the candidates' awareness of polls showing the public isn't asking to know more about their positions on the topic, said Arthur J. Rothkopf, a senior vice president of the U.S. Chamber of Commerce.
But it's also because "NCLB is an unpopular brand ... in a whole lot of places for a whole lot of reasons," said Mr. Rothkopf, who supports the law's accountability rules. "No one wants to carry the banner."
Under the law, schools face a range of corrective measures if they fail to make adequate yearly progress toward goals for student achievement. Critics say the law has overemphasized testing, squeezed time for some subjects, and unfairly identified some schools as needing improvement, among other concerns.
And despite the broad, bipartisan support the measure won in Congress, parts of the coaltions that constitute the two major political parties disagree with its basic tenets.
'Hot Potato'
Many conservative Republicans say the law gives Washington too much power over local decisions on education. Meanwhile, the national teachers' unions, both of which have endorsed Sen. Obama, contend that it is an unfunded federal mandate and that its accountability rules focus too narrowly on test scores. But sections of each party still embrace the law.
"It's a political hot potato in the sense that it is divisive in each of the parties," said Monty Neill, the deputy director of the National Center for Fair & Open Testing, or FairTest, a Cambridge, Mass.-based group that opposes the NCLB law and other efforts to base education decisions on test results.
Coming Debates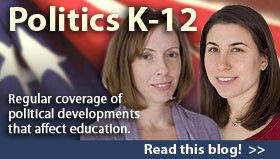 The winner of the Nov. 4 contest will need to deal with the law. The next president will enter office as the law—the centerpiece of federal K-12 policy—awaits reauthorization, just as President Bush and President Clinton confronted pending renewals of previous versions of the Elementary and Secondary Education Act.
In 1993, President Clinton proposed revising the esea to require states to set academic standards defining what all students should know and be able to do, and to make the states hold schools accountable for the achievement of disadvantaged students served under the law's Title I.
He also sought periodic testing to measure the academic progress of students and required states to intervene in schools failing to make academic progress. Congress incorporated those proposals in the 1994 law it passed.
Under President Bush, Congress passed the NCLB law in 2001 to require annual testing in reading and mathematics in grades 3-8 and once in high school and to hold schools accountable for ensuring all students are proficient in reading and math by the end of 2013-14.
Both of those most recent versions of the esea included sections dedicated to improving teacher quality, promoting safe and drug-free schools, and authorizing other programs. The $13.9 billion Title I program for disadvantaged students receives more than half the annual appropriations under the law.
When Mr. Clinton and Mr. Bush first campaigned for the presidency, in 1992 and 2000, each outlined his K-12 plans to address how he would advance the agenda of setting academic standards and holding schools accountable for students' performance in meeting them.
In 2008, neither Sen. McCain nor Sen. Obama has such specific ideas for changing standards and accountability, said Mr. Neill.
That lack could give Congress a greater role in changing the law than it had in 2001. "Perhaps it will be more of a free-for-all," Mr. Neill said.
For example, the issue of whether to set some form of national academic standards is likely to be a major part of the debate over the NCLB law's future. But the candidates don't have positions on the issue—or the thorny issues that topic is bound to raise.
"More and more people are talking about national standards," said Cynthia G. Brown, the director of education policy at the Center for American Progress, a Washington think tank with ties to the Obama campaign.
A version of this article appeared in the October 01, 2008 edition of Education Week as NCLB Debate at the Sidelines