Maybe I am an incurable romantic when it comes to a unifying and inclusive vision of public education. I confess I sometimes grow weary of the seemingly endless policy debates about issues that seem really important to adults but have little bearing on the lives of children.
But just as I am about to throw in the towel, more often than not I pass a big yellow school bus.
When Frank Cyr organized a 1939 conference at Teachers College in New York City to establish national standards for school bus construction, he and his colleagues determined that yellow was the most visible color. It didn't take long, however, before yellow became more than a serviceable color: "National School Bus Glossy Yellow" (the official paint choice for school buses in the United States) became our collective symbol of hope and optimism.
But that optimism is in jeopardy today. I recently completed a study of five American high schools: an elite private school, an upper-middle-class school, a middle-class school, a working-class school, and a school located in an area of concentrated poverty.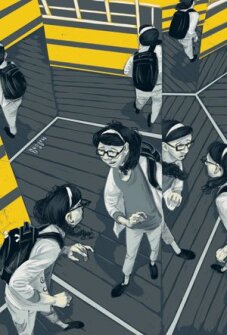 While I knew educational and social mobility is essentially frozen, I didn't know how thoroughly social class is baked into schools. Where a student goes to school, and with whom, determines what he or she will study, with whom he or she will study, what colleges he or she will attend, and his or her life chances.
Even more shocking, where a student goes to high school determines the quantity and quality of the food he or she receives during the school day, his or her emotional and physical safety, his or her ability to find a quiet place to study, and whether he or she has access to clean, sanitary school restrooms.
While many factors contribute to how high schools reproduce our class system, four stand out: residential class and race segregation, private schools for the wealthy, the education and credentials of a school's faculty members, and the formation of collective social-class memory. The first three are obvious and apparent. The fourth factor is subtler and was the primary focus of my study.
To understand social and educational reproduction, we need a social/psychological theory of how class relations are internalized. My hypothesis was that high schools are social and emotional hothouses where students create not only personal memories, but collective experiences which, when internalized, infuse them with the values, dispositions, and beliefs about their most likely social-class destinations.
This is accomplished through what I refer to as social-class rites of passage. A rite of passage is a ceremony marking a significant transition in a group or individual's life. I believe high schools structure students' rites of passage through five school characteristics: aesthetics and architecture, authority relations, pedagogy and curriculum, definitions of self, and most likely occupational destinations.
These rites of passage are what I call the deep curriculum of high schools. The higher the social-class backgrounds of students, the greater likelihood they will feel confident of their ability to take charge of their lives, and the more likely they will feel empowered.
The deep curriculum is not a soft variable or metaphor; it is real, hard-wired, and relentless. It determines who drops out and who doesn't, who develops the cognitive skills needed for success today, who goes to college, and who graduates from college, and, ultimately, who has a shot at the American dream, and who does not.
As I was completing my study, I talked with a teacher who worked at a school in a community of concentrated poverty. He mentioned that the mayor had recently given a speech at the school suggesting his policies were improving public education in the city.
The teacher had a slightly ironic smile as he recalled the visit: "It was kind of funny. A few days before the mayor gave his speech, they painted the front of the school—but left the rest of it unpainted. I guess impressions matter in politics. Too bad they didn't finish the job for the kids."
History has a way of repeating itself. As legend has it, Grigory Potemkin, a minister of Catherine the Great, created whole villages of fake facades to impress the queen on her visits to war-torn Crimea in 1787. The expression "Potemkin Village" entered into our vocabulary to signify an impressive front created to hide an undesirable fact.
Many of today's educational reforms are Potemkin Villages. They look real, but in reality there is very little behind them but smoke and mirrors.
Which brings me back to the yellow school bus. There are approximately 480,000 of them on the road, serving 25 million students every day. By law, we stop our cars if we are behind or on the other side of the road when a school bus stops. That's a lot of stops we make every day to ensure our children are safe and educated. We stop not just for our own children, but also for our neighbors' children and our neighbors' neighbors' children. Rich or poor. No matter the color of their skin. No matter their academic ability. That's what public education means.
What can we do to recapture the spirit of community and shared responsibility that is symbolized by the yellow school bus? I believe we need a grass-roots theory of educational change. Here are four issues to consider on the road to democratize public education:
• It is astounding to observers from other countries that we spend more on the education of affluent students than poor children. We must have finance-equity formulas that ensure that schools serving working-class and poor children have enough money to feed their students, provide up-to-date books and technology, and have available the academic and human services students need.
• Today, our curriculum is exclusionary and class-based. Educational visionaries such as James A. Banks at the University of Washington have developed multicultural curriculum; I suggest we develop multi-class curriculum or, more precisely, trans-class curriculum—meaning a curriculum that cuts across social classes and draws connections between them. A trans-class curriculum should include at the very least cross-school visitations, shared field trips, and teacher exchanges.
• It's time to come to our senses and place education back into the hands of the only people who actually know how students learn: teachers. They have their ears to the educational ground and know the students.
• Today's testing regime perpetuates class divisions. Supposedly based on merit, standardized tests are, in reality, tests of who is in possession of the most cultural capital, which happens to be based on social class. Finland did not become the No. 1 school system in the world because it spent precious resources paying corporations to manufacture tests that are intellectually questionable and perpetuate these class divisions. Finland became No. 1 by liberating teacher creativity.
Admittedly, these are policy baby steps. But it's time to get back to common sense and basic decency. Time to get on the yellow bus to the American future.
A version of this article appeared in the January 08, 2014 edition of Education Week as Looking for Equity on the Yellow School Bus