John McCain and Barack Obama said last week that they would both support efforts to bolster community service if they win the White House. But they disagreed on just how much of a role the federal government should have in encouraging citizens—including young people—to get involved.
Speaking at a forum on the topic at Columbia University, Sen. McCain said that while the government can encourage community service, some of the best community work is done by non-profit organizations.
"The essence of volunteerism starts at the grassroots level, does not start necessarily at the federal-government level," the Arizona Republican said. "So let's make sure we maintain the balance between federal involvement and encouragement of volunteerism and service to the nation, but also, let's not in any way stifle what already is going on and is very, very successful in America."
Sen. Obama, who has released a $3.5 billion plan to bolster community-service efforts, said that government can take a lead role in expanding opportunities for citizens to get involved.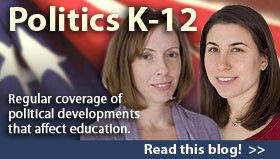 "There are going to be a whole range of ways that we can do it," the Illinois Democrat said. "Some of that is going to cost money, but mostly it requires government providing these opportunities and these avenues and a president who is willing to inspire people to get involved and get outside of themselves."
As an example of how he would use the presidency to encourage service, Sen. Obama touted his plan to help universities partner with school districts to provide stronger field experiences for prospective teachers who agree to serve in high-need schools.
"I've said we desperately need teachers, math and science teachers in particular," he said. "That's something that we should be willing to pay for, so that people who want to serve anyway at least can afford it."
Eye on Civics Education
In addition to the teacher-training proposal, Sen. Obama has a broad plan to bolster community-service efforts, including significantly expanding the federal AmeriCorps program to 250,000 slots from 75,000.
He would also like to create a "Classroom Corps" that would enable engineers and scientists to help teachers develop curricula and tutor students.
Sen. McCain's own community-service plan calls for using AmeriCorps and SeniorCorps volunteers to help address high dropout rates in some high schools by serving as tutors and mentors. And he would like to improve civics education in schools by allowing volunteers to teach or tutor the subject with a teaching-certification equivalent.
Sen. McCain said the popularity of Teach For America shows that young people have an appetite for community service. The New York City-based nonprofit group places recent college graduates in high-need schools. Sen. McCain called the program "probably one of the lead organizations in America today."
A version of this article appeared in the September 17, 2008 edition of Education Week as Candidates Cite Teaching as an Example of Service