Editor's Note: Lately, I have been seeing an increase in educators asking for help in connecting their classrooms to others around the world. So I asked Pernille Ripp, a seventh grade English language arts teacher in Oregon, Wisconsin, and author of the new book, Reimagining Literacy Through Global Collaboration, to share her story of how she connects her students to the world.
The best ideas often start with silence. At least, that's how it is for me. A quiet moment in my classroom on the final day of school made me realize that I needed to change as a teacher. A quiet moment with my own thoughts made me start a blog, and a quiet moment in the car on a warm summer's eve is what started the Global Read Aloud. Who knew? It turns out that sometimes our best ideas just need silence to be heard.
Creating My Own Global Project
I never intended to create a project that would connect millions of students. I knew that I had to bring the world in, that I had to connect my own class of 26 students with others so that they could understand not just each other's differences, but the similarities between us all. I knew that, in this ever-expanding world, I needed to help my students realize the immense power of the technology they were using.
So seven years ago I asked the world if anyone would be interested in doing a global read aloud with our respective students? I proposed we pick the same book to read aloud in our classrooms, follow a schedule so no class gets ahead, and then use whatever tools we have to connect as we worked our way through the book. Would anyone be interested?
Yes! Three hundred students around the world took part. And since then, it has only grown. More than one million students participated in the Global Read Aloud in 2017. We use whatever tools we have access to—Skype, Twitter, Padlet, blogging, and even mail—and now we are connected across six different continents.
Use What You Already Know
Within our literacy curriculum, and yours, lies one of the largest opportunities we can give students to connect with others, to explore the world, and to understand how their work can impact others. As global educators, we often speak of how this generation of children must adapt to a rapidly changing world, of how we are preparing children for futures that have not even been imagined yet. We can accomplish much of this through our literacy explorations—we can bring the world to our students through our read alouds, projects, and collaborations. My students now know that the global world is within our reach, that we are not alone when we ask our questions. They know that when they post their work online, others will be impacted by it. They know that there is no sense in fearing others, and that technology can help us understand the things we may fear.
So as you ponder your own journey toward more connected teaching, one that expands beyond the walls of your school and perhaps even your own own imagination, do not be afraid of the journey ahead. While it may sound like a lot of work, there are ways to keep it not only meaningful, but also manageable.
Getting Started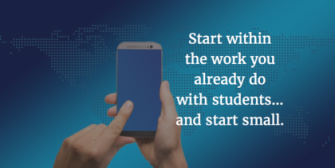 Start within the work you already do with students: find a unit, a lesson, or a project that would benefit from global collaboration. Would it be changed if an audience were added and that audience provided feedback in some way? Could your students collaborate with others? Could their work somehow be shared to have an impact on others? Could they in turn be impacted by others? When you plan for global collaboration but use the curriculum you already know, it works as a natural extension of what is already in place. And start small. Seek out pre-existing collaborative projects and dip your toes in.
See the difference that it makes with the learning process in your community. This will help you find the courage to do more and to try other things. Seven years ago, I asked the world my question and could never have imagined how the world would answer. Now I cannot imagine teaching without the help of others, without the significant impact global collaboration has had on me, and the very students I get to teach.
Other resources for finding global connections can be found here.
Connect with Pernille and Heather on Twitter.
Image courtesy of Pablo.com.
The opinions expressed in Global Learning are strictly those of the author(s) and do not reflect the opinions or endorsement of Editorial Projects in Education, or any of its publications.