The majority of school buildings in the United States will remain closed for the rest of the school year as the coronavirus continues to spread. But school leaders have already begun to imagine and plan for the fall when students will return for the new school year in a world still struggling with the pandemic. Here's a look at how other countries have addressed the challenges of reopening schools in this new reality.
BELARUS
CHINA
FRANCE
GERMANY
MADAGASCAR
NORWAY
VIETNAM
One of the exceptions to school closures in the U.S. is MONTANA, where schools' opening status varies by district. Willow Creek School, located 40 miles outside Bozeman, reopened this week to finish out the final two and a half weeks of the school year. School principal Bonnie Lower, also the district's superintendent, greeted students at the door, where she checked their temperatures.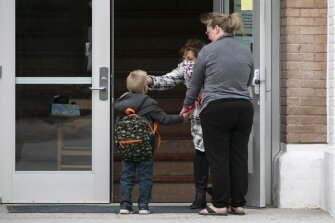 A version of this article first appeared in the Full Frame blog.