Winchester, Va.
Are all politics local? The adage fits here in Michael Siraguse's two AP Government classes, where students are peppering their teacher with post-midterm questions about the city council race—not the so-called "blue wave."
They're trying to make sense of election data from the Virginia Department of Elections from the governor's race on down, handily pulled up on Siraguse's laptop at John Handley High school. This contest in particular catches their attention: In the race for the council's Fourth Ward seat, Judy McKiernan—the wife of a teacher down the hall from Siraguse—eked out a win by just three votes. And students have a lot of questions about what happens next.
What happens if the two outstanding provisional ballots close the gap even further? Will the race trigger a recount? What will McKiernan do to prepare for assuming office?
There probably will be a recount since the state will pay for it, Siraguse points out. And if McKiernan is indeed the winner, she'll definitely get an orientation to the job from other city officials.
Midterm elections stand to reshape local politics perhaps to an even greater degree than national ones, including in this city of 28,000 people. And as this example indicates, local connections—including those of students and teachers—can make the difference between a win and a loss.
And yet, civics education experts say, Siraguse's focus on the midterms is probably not all that common across the country.
"We have a sort of educational and societal culture with an obsession with presidential elections," said Joseph Kahne, a professor of education policy and politics at the University of California, Riverside. "I think it's a big missed opportunity, especially with respect to engaging young people. They're much more likely to begin to connect with and see direct feedback on things that happen locally."
Catching a 'Civic Moment'
The challenges to teaching a good midterm election lesson are legion. Voter participation rates tend to fall drastically in the midterms, compared to the general election, and students tend come in with even less background knowledge about the contests and why they matter than they do about presidential elections.
And inevitably, teachers say, timing of the election can be awkward.
"The trouble with teaching about voting is that it comes so quick in the school year. You've just got them for a month and a half, and then you're in the middle of this civic moment," said Kathleen Argus, a teacher at the Institute of Civics, a public high school in Syracuse, N.Y.
Even the AP Government course outline saves elections and political culture until the end of the course, which means that teachers have to rearrange the order of the units if they want to focus on the elections, or otherwise work election themes into their lessons.
That's what Michael Siraguse has done in preparation for yesterday's lesson.
See Also:
How History Class Divides Us
For the past month, he's focused on familiarizing students with the broad outlines of political ideologies—conservative and liberal positions on free markets, social issues, welfare, and the military. Then he's used daily news stories on local and state elections to get students thinking about how candidates and their platforms line up with some of the ideologies students are talking about.
The students have also taken a short online quiz that purportedly gives them a sense of where they fall on the ideological spectrum. (Those results are private, but students are free to discuss them.)
There's evidence, civics education officials affirm, that many young people approaching voting age are only starting to figure out where they stand politically. Siraguse hopes that the ongoing discussions in his course will, in effect, give students the tools to start linking the political ideologies to the themes that will come later in the course: the crafting of the federal budget, political parties, and, of course, elections.
"Some students know exactly what they believe and why they believe it. Others are extraordinarily confused, and those are the ones I can reach out to and connect with," he said. "They are starting to push their own intellectual boundaries, and figure out where they fit in."
Open Discussions
Surprisingly, in the midterm election's aftermath, students here have less to say about Donald Trump and the overall political climate. Most, though, give Siraguse high marks for establishing a classroom where they feel free to share divergent opinions.
If students are still trying to pinpoint exactly how they prioritize the ideological values they've been discussing, the midterms have definitely illuminated a phenomenon nearly all have already grown weary of: political advertising, especially attack ads.
Here in Winchester, those appeared mainly on the U.S. House of Representatives race for Virginia's 10th District, which was seen as a national bellwether because Barbara Comstock, the Republican incumbent, shared Trump's views on the economy and immigration. (She was defeated by Democrat Jennifer Wexton, turning the district blue for the first time in nearly four decades.)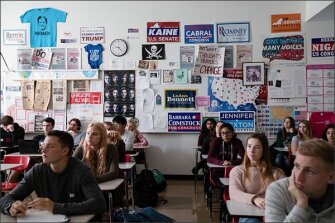 The contest also generated eye-popping campaign donations on either side, much of it plowed into social media ads that students encountered every time they logged onto YouTube and Instagram.
"It's like a high school girl fight—that's what the ads are like. They're awful," said senior Ella Ingham. "There was nothing really positive out there, and so little information I couldn't form an opinion about anything."
There's some burgeoning cynicism, too, even among these young citizens.
"It's almost like watching a reality TV show. Each of the parties are romanticized into something they're not," said Nick Mauck. "I feel like people are putting politicians above themselves, but it should be politicians who put us above them."
Voter Adrenaline
Does hitting the importance of the midterms hard matter for voting? Siraguse's own anecdotal data suggests it is. He's helped register about 1,000 of his students over the past decade. Many of them credit his teaching, too.
"He really drives the point home and gets really into detail and depth, where other teachers just read from the textbook," said Jaime Trejo-Angeles, one of four first-time voters in Siraguse's classes.
Youths nationwide are showing similar signs of enthusiasm. The Education Week Research Center's own nationally representative poll, conducted in September with 18- and 19-year-olds who were potential first-time voters, found that 60 percent of them planned to vote this week. And early results from an ABC News exit poll on Tuesday suggest that many young voters followed through. It projected that young people ages 18 to 29 made up 13 percent of the overall electorate this midterm, up from 11 percent in 2014.
So, was the experience of ticking the box anti-climatic for Trejo-Angeles?
"No way. I had a sense of adrenaline just walking into there," he said.
After the work of debriefing all the midterm election data, students are happy to move on to their daily discussion of other news articles. Only it's a bit of bait-and-switch, because one of the first articles Siraguse puts up is an analysis of whom the Democrats will run against Trump in 2020. (The early favorite, it appears, is Texas' Beto O'Rourke, who lost his bid this week to unseat Republican Senator Ted Cruz.)
Students groan a little, and Siraguse smiles.
"Literally today we have to start talking about the 2020 election. We don't even get a day to enjoy election results … we have to start thinking about 2020," he says, and then adds, teasingly: "Please don't vote for Kanye."
Coverage of civics education and youth voters is supported in part by the Education Writers Association Reporting Fellowship Program.
A version of this article appeared in the November 14, 2018 edition of Education Week as Students Mine Local Angles in Post-Election Day Lesson