Mavis Jackson is trolling the polished hallway floors in her sensible shoes. As the college counselor at a small, high-poverty high school, she has much to do if she is going to get all these students into college. So she milks every moment.
"Are you registered for the SAT?" Jackson calls out to one young man between class periods, pointing at him for emphasis. "You need to sign up for the college tours," she tells a young woman in a classroom down the hall.
As the national drumbeat for college readiness grows louder, policymakers and scholars trumpet the potent role that a school's "college-going culture" can play in leading more students to choose postsecondary education. But it's places like this hard-luck corner of urban America that have miles to go if all students are to have a shot at further learning after high school.
Here's what the work of building a college-going culture looks like on the ground: It's Jackson "talking college" with freshmen practically the minute they arrive here at Baltimore's Vivien T. Thomas Medical Arts Academy. "It's about putting the fire in their bellies, the idea in their heads," she says.
It's a guidance counselor helping to make sure students sign up for the SAT, and advisory teachers supporting the college-planning process in their classes. It's the school registrar making sure all i's are dotted and t's are crossed as seniors' transcripts go to colleges. It's a principal who drives the college vision around the clock. It's letters of college acceptance pasted up in the hallways, teachers wearing T-shirts from their alma maters, students overhearing snippets of classmates' college plans as the class bell rings.
Breathing the Air
One recent week, Jackson sat down with seniors one at a time to review their financial-aid-award letters and figure out whether they needed to ask colleges for more money. She visited two English classes to talk with juniors about the college fairs they had attended, and kick-starts their thinking about the college essays they would begin writing in class the next week. She planned financial-aid workshops for parents, and showed juniors how to search for scholarships.
The point is to make a college-going culture like air: something students are immersed in, something they're breathing, so that postsecondary education becomes an inevitable ticket to a better future.
"It's a mentality, that every day they are hearing about and thinking about what happens after high school, that 'I am going to college,' " says Starletta Jackson, the founding principal of the 5-year-old Vivien T. Thomas Academy.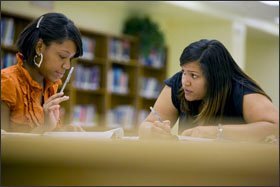 That air permeates more-advantaged homes where adults have some higher education, so those children breathe it from an early age. But those are not the homes most Vivien T. Thomas students come from. So the need to nurture a presumption of college in such schools is even greater, especially because most guidance counselors are stretched too thin to provide the kind of intensive college help that disadvantaged students need.
That's where the CollegeBound Foundation comes in. Like hundreds of similar programs that have cropped up nationwide in recent years, the 21-year-old Baltimore-based group sends college advisers into schools to boost college consciousness and college-going rates.
Principals at 28 of the city's 34 regular public high schools have invited the foundation to set up shop, agreeing to pay $54,000 to cover the salary and benefits of a "specialist" such as Mavis Jackson to work on-site full time. (Guidance counselors typically cost a school about $80,000, foundation officials said.) CollegeBound foots the bill for the rest of the program's services, which include college fairs, local and overnight college trips, a 13-module college-advising curriculum, and a project that tracks and supports some CollegeBound-advised students into college.
The program also supports fee waivers for college applications and entrance exams, and provides scholarships and grants to help Baltimore students attend college. In 2007-08, it gave $800,000 in grants and scholarships to 528 students.
The foundation recently began a "FAFSA blitz" program, which pairs students with experts to help in filling out the complicated Free Application for Federal Student Aid form. Research has shown that completing the form can be a big stumbling block in the college-application process. In 2007, 488 CollegeBound students in Baltimore schools completed the FAFSA; after the 2008 blitz, 1,421 had done so. By the end of the 2009 blitz, the number of annual FAFSA completions was up to 2,007.
Starletta Jackson, the principal, who is no relation to Mavis Jackson, says her two guidance counselors had their hands full last year trying to meet the academic, social, and emotional needs of the school's 400 students, so they had virtually no time for college advising.
"I don't think people realize how much hand-holding is involved in good college counseling for our kids," she says.
David Hawkins, the director of public policy and research for the National Association for College Admission Counseling, based in Arlington, Va., says college advising often is forced onto a low rung on the priority ladder. It falls below guidance counselors' more pressing duties, such as dropout prevention, especially since their caseloads—averaging 300 students per counselor—are so high. Their capacity to provide college guidance is also hindered by a lack of required training in that area in graduate school, he says, and a paucity of professional-development opportunities once they are on the job.
"Because school capacity in counseling is so strained by limited budgets and staff, what happens in public schools is a bit of educational triage," Hawkins says. "So outside college-access groups have been filling the void."
Outside Help
Craig E. Spilman, a longtime Baltimore middle school principal who is now the executive director of the CollegeBound Foundation, says his specialists sometimes encounter resentment from schools' guidance counselors, who can be wary of outsiders' sharing some of their job duties. But the specialists try hard to take a collaborative approach to their work with a school's staff, he says, because they believe that students need to hear the college message from as many adults as possible.
"There is a hidden danger in thinking this work can be carried by one person," Spilman says. "Everyone has to have high expectations for every child. We need everyone in the building to believe that, and take action to make it happen."
The CollegeBound program has the ardent support of Andrés Alonso, who has been the chief executive officer of the 82,000-student Baltimore district since 2007. He has made high school improvement a top priority, sparked in part by unsettling statistics like this: Only 7 percent of the district's June 2001 graduates—a figure that excludes those who never completed high school—had earned a college degree five years later.
Alonso praises CollegeBound for offering a cost-effective way to provide full-fledged college-counseling services in schools that would be unlikely to be able to do so otherwise.
"We are an urban school system putting an enormous amount of resources into preventing violence in schools, building community supports, building after-school programs, building supports to help our kids stay in school," he says. "By definition, it almost overwhelms our ability to do certain other things. So [the program is] filling an important niche in these schools."
In addition, by assembling and analyzing data about students' college readiness and sharing it with principals, the foundation has helped school leaders get a clearer picture of what they can do to better equip their students for postsecondary education, Alonso says.
Data suggest that CollegeBound's work could be helping strengthen key parts of the college-going formula for city students.
In 2002-03, 1,373 students in CollegeBound schools completed one or more college applications. During the 2008-09 year, 2,433 students had done so, as of March. Of the Baltimore high school seniors in the classes of 2007 and 2008 who received CollegeBound counseling, 79 percent were accepted into two- or four-year colleges, up from 47 percent in the class of 2005, according to CollegeBound data.
Districtwide, the number of high school students taking the SAT has risen 70 percent in the past 10 years, compared with 37 percent in Maryland overall and 29 percent nationally, according to district figures.
A program run by the foundation with a subset of CollegeBound students seems to be yielding promising signs, meanwhile, of better college retention.
About 180 students who received CollegeBound services in three successive recent graduating classes went on to college and were tracked by CollegeBound staff members who stayed in touch and offered support. An ongoing study of that group found that more than 90 percent completed their freshman year and went on to sophomore year, compared with fewer than 70 percent of their non-CollegeBound peers nationally, according to the foundation.
This is the first year of CollegeBound at Vivien T. Thomas Academy, so it is too soon to gauge the program's impact on rates of college enrollment, persistence, or completion. But after one year, college applications are up: The class of 2009 submitted 271 applications, compared to 181 in last year's class. And students say they feel supported in what would otherwise have felt like an overwhelming college- and financial-aid application process.
Sherrilli Carter, an 18-year-old who is bound for nearby Towson University in the fall, says Mavis Jackson's financial-aid guidance helped her see college as a real possibility, not just a dream.
"I wanted to go, but I worried a lot where I would get the money," Carter says.
For Antione Tomlin, a 16-year-old junior, the CollegeBound specialist helped motivate him because she and her "college" messages seemed to find him everywhere. Jackson was on the morning announcements about college fairs. Calling him to make sure he met deadlines for SAT registration. Asking him all the time what colleges he thought about going to. She got him an internship at a local hospital that helped him clearly see several career pathways.
Inspired, he turned his mediocre 8th and 9th grade record into a 91 percent average and the presidency of the student body this year in an attempt to expand his college options.
"I'll be the first one in my family to finish high school or go to college," Tomlin says with a big smile.