"Let's go to the tape" is one of the most commonly used phrases in sports when trying to dissect what happened on a given play. Rather than working from memory, a coach, spectator, or athlete replays the videotape to get a better sense of what occurred. In my last column, I outlined some of the ways that effective leaders analyze assessment data to help improve instruction. In this column, we focus on a different type of data that's equally influential: videotape. To start, let's look to a moment in the career of the legendary NFL quarterback Joe Montana.
By the 1988 season, Joe Montana was indisputably a great football player. He had already won two Super Bowl titles, yet had gone three years without one and had one of the more mediocre statistical years of his career. When Mike Holmgren became Montana's offensive coordinator for the 1989 season, he began by watching hours and hours of videotape. Specifically, Holmgren sat down and watched clips of every interception that Montana had thrown in his entire career. Soon, a pattern emerged: One-quarter of Montana's interceptions had taken place on one particular play that called for a long pass down the middle of the field. Montana loved the play, but Holmgren persuaded him to take the play out of the rotation. The difference? Montana's quarterback rating soared from 87.9 to 112.4—not only one of his best statistical seasons but comparably one of the best in history . . . and he won the Super Bowl.
There's a lot about this story that is remarkable, from Mike Holmgren's attention to detail to Joe Montana's willingness to relentlessly improve. Yet one thing seems wholly unremarkable: the fact that Holmgren and Montana used videotape to get better. As any sports fan can tell you, great coaches are expected to "go to the tape" constantly, watching for strengths to build on and weaknesses to mitigate. They're not alone. In fields where we demand excellence and constant improvement, video analysis is a critical tool.
Teaching is no different. Like sports or surgery, it is a complex skill that demands excellent real-time decisions. Small and specific changes—from the way teachers address students' wrong answers to where in the classroom an instructor stands—have outsize consequences. For teachers, the difference between an "interception" (a student who shuts down or disrupts the class) and a "touchdown" (the student learns and is engaged) can come down to just one or two key actions.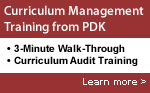 This begs a simple question: When it comes to video, why do we treat teaching differently? Put another way, what would happen if a teacher-coach were to use video of classroom instruction the way coaches like Mike Holmgren used game footage?
Video in Action
For principal Aja Settles, this question is answered daily. Recently, I observed Aja working with one of her teachers, Alison. They were watching a video clip of Alison's most recent math lesson. During the lesson, as one student was sharing his strategy for solving a particular problem, a number of students became disengaged. Alison had not noticed it in the live lesson, but it was clear to her as she watched herself on video. Sitting side-by-side, the principal and the teacher watched a clip of the moment.
"So, which students are disengaged right now?" the principal asked.
"Back left corner: Walter, Salasi, Zender. . . ," replied the teacher, pointing to the students on the videotape.
"Why do you think they're disengaged?"
"Students are disengaged because they probably feel that I'm only talking to Kevin about this math problem, so they don't really know what that means for them."
"Right. So, we need to involve them in the discourse. You could ask, 'So what did Kevin do, Salasi?' That way you're not just asking them to be quiet or to pay attention—you're asking them to engage in the thinking."
"Ohh…," the teacher said. "That makes total sense."
Moments like this one showcase exactly why video analysis is so valuable to teaching. First, small issues, such as where students become disengaged in the classroom, make a big difference. Given how much happens in a school day, the chances that any teacher could remember exactly how they were standing or where they were looking at a given moment are fairly slim. Video changes the game by capturing these small actions so they can be reviewed and improved.
Using a video clip allows coaches and teachers to pause the action and consider alternatives. What would you do next time? What might you have said instead? This, in turn, allows for much more authentic practice.
Just as importantly, video can positively shift the dynamic in coach-teacher interactions. When an instructional coach gives feedback, teachers can often see it as simply the coach's opinion, especially if the teacher is more established. This can lead to a more adversarial meeting. Video can change this dynamic completely. Sitting side-by-side to watch the same video footage and consider the same questions does a powerful job of conveying the message that they are working toward a shared goal. Given how deeply personal teaching can be, the ability of a coach to present a more objective record of how the class actually went is a crucial tool.
Video changes the game by capturing small actions so they can be reviewed and improved.
Video analysis, then, can play a critical role in improving the most challenging—and important—moments of teaching practice, i.e., when students are struggling to follow directions or when a teacher is trying to guide students toward correct answers. These are the make-or-break moments of a lesson and where video does its best work. Sarah Sexton, a young teacher with notable student achievement results, noted the importance of video in her first year of teaching:
A turning point came during one of my check-ins after I began videotaping my classroom. Without the footage I collected, I would never have gathered the insights I can now share about my old teaching habits. It turned out that I rarely showed outward excitement for the material I was teaching—my body language and posture made me appear disengaged. I looked like the kind of teacher that I had always wanted not to be. With renewed dedication, I dove into the task of improving—listening to feedback, watching videos, and trying to fix my mistakes (Bambrick-Santoyo, 2012, p. 99).
With the rise of video-enabled cellphones and cheap flip-cams, the possibility of using video regularly is now more manageable than ever. Though video is accessible, the greatest challenge is integrating it effectively in a respectful and empowering way for teachers.
Historically, teachers and leaders have been deeply skeptical of using video. Many fear it will be used to capture gotcha moments or isolated gaffes in order to punish instructors. Others fear a climate of constant surveillance. For this reason, some districts have banned principals from using video in classrooms. But the tide seems to be changing. Progressive districts like Newark, N.J., have begun allowing video, recognizing its potential when used correctly.
In the meantime, however, leaders can do a lot to smooth the way and ensure that video is seen as a tool for improvement, not as an agent of divisiveness or disrespect. The most important work here is to present video as a tool for mutual improvement and support. By having teachers and leaders watch the tape together and by framing analysis as a discussion of where improvement is possible, leaders can go a long way toward removing some of the fear of taping. For those in districts where taping can't be required, allowing teachers to opt in to use video in coaching sessions will at least allow the most improvement-minded educators—the Joe Montanas—to gain from this powerful tool.
We demand a standard of superb proficiency from our top athletes, and video is a crucial tool to realize it. We owe it to our students to treat teaching the same way.
References
Bambrick-Santoyo, P. (2012). Leverage leadership: A practical guide to building exceptional schools. San Francisco, CA: Jossey-Bass.
All articles published in Phi Delta Kappan are protected by copyright. For permission to use or reproduce Kappan articles, please e-mail kappan@pdkintl.org.