A recent spate of picture books gives kids a window, both verbally and visually, into self-expression. In Sebastian's Roller Skates (Kane/Miller), for example, the title character doesn't talk much even though he has a lot to say; he's too shy. When he happens upon an abandoned pair of roller skates, he can't resist the urge to try them out—and through them, he finds his voice in Joan de Déu Prats' story, with illustrations by Francesc Rovira. A little girl finds joy as she soaks up the seemingly endless light described in Under Alaska's Midnight Sun (Sasquatch), written by Deb Vanasse and illustrated by Jeremiah Trammell. Her younger brother, Pete, might fall asleep early, but she won't rest till she's had a chance to spin and dance. In The Best Worst Brother (Woodbine House), Emma has a younger sibling, too, one who used to be sweet and lovable. It takes sign language for her to rediscover that he's really not so bad. The book, written by Stephanie Stuve-Bodeen and illustrated by Charlotte Fremaux, includes a question-and-answer guide showing how sign language can help children with Down syndrome.
Author Lois-Ann Yamanaka draws from experiences with her autistic son in The Heart's Language (Hyperion), illustrated by Aaron Jasinski. The main character can speak to trees, the ocean, and birds, but not other people. Even his parents can't understand him—until he discovers an intuitive means of communicating. Father Troll considers his own son a bit disheartening because 8-year-old Orso doesn't want to frighten people the way monsters are supposed to; he'd rather have friends. After a while, though, he learns that being himself, despite his dad's wishes, makes both of them happier in Orso: The Troll Who Couldn't Scare (CDS), by Brad Thiessen, with illustrations by Jeremy Balzer. Like trolls, Mom and Dad Wolf would like nothing more than misbehaving children. In Badness for Beginners (Carolrhoda), by Ian Whybrow and illustrator Tony Ross, they despair of Little Wolf's achievements because he's so often accidentally polite. But they rethink their wisdom when his attempts at bad behavior succeed in ways they couldn't predict.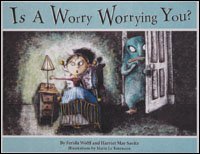 It's not wolves but elephants, snakes, and abominable snowmen that bring gloomy tidings in Chain Letter (Heyday). Lucille Lang Day's humorous look at the ubiquitous missive's fictional history, illustrated by Doug Dworkin, traces its origins from the Galápagos and Charles Darwin's Beagle. Those who don't follow a chain letter's directives may have cause for fear, but they'll find relief in Is a Worry Worrying You? (Tanglewood). Written by Ferida Wolff and Harriet May Savitz, with illustrations by Marie Le Tourneau, the story offers a lighthearted way for kids to confront, and then get past, their anxieties. Sameer, the main character in Playing War (Tilbury House), by Kathy Beckwith and illustrator Lea Lyon, is understandably anxious about the battle games his American friends engage in. A recent immigrant from an unnamed country, he describes to them the realities of his war-torn home, and they decide on basketball instead.
A version of this article appeared in the October 01, 2005 edition of Teacher as Celebrating Self-Expression