If the U.S. succeeds in substantially raising academic standards over the next five years, its 3.7 million public school teachers and their principals will deserve the bulk of the credit. But some measure of it also should go to Chris Minnich, who took over last month as executive director of a Washington, D.C., membership organization with an unwieldy name.
Little known outside national education policy circles, Minnich, 33, is the new head of the Council of Chief State School Officers. CCSSO or, as it is usually referred to, "the chiefs," represents the top education officials in each of the states. Minnich was promoted to executive director after playing a lead role in CCSSO's push to develop the Common Core State Standards in English/language arts and mathematics that have been adopted by 46 states, the District of Columbia, and three American territories.
"I remember thinking that if we got 10 to 12 states to take this on and be aggressive about it, we'd really be doing something," Minnich said. "My goal was to find the best and brightest people... to help us craft these documents in a way that teachers could use them, and states felt confident they could stand behind them."
Minnich replaces Gene Wilhoit, who had been schools chief in Arkansas and Kentucky before coming to CCSSO in 2006. That's just when folks who had long been involved in promoting state academic standards, aligned assessments, and accountability for performance began acknowledging that the ideas that had given rise to No Child Left Behind were failing. "Kids just weren't being educated, because people had dumbed down the standards," said Judith Rizzo, executive director of the North Carolina-based Hunt Institute, which works with state leaders on education policy and politics.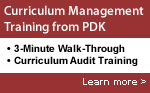 But nothing could be done to change that at a national level unless the chiefs and state governors came on board, Rizzo said. Wilhoit reported that his members were interested in helping develop ambitious academic standards geared to college and career success. The National Governors Association also signed on, ensuring the Common Core would have political support. But CCSSO was "absolutely the pivotal organization in the whole effort," said Michael Cohen, president of Achieve, a D.C.-based nonprofit that has been pushing for rigorous academic standards for more than 20 years.
Cohen praised Wilhoit, saying he "pushed, prodded, and corralled the chiefs to rally around not just the idea of the Common Core but also working to create them." Wilhoit made Minnich the organization's point person three months after hiring him in 2008. Minnich stresses that the development process was a national, not federal, effort. Though some critics continue to believe otherwise, he says states were in charge, not the Obama administration or foundations, such as the Bill & Melinda Gates Foundation, though both were enthusiastic backers and financial supporters.
Elevating Minnich to the top job in the organization was unexpected, given his age as well as his lack of experience as a state superintendent (although he had worked for the Oregon state education agency on its assessment program). But Minnich had gained the confidence of CCSSO members, and his promotion signals that the organization is staying the course. David Coleman, one of the writers of the standards and perhaps their most widely known proponent, said the choice of Minnich was an act of genius. "Chris has the capacity for focus and follow-through and a proven ability to cultivate the chiefs," he said. "The appointment does a great deal to ensure the future effectiveness of the chiefs to shape the environment."
After adoption
Now, the hard work begins. It's one thing for a state to adopt academic standards. They've done that before, with much fanfare and little follow-through. But it's something else entirely to build a system around them, which requires aligning high-quality teacher preparation, professional development, instructional materials, assessments, accountability, student supports, and even college entrance requirements. "Moving each of these things forward in a coherent way is an enormously heavy lift," Achieve's Cohen said. Achieve is the project manager for one of the two consortia of states creating new assessments to measure the higher-order skills that the standards espouse and emphasize. Those new assessments will be used for the first time in spring 2015. Given that states will be the customers for these assessments, CCSSO must help them exert their buying power and insist on quality. "The test items need to be credible and have to be the type of things teachers would give as assignments," Minnich said, acknowledging concerns he hears frequently that they won't be either.
The experiences of two states that have already given assessments reflecting the Common Core's standards suggest the transition could be fraught with public relations and political challenges. Kentucky announced last fall that the percentage of its elementary and middle school students who tested proficient fell by roughly one-third in English/language arts and mathematics from the previous year. In Florida, the proficiency rate in writing fell by about two-thirds due to more demanding grading standards; in response to sharp criticism, the state board retroactively lowered the passing score.
Minnich predicted that pass rates on the new assessments will decline in many states. In the past, he said, states would establish passing scores, at least in part, by calculating how many students it would be politically acceptable to fail. Now, he said, "our states are telling me they want to stick together and set a high bar for students and now they will have the political cover of working together."
He said CCSSO will help them by stressing the value of giving students and their parents an honest reading of their knowledge and skills. "It's really important that we hold this line," he said. But, he added, the consequences of failing to pass should be phased in gradually.
It's also important "to provide a whole lot of support for teachers so they don't feel like they're failing the kids," Minnich said. "That's not what this is about. It's about helping the kids."
Another role for CCSSO will be finding ways for states to cooperate on buying instructional materials and professional development services, and facilitating feedback on their quality. He said states should be helping school districts in the same manner. "There is no reason districts or states should have to go at this alone, given that they all will have the same standards," Minnich said. He also said he wants to help states find effective ways to intervene in the lowest-performing schools. Many schools will be able to make the major adjustments in teaching that new standards require; others, however, will not and that could, if not attended to, increase educational inequities.
Last November's election showed that supporting the standards and the tests and accountability for performance that go along with them can be politically perilous. Tony Bennett, then-Indiana's state superintendent of public instruction and a strong backer of the standards, lost to a political unknown who staunchly opposed the emphasis on testing. In 2014, 38 governors will be chosen and, if implementation of the Common Core goes badly, it could become an election issue.
Minnich is committed to making sure that doesn't happen. "I don't think you solve the financial, equity, and social justice problems in this country without fixing the education system," he said. "It's really, really critical that over the next two to three years the states continue to lead on this. We can't take our foot off the gas."
All articles published in Phi Delta Kappan are protected by copyright. For permission to use or reproduce Kappan articles, please e-mail kappan@pdkintl.org.