The eagerly awaited federal guidelines on some $100 billion in stimulus funding for education aim to pump money out quickly, while giving the U.S. Department of Education leverage to demand improvements from states and districts.
The biggest single restriction in the guidelines issued March 7 involves the $53.6 billion State Fiscal Stabilization Fund, the bulk of which is aimed at steadying faltering state budgets. States won't get all of their stabilization funds at once. Instead, 67 percent—or about $32 billion—will go out within two weeks of a state's submission of its application.
The rest will go out state by state as the department approves states' plans to comply with the assurances required under the law that they take steps to increase teacher quality, build better data systems, improve standards and assessments, and turn around failing schools.
However, states that are in particularly dire straits and in danger of laying off employees could receive up to 90 percent of their stabilization funding in the first allocation. In each of those cases, the rest of the state's share would be provided after the Education Department approved its plan.
The aim is to have states balance the need to spur the economy by creating or saving jobs with the desire to direct money toward efforts to boost student achievement that can be sustained even if the bulk of the stimulus money doesn't become part of the federal baseline of K-12 aid.
"These funds will be distributed as quickly as possible to save and create jobs and improve education, and will be invested as transparently as possible so we can measure the impact in the classroom," U.S. Secretary of Education Arne Duncan said in a statement. "Strict reporting requirements will ensure that Americans know exactly how their money is being spent and how their schools are being improved."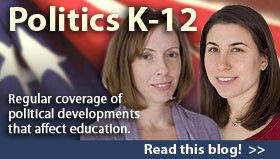 The department is using a similar strategy with the $10 billion in stimulus money for Title I programs to help disadvantaged students, and $11.7 billion for special education state grants, all of which will be spread out over two years.
Fifty percent of the Title I and special education funds provided under the stimulus measure, known as the American Recovery and Reinvestment Act, will be available by the end of March.
Although those programs have long been a cornerstone of federal funding for education, the new allocations are a considerable boost over the usual baseline. For instance, Title I received about $13.9 billion in fiscal 2008, while special education got $10.9 billion.
Additional guidelines are expected in the coming weeks.
Beware 'Funding Cliff'
The guidance stresses that the stimulus funding is short-term money that may not be sustainable in future budgets. It emphasizes that districts and states should use the money for shorter-term investments so there isn't a "funding cliff."
For instance, the Education Department recommends that Title I funds be used to expand prekindergarten programs, bolster online learning, or offer new opportunities for teacher professional development.
Still, analysts say it may be difficult for states and districts to develop programs that will put the stimulus funds to good use without setting up expectations for future spending.
"I think that's one of the trickiest provisions in the law," said Thomas Toch, a co-director of Education Sector, a think tank in Washington. "Politically, it's a killer [to put] money into programs, then pull the rug out from under them two years later."
In the next 30 days, nearly $700 million more in stimulus money will be available for a variety of programs, including vocational-rehabilitation state grants.
And $17.3 billion for Pell Grants and college work-study programs is available for the next academic year, beginning July.
A version of this article appeared in the March 18, 2009 edition of Education Week