Editor's Note: World language teachers often assume that because they are teaching a language, they don't have to explicitly include the study of culture and global competence. Danielle Chaussée, Spanish teacher at Oconomowoc High School in Wisconsin, participated in the Teachers for Global Classrooms (TGC) Program (now the Fulbright Teachers for Global Classrooms Program) and realized that she had only been scratching the surface of global education in her own classroom.
My own journey toward global competence began with a semester-long course through the TGC fellowship program, during which I had the opportunity to interact online with other educators around the nation. Throughout the course, I learned about resources like the 17 UN Sustainable Development Goals (SDGs) and their focus on global issues such as the environment, poverty, and equality. I was also introduced to the Asia Society's global competencies, which include investigating the world, recognizing perspectives, communicating ideas, and taking action.
With these resources in hand, I realized that world-language instruction can include much more than just helping students learn about language and culture. It can be the catalyst for students to learn about global issues and take meaningful action on a deeper level. But where to begin?
Tip #1: Start small. Focus on something you can change now and do it.
One morning I walked into my classroom thinking about the 17 UN Sustainable Development Goals and the global competencies. But, looking around me, I couldn't see them reflected in my classroom. My Spanish 4 class at that time was studying a unit on food and the students were about to investigate a traditional dish from a Spanish-speaking country. That task, which had been a part of the Spanish 4 curriculum for the previous 13 years, suddenly seemed to miss the mark.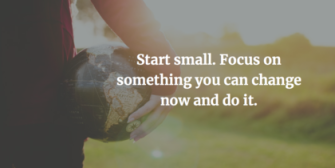 The idea occurred to me that it would be much more meaningful if the students were to investigate a health issue related to food in a Spanish-speaking country instead. It was a simple shift of focus, which only required rewording the instructions on the investigation, but it resulted in rich conversations and a deeper understanding of global health. One unintended but beneficial outcome was that students also generated and shared their own vocabulary related to health.
In the case of my classroom, a shift in global focus began with simply changing an activity. In another educator's class, a first small step might involve posting the UN Sustainable Development Goals in the classroom to generate conversation. Whatever that first step, just take it, and the rest will start to fall into place. After finding success with that one change, I began to look for ways to incorporate changes into all the levels I teach.
Tip #2: Rethink how you can redesign an entire unit to include global education.
It is overwhelming to think about how you might change your entire curriculum, so break it down and start with one unit. In my case, I started with the food unit and I redesigned it to be focused on global health. To start, identify which state or national standards you want to address in your unit. Then, look at those standards through the lens of global education. How can a global perspective be integrated into those standards? Use resources like theUN Sustainable Development Goals and the Asia Society's global leadership outcomes and rubrics as guides to help you identify both global and local connections to your standards. My guiding question when I plan a unit has now become "How am I preparing my students to be global citizens?"
Tip #3: Find your allies within your school and brainstorm ways that you can bring global education to the forefront.
Again, start small. Connect with colleagues within your own department or other departments, counselors, or an administrator. Start a conversation about what you already do in your own classrooms and develop a vision for what you would like to see down the road.
For me, the work started with a small group of colleagues as we worked on the idea of service learning in our Spanish department. Our service-learning circle quickly grew and then our numbers exploded when we brought the Wisconsin Global Education Achievement Certificate (GEAC) program to our school. Today we have a team of over 20 teachers, counselors, and administrators who are GEAC advisors and leaders of global education initiatives in our school.
Tip #4: Grow your coalition to the district level.
Identify and reach out to like-minded educators and administrators in other schools in your district. In my district, I was lucky to join and work with a district service learning team. Our team began with the vision of providing international service learning opportunities to middle and high school students. Over the course of a couple of years, and as the district's service learning vision grew, we expanded to include additional teachers at the middle and high school levels, while serving as the hub for local district service learning initiatives.
A word of caution: as visions develop and projects get underway, be ready to revisit original goals. These periodic check-ins are important to keep the team on the same page and on track. It's equally important to revisit the original plan to see if it needs revision. Our initial visions can often be limited by lack of experience or knowledge, and as your team's work progresses, you may lose sight of another, perhaps better, direction. Don't be afraid to take a step back and take stock of where you are. This is all part of the growth process.
Tip #5: Look for community partners.
They are out there and excited to come into your classroom! I went for years in my teaching career without reaching out to experts in the community who could bring their experience and knowledge into my classroom. I was hesitant to bring an unknown element into my school day and I feared I would be turned down. This year I decided to put my hesitations and fears aside and I started to seek out community partners, including guest speakers and experts who my students could partner with on projects.
However, just because I resolved to do it, doesn't mean it was easy to start! I remember writing my first email to a potential guest speaker with some reservation. My husband asked me what the worst outcome could be, to which I replied that the potential speaker could say no. That's when my husband wisely said, "So what?"
The speaker happily agreed to appear and became the first in a series of guest speakers who have spoken to my students about topics such as literacy and water projects in Guatemala, the impact of natural disasters, sustainability in the supply chain, and microfinancing. My students have also begun to partner with a local organization to raise awareness about economic disparities and to assist with the group's work in Guatemala. By taking this small risk and learning to embrace the unknown, I discovered that the learning experiences for my students have become much more rewarding.
Going global does not happen overnight. It's easy to feel overwhelmed when you think about changing your curriculum, but even the smallest classroom changes will have an impact on your students' learning. By starting small and taking the process one step at a time, going global will connect your students to meaningful experiences that will ultimately help them develop as citizens of our interconnected world.
Connect with Heather and the Center for Global Education on Twitter.
Image of author teaching in Colombia as part of her TGC program taken by Diana Isabel Fernandez and used with permission.
Quote image created on Pablo.
The opinions expressed in Global Learning are strictly those of the author(s) and do not reflect the opinions or endorsement of Editorial Projects in Education, or any of its publications.