Updated
After a couple years of clashes with teachers in the state, West Virginia Senate President Mitch Carmichael was ousted in Tuesday's primary election—by a teacher.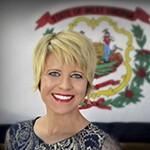 Amy Nichole Grady, a 4th-6th grade math teacher, won the Republican primary with about 39 percent of the vote, compared with Carmichael's 35 percent. She will now run against Democrat Bruce Ashworth, a roofing business employee, in November and is expected to win.
Grady describes herself as a "pro-life, pro-2nd Amendment conservative teacher who is fed up with self-serving elected officials." Meanwhile, Carmichael, a longtime state politician, had been the target of many teachers' ire during a tumultuous couple of years with two statewide strikes and a battle over charter schools. During the campaign, Carmichael sought to align himself with President Donald Trump in his advertisements. Grady said she supports the president, too.
West Virginia teachers first went on strike over low pay and rising health care costs in 2018 and stayed on the picket lines for nine days. They won a 5 percent pay raise, and inspired teachers across the country, including in Arizona, Oklahoma, and Colorado, to walk out of their classrooms in protest as well.
The strike inspired Grady to run for the state legislature, she told Education Week.
"I was going door-to-door in the capitol to legislators' offices, and I didn't feel like the majority of our legislators actually listened to our perspective," she said. "That frustrated me. ... We have these policies and guidelines and rules and even laws that are written for teachers, [and] you should have to have some teaching experience to be able to make those decisions."
Grady, who missed the Republican filing deadline and was not affiliated with a party in the 2018 election, came in third, with 11 percent of the vote. Although she wasn't successful, Grady said the race prepared her to run again in the 2020 primary.
Last year, West Virginia teachers went on strike again for two days, this time over a controversial education bill that would have created the state's first charter schools and established 1,000 education savings accounts to allow parents to use public money to pay for private school. (The accounts would have been for students with special needs or those who have been bullied.)
That bill failed, but the legislature ultimately passed a broad education reform bill last summer that paved the way for West Virginia to open its first charter schools in the fall of 2021—despite widespread concern from teachers that charter schools will take funding and other resources from the state's public schools.
In a 2018 interview with the Charleston Gazette-Mail, Grady said she opposed the creation of public charter schools in the state.
"Charter schools are publicly paid for, but privately run," she said. "There are too many questions about charter schools' practices, transparency, and lack of accountability. Traditional public schools' laws and public meetings allow citizens to have a say in how their children are educated and how their tax dollars are spent."
Now, she said, she's not entirely against charter schools—but she's worried that the state legislature has not done the research to figure out what will make a charter school successful in West Virginia, especially in rural areas. She would advocate a more careful approach to creating charter schools, and would want to visit charter schools in other states with similar economies to see how they are run.
Her other main education priority is to find ways to increase teacher pay, including by raising the base salary and by paying teachers in border counties more. Otherwise, she said, West Virginia will have a hard time recruiting and retaining teachers.
During the 2018 elections, at least 177 current classroom teachers ran for seats in their state legislatures, according to an Education Week database, with many inspired to do so after participating in strikes and protests. In Kentucky, for example, a high school math teacher ousted the state House Majority Floor Leader who had spearheaded controversial pension changes. At least 43 teachers (including three in West Virginia) ultimately won their races in the midterm elections.
"I can try to explain to people what education needs or what I need as a teacher or what students need or public education in general, but unless you've actually seen it from the inside, you can't really grasp it completely," Grady told the site 100 Days in Appalachia. "I think it's really important for our legislators to stay in contact with teachers so that they understand what it is that the school system needs."
Post updated 3/15 with comments from Grady
Image via Grady's Facebook page