The U.S. Department of Education should set a high standard for deciding which states get $4.35 billion in discretionary Race to the Top funding under the economic-stimulus package, a key lawmaker told Secretary of Education Arne Duncan today.
In Mr. Duncan's first appearance as secretary before the House Education and Labor Committee, the committee's chairman, Rep. George Miller, D-Calif., said it would be better to give fewer states access to the money than to allocate it to those that don't have comprehensive plans for improving education.
"When you put $5 billion on the table in Washington, D.C., there's no shortage of people who will have an interest in that agenda, no matter what it is," Mr. Miller said. In addition to the Race to the Top fund for states, Mr. Duncan also has control over a separate $650 million pot of funding for innovation grants to school districts and nonprofit organizations.
"I think it would be better to have fewer entities doing more, because they can be the pathway, the beacon [to others]," Mr. Miller said. "I'm not sure everybody should be able to participate just because there's so much money."
Rep. Miller helped champion the inclusion of the Race to the Top funding in the American Recovery and Reinvestment Act, which includes nearly $100 billion for education programs. To get access to the Race to the Top money, states must show the Education Department that they are serious about improving teacher distribution, data systems, standards, and assessments.
But Mr. Duncan indicated today that the department may have additional criteria in awarding the grants. He told Rep. Howard P. "Buck" McKeon of California, the top Republican on the committee and a strong charter school supporter, that the Obama administration will encourage the proliferation of charter schools by requiring states to say on their Race to the Top applications whether they have caps on the number of such charter school.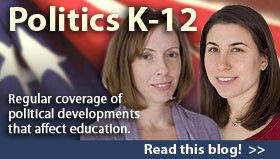 And Mr. Duncan said he will also consider whether states are using the stimulus funding in the way Congress intended. In particular, the secretary said he would be looking closely at use of money in the State Fiscal Stabilization Fund, which is meant to help states buffer the impact of budget shortfalls.
"I have heard that some states plan to use their stabilization money so as to maintain their rainy-day fund, and others may rely on their stabilization grants to pay for tax cuts instead of investing in reforms," Mr. Duncan said. "I will do everything in my power to reject any schemes that would subvert the intended purpose."
Reading, Performance Pay
Rep. McKeon also asked about Mr. Duncan's approach to reading instruction, in light of a new, $300 million early-reading program outlined in the administration's fiscal 2010 budget proposal.
The congressman said he'd heard that the rationale for the new program was that the Education Department didn't think there was still a consensus on the best way to teach reading. Mr. McKeon said that notion would come as "a surprise to folks" on the National Reading Panel, which put out a report in 2000 whose recommendations on scientifically based reading research became the basis of the controversial Reading First program.
Congress zeroed out the program last year, after a series of reports issued by the department's inspector general suggested that conflicts of interest had occurred among officials and contractors who helped implement the program in its early years.
Rep. McKeon wondered whether Mr. Duncan thought the reading panel's recommendations about instruction, still stand.
"Do you think those [views] are no longer valid?" Mr. McKeon asked.
Mr. Duncan didn't dismiss the panel's work, which promoted phonics and the acquisition of certain other skills as an important part of reading instruction. But he said the Education Department was looking for a comprehensive approach to reading instruction.
In response to a question on performance-based pay from Rep. John Tierney, D-Mass., the secretary touted the proposed budget increase for the Teacher Incentive Fund. The administration suggested boosting support for the program to $700 million in fiscal 2010—including money included in the stimulus package—up from $97 million in the current fiscal year.
In its budget request, the administration suggested tweaking the TIF program to ensure that school support-staff members, such as custodians, are eligible for the extra money along with teachers and principals.
At the hearing, Mr. Duncan said he was interested in supporting incentive programs that don't "pit" teachers in the same school against each other. He said those types of programs often fail.
"I'm really big on collaborative rewards," Mr. Duncan said.
Also at the hearing, he told lawmakers that he would begin monitoring how states use seclusion and restraint methods on students in public schools. Mr. Duncan said he would work to ensure that states have policies in place on the use of such physical interventions.
The statement was a response to a House education panel hearing earlier this week, in which lawmakers examined a May 19 Government Accountability Office report detailing hundreds of allegations of abusive physical interventions in schools over the past two decades.
A version of this article appeared in the June 10, 2009 edition of Education Week