The transformation of the Kansas City, Mo., School District (KCMSD) has been long overdue. Multiple superintendents and administrations, using billions of dollars of desegregation funds, tried to transform the district by creating magnet schools, themed schools, and career-focused high school initiatives. Missing from these initiatives, but included in the current restructuring, was a laser-like focus on teaching and learning.
By the 2009-2010 school year, the district faced a myriad of problems: More than 70% of its schools posted student proficiency levels below 25% on the state assessment, and fewer than one-third of elementary students were reading at grade level. Student enrollment had dropped from 30,000 in 2000 to just over 17,000 in 2010, creating a building use rate of 48% in the district's 63 open schools. (Fifty percent of all open seats were in secondary schools.) State revenues had sharply declined in the face of the worst recession since the 1930s. The result was a projected budget deficit of $8.5 million in FY2011 and a two-year revenue decline of over $100 million with little likelihood of a significant upturn projected for FY2012. Finally, the district had been cited by the state as having no viable and guaranteed curriculum, with local schools having scant capacity for ensuring that students would be college, career, or workforce ready when they graduated from high school (Esselman & Reynolds, 2010).
These statistics strongly suggested that, at the current rate of progress, the district would achieve only minimal success. (See Figs. 1, 2, 3, 4.) Making incremental changes each year would have tempered the affect on the community, but there was little political will to make any changes because the school district was a major employer in Kansas City. To create a sense of urgency throughout the community regarding the plight of public education for Kansas City students, newly appointed Supt. John Covington called for a radical transformation and rightsizing of the district.
The Plan Takes Shape
In October 2009, a community task force appointed by Covington kicked off the rightsizing process by having two sets of forums. The first forum confirmed the priorities in deciding on school closures, and a second set in spring 2010 obtained feedback on the final recommendations. To avoid relying on a single factor to determine which schools would close, district officials created a matrix of 52 indicators across four categories—academic performance, building conditions and infrastructure, enrollment and demand for schools and programs, and other special program considerations—and created scorecards for each district school.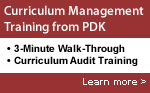 Upon review of the district's recommendations for school closures, the second set of community forums unearthed disagreements over grade-level organizations and gang issues. The administration initially recommended reorganizing schools into grade-level groupings of K-2, 3-6, and 7-12. Numerous parents opposed this and cited personal hardships in getting children to as many as three schools each day as a significant problem. Combining middle school students with high school students also provoked strong sentiments. Parents did not want their 13- and 14-year-old daughters mingling with 17- and 18-year-old boys.
Parents, community activists, and students raised concerns that changing school attendance boundaries would send children across gang turf lines, placing them in jeopardy. Also, there was a strong sense that comingling gang-connected students would bring trouble. They worried that adding 7th and 8th graders in the mix would provide bigger pools for gang recruiting. City Council members joined the fray, focusing on the number of schools being closed in each subdistrict. They wanted the pain of school closings to be shared equally among attendence districts.
Ultimately, data from the scorecards, along with input from the task force, community forums, and economic indicators provided by city planners were used to identify 30 schools for closure. While grade configurations in the elementary schools did not change, secondary schools were reconstituted to 7-12 grade-level organizations, with many of the secondary magnet programs collapsed into one building from two.
The district made reducing vendor contracts an important objective. For years, the district had supplied contracts to a number of individuals in the city whose lifestyles required this flow of money to continue. These individuals pressured board members and the superintendent—to no avail.
In March 2010, the board approved closing all 30 targeted schools on a 5-to-4 vote. Kansas City reduced its budget by $68 million for FY2011, cut vendor contracts from 6,000 to fewer than 1,000, and improved its focus on optimizing resources to support teaching and learning. Rightsizing continued in FY12 with an additional reduction of $37 million across both operations and instruction.
Included in the cuts were 1,247 full-time equivalent positions over a two-year span. The district spent $8 million to provide a "retirement or buyout incentive" for eligible employees, both certified and classified. The plan was designed to recoup the cost of incentives within three years through lower salary expenditures and reduced legal fees. The union requested—but the administration did not support—a 4% raise for teachers and support staff. The district took the stance that including a raise in the proposed collective bargaining agreement would have returned the district to its prior state of financial instability. The district intends to restructure the salary schedule to reward performance rather than longevity.
A New Pedagogy
In transforming teaching and learning after the cuts, district leaders wanted to create a system in which students assume ownership for their learning under the guidance of teachers working as facilitators (Prensky, 2009). Through a culture of continuous improvement, the district plans to eliminate pathways based soley on age and time.
The new instructional model embraces a "learner-centered paradigm of education" in which pedagogy, assessments, and support systems are changed (Reigeluth et al., 2008). Students work individually, in pairs, and small groups facilitated by teachers, peers, technology, and/or tutors. Students are organized by instructional level rather than grade level and progress via mastery rather than time.
KCMSD is using technology more widely as a result of the rightsizing. The district's distance learning platforms support individualized learning plans for all students. Low-enrollment classes will be offered through distance learning labs in each high school during the 2012-13 school year. Virtual courses are planned to support students with diverse interests, a desire to accelerate, or a need for remediation. In addition, parents, teachers, and students will have ready access to both aggregated and disaggregated student progress reports aligned with local, state, national and international standards. The increased use of technology provides cost savings by eliminating outside vendors and is therefore financially sustainable.
In light of shrinking dollars, professional development funds have shifted to support in-house curriculum writing and other leadership activities. The district's new teaching and learning center hosts resource rooms for each content area and teacherled workshops. The district uses technology to support collaboration among teachers through professional learning communities, data teams, discussion threads, and transmedia platforms. Teachers continue to have access to individual professional development through commercial and district-generated video links.
Principals and other administrators are able to evaluate teachers with observation tools that allow them to use iPads to electronically document teachers' instructional practices. Information from walk-throughs is downloaded in real-time to a data warehouse that immediately generates a report for viewing by teachers and administrators. Teachers who need additional assistance receive video links aligned to the area of need. The district bought small, portable cameras to provide panoramic filming; the footage will be used for coaching, evaluating, and demonstrating achieved competencies for new and struggling teachers.
The broad restructuring resulted in balanced budgets for FY2011 and FY2012, demonstrating the district's ability to respond effectively to changing student needs; even with fewer dollars, KCMSD can no longer depend on its once "privileged" funding status. Rightsizing forced the district to truly assess revenues and reduce expenditures accordingly. The district had to rethink staffing, class sizes, and technology to replace some teachers (Hess & Osberg, 2010).
Leadership adopted the mantra of "nothing changes if nothing changes." The operational side of the district took the approach that efficiency would ultimately strengthen the instructional side. The budget, buildings, and staffing, if controlled effectively, would offer financial stability, environmentally sound buildings, and the opportunity to have effective teachers.
Operational Changes
A school can be considered operationally effective if teachers and school administrators can focus on learning and not on the surrounding environment. In each of the 33 open KCMSD buildings, some level of infrastructure dysfunction routinely disrupts teaching and learning. In many cases, it's difficult to guarantee on a day-to-day that the physical environment in district schools will be adequate to support all school activities. Twice during spring 2011, for example, elementary school students had to be sent home early because of plumbing failures. Acute maintenance issues exist because the district largely ignored routine and preventive maintenance for three decades. A 2007 study by ACI/Frangkiser Hutchens outlined over $150 million of deferred maintenance that needed to be addressed in order for district school buildings to remain viable in both the near and long term.
To reestablish the functionality of all schools and address a good portion of their deferred maintenance, KCMSD has embarked on an aggressive program to refurbish its buildings. Putting the buildings into acceptable shape will require an $85-million investment. Equally important to the rapid execution of the building refurbishment process is a commitment to keep the project funding neutral for district stakeholders. About $40 million will be provided up-front as available capital funds from the district. The remaining $45 million, secured through leased-purchase bonds, will be paid back over 15 years from the maintenance and utility savings achieved from upgrading the schools. Similar projects have realized more than 20% savings on both maintenance and energy costs. The proposed KCMSD refurbishment project will be funding neutral by achieving maintenance and utility savings of only 10% even though savings are expected to be well over the normal 20%. The district has demanded that the selected construction partner guarantee the performance of the refurbished energy management systems for the full 15 years of the contract, ensuring at least one generation of building functionality.
At the same time the district is refurbishing all existing schools, KCMSD is making a concerted effort to change the maintenance culture of the workforce. A key element is a new data-driven maintenance management system that provides real-time visibility for each work order from the time it's initiated until the work is completed. Tracking maintenance performance indicators will be a key factor in ensuring that maintenance backlogs are eliminated for good.
The cost of securing and maintaining the large inventory of closed buildings is considerable. The district is working with the community to repurpose the buildings to meet local needs. This can be difficult because neighborhoods surrounding the buildings have been declining for years. KCMSD will keep seven of the buildings to provide for hoped-for expansion as the district once again becomes the education option of choice for students and parents in the district. These seven schools already have been staged and mothballed. The district will continue to bear the expense of maintaining the closed buildings until they're either sold or leased, a process projected to take at least five years.
The true operational transformation of the KCMSD will require a sustained effort by all district stakeholders. A key element of the transformation is creating a "living" Facilities Master Plan. District stakeholders are collaborating on a 20-year model that ensures the district has the right capacity to meet an ever-evolving student population. The right capacity includes sustaining the right inventory of buildings in the right locations and in the right condition. The facilities plan will also provide a benchmark cost to refurbish existing buildings and replace several. The cost is expected to be between $200 million and $300 million. To meet these needs, the district will ultimately need to gain voter support for the first school bond in Kansas City since 1969.
Conclusion
By erasing inefficient practices in the instructional, financial, and operational arenas, Kansas City has freed resources that can be redirected to teaching and learning. The district must now turn its full attention to meeting the challenge of regaining its accreditation. For the past decade, the district has not met the state's proficiency requirements. In September 2011, the Missouri State Board of Education gave the district an unaccredited status. The constant cloud of financial stress does have a direct relationship to performance. With operational stability, the district now has the financial wherewithal to move forward to address student performance.
Rightsizing is not an isolated event. Rather, it's an iterative process that requires continued self-examination as the student population evolves. A lean organization sends a signal that efficacy is valued. In coming years, KCMSD must be agile enough to make adjustments based on population shifts, student performance, and shrinking dollars. The district must make decisions according to a zero sum mandate. The district wants new programs to be funding neutral while also ensuring that new schools, such as the proposed advanced career and technical education center, are sustainable and have the resources they need to achieve. Staying the course will continue to be challenging for KCMSD as it seeks to regain its accreditation, but it's essential if the district is to remain independent and able to determine its own future.
References
Esselman, M. & Reynolds, M. (2010). Rightsizing the Kansas City, Missouri, School District: Teaching and learning for a new millennium. Kansas City, MO: Kansas City School District.
Hess, F. & Osberg, E. (2010). Stretching the school dollar: How schools and districts can save money while serving students best. Cambridge, MA: Harvard Education Press.
Prensky, M. (2008, November-December). The role of technology in teaching and in the classroom. Educational Technology, 48 (6), 64.
Reigeluth, C., Watson, W., Watson, S., Dutta, P., Chen, C., & Powell, N. (2008, November-December). Roles for technology in the information-age paradigm of education: Learning management systems. Educational Technology, 48 (6), 32-39.
All articles published in Phi Delta Kappan are protected by copyright. For permission to use or reproduce Kappan articles, please e-mail kappan@pdkintl.org.