Photographer Jared Soares discusses his experiences, and shares his favorite images from documenting faculty and students at Ron Brown College Preparatory High School in Washington, D.C. The photographs were part of a joint audio reporting project by Education Week and National Public Radio that tracked the first year at the school.
"When I received the assignment to make photographs at Ron Brown Preparatory High School in Washington, D.C., I had no prior knowledge of the school or its mission. Typically, when I begin an assignment, I prefer to keep an open mind, so I don't have a fixed idea about the story. I'll do some brief background research in order to understand context. This approach allows me to be present while experiencing the place and people.
Upon arriving at Ron Brown, I was greeted by Principal Benjamin Williams, and then was quickly paired with a student escort for the day, who shuttled me off to the morning circle. The circle is a daily gathering event led by teachers and students, and it combines morning announcements with notes of encouragement. Most of the students are getting their ties straight and their books in order, preparing for the day ahead.
After morning circle, I zigzagged around campus with Zion Williams, my student escort. I saw students helping each other with their ties, teachers preparing for class in the morning, and impromptu study sessions taking place in the weight room. Passing periods and lunchtime were filled with louder moments. Classrooms felt intimate, and students seemed comfortable sharing and participating.
Squeezing a year-long reporting project into a day of photography was a challenge. Understanding the subtle nuances of each student and faculty member is an even greater one. The moments and set of portraits hopefully allow for an entry point into the project.
Below are some of my favorite images from this assignment."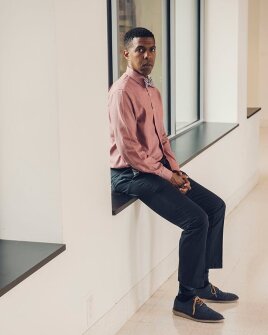 A version of this article first appeared in the Full Frame blog.