Distance Diploma an Option for Displaced Louisiana Students
More than 800,000 people from Louisiana were displaced in the aftermath of hurricanes Katrina and Rita relocated—some temporarily, some permanently. The map below* shows where people moved, according to FEMA-assistance requests. Among those affected were 100,000 Louisiana public school students in grades K-12. While some of those students remained in Louisiana, others relocated to different states. Juniors and seniors were confronted with an additional challenge: earning their high school diploma on time. High school diploma requirements vary greatly by state (see Diplomas Count), but fortunately those displaced students still have the opportunity to earn their Louisiana diploma.
Click image to view larger graphic.
Responding to the needs of its students, the Louisiana Board of Elementary and Secondary Education voted to allow students who relocated to other states due to the hurricanes to receive Louisiana diplomas during the 2005-06 and the 2006-07 school years. "It was a high priority to take care of all of our displaced students after the hurricanes, but especially our graduating seniors. For many of our students the opportunity to attain a Louisiana diploma was an important symbol of survival and hope," said state schools Superintendent Cecil Picard in a statement on the department's web site
See other stories on education issues in Louisiana. See data on Louisiana's public school system.
Superintendent Picard contacted every state chief school officer and test director and requested assistance notifying affected students about the Louisiana Diplomas for Displaced Out-of-State Students, or Distance Diploma. "Some states did an excellent job sending the information to their districts and putting it on their websites," a Louisiana Department of Education staff member said. Students also heard about the program by word-of-mouth. "We had many calls from counselors saying that the students or parents had requested a Distance Diploma."
Students register with a guidance counselor at their current school, complete the necessary requirements, and submit their transcript to their home school district in Louisiana, which awards the Distance Diploma. Students must meet Louisiana's graduation requirements of earning 23 course credits and passing the Louisiana Graduation Exit Exam (GEE).
The Louisiana Virtual School (LVS), sponsored by the state's education department, offers the exit exam online for displaced students. Louisiana is one of 22 states with its own virtual school, according to Technology Counts 2006. LVS received a $2.5 million grant from the BellSouth Foundation to help meet the increased demand from displaced students who want to take the GEE or online courses. The chart below shows the tremendous increase in the number of students taking courses through LVS over the past six years. LVS plans to offer an additional 4500 course seats in the 2006-2007 school year with the grant from the foundation.
About 740 Distance Diplomas were awarded in 2006. New Orleans Public Schools awarded the most Distance Diplomas—540, and eight other Louisiana school districts awarded around 200. Counselors in 25 states have registered students for the Distance Diploma for 2006 and 2007. Most registrants were from Texas, although the exact number of students earning the diploma from each state was not available from the Louisiana Department of Education because the school district awards the diploma. The map below shows the states with displaced Louisiana students who either earned the Distance Diploma in 2006 or registered for the diploma for 2007.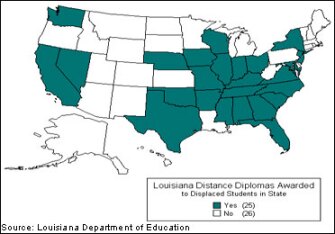 *Kent, J.D. 2005 Louisiana hurricane impact atlas, 1, 12. Louisiana Geographic Information Center, 2006.
Listen to a National Public Radio story about the Louisiana Distance Diploma.
Get more information about the Distance Diploma from the Louisiana Department of Education or call 1-877-453-2721.
To find out more about graduation policies and technology in the 50 states and the District of Columbia, access the Education Counts database.