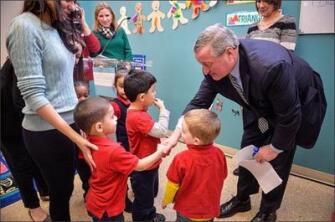 The City Council of Philadelphia voted 13-4 Thursday in favor a tax on sugar-added and artificially sweetened beverages that is expected to raise $409 million over five years for preschool and other city programs.
The vote makes Philadelphia the largest city to day to enact a beverage tax; the only other U.S. city with a beverage tax is Berkeley, Calif., which enacted the tax in 2014 and funnels the money to its general fund. Mayor Jim Kenney, a Democrat, had originally pushed for 3-cent-per-ounce tax on beverages sweetened with sugar, but during negotiations with the City Council, the amount of the tax was lowered while the types of beverages that would be subject to the extra levy was broadened. Barring legal challenges, the tax will go into effect Jan. 1.
The Philadelphia Inquirer explained how the tax would work:
The tax will be levied on distributors. Only time will tell how much will trickle down to consumers. But all in, it could add up to 18 cents to the cost of a 12-ounce can, $1 to the cost of a 2-liter container, and $2.16 to the cost of a 12-pack. It will impact sodas, teas, sports drinks, flavored waters, bottled coffees and energy drinks, among other products. Exempt products include baby formula and beverages that are more than 50 percent fresh fruit, fresh vegetables, or milk. Beverages for which customers request sweetener or add it themselves (such as at a coffee shop) are also exempt.
The Inquirer reported that about half of the beverage tax money raised over five years would go to prekindergarten. The rest would go to other programs such as employee benefits, programs run by the city's health and human services department, and parks and recreation programs.
Philadelphians Against the Soda Tax, a group representing Philadelphia grocers and those in the soft-drink industry, said it would sue to stop the tax.
"[The] City Council has ignored the voices of the 58 percent of Philadelphians who oppose this regressive and discriminatory large tax on more than a thousand common grocery items. This tax is unconstitutional, and that's why we will take this fight to the courts to defend our broad-ranging coalition of more than 30,000 Philadelphians and 1,600 businesses and community organizations," the group said in a statement.
Media outlets reported that Kenney's proposal, unlike the failed "soda-tax" proposals made by dozens of other public officials (including former Mayor Michael Bloomberg in New York), appeared to gain favor because the tax was seen as a way for paying for popular city services. The Philadelphia Commission on Universal Pre-Kindergarten estimated in an April report than more than 17,000 3- and 4-year-olds in the city are from low-income families and are not enrolled in a high-quality preschool program.
File photo: Philadelphia Mayor Jim Kenney shakes hands with a prekindergarten student at Rising Stars APM Preschool in North Philadelphia, during a March appearance to promote his plan to increase early education funding in the city.—Charles Mostoller for Education Week.
---
A version of this news article first appeared in the Early Years blog.