Corrected: A summary of Maine Gov. Paul LePage's 2013 State of the State address was based instead on the text of the 2012 budget address. The summary has been corrected.
Includes updates and/or revisions.
Here are summaries of recent annual addresses by governors around the country.
MAINE
Gov. Paul LePage (R) • Feb. 5
Gov. LePage touted revisions to public-employee pensions and to charters and school choice he had proposed that were adopted by the legislature in the last year. He also called in his speech for a more detailed accountability system for schools and teachers.
Mr. LePage said he would direct the state education commissioner to develop an A-F ranking system for schools. He also plans to hold an education conference in March, featuring national experts to discuss initiatives that are working in other states.
The governor also detailed plans to expand school choice programs in the state, pointing to specialized independent schools such as Maine's 10 so-called "town academies," which are private, nonprofit schools that serve as public high schools. "Giving students options is more than charter schools," he said. "We must fund schools that best fit the student's needs."
–Sarah D. Sparks
MARYLAND
Gov. Martin O'Malley (D) • Jan. 30
In his State of the State address, Gov. O'Malley gave education a pivotal role in his highest priority: rebuilding the state's economy. Calling his proposed fiscal 2014 budget a "jobs budget," the governor said improving K-12 education and holding down college tuition will be crucial for preparing workers.
He noted that his spending plan includes money for technology upgrades in classrooms, as well as repairing and building schools. On Jan. 7, he proposed setting aside $336 million in his budget for new and upgraded school buildings.
—Catherine Gewertz
TENNESSEE
Gov. Bill Haslam (R) • Jan. 28
Gov. Haslam delivered his State of the State speech to a supermajority of his own party in the legislature, but he repeatedly struck a bipartisan tone as he proposed substantial new funding and programs for K-12 and higher education.
"Tennesseans don't want us to be like Washington," he said. "They don't want continuous conflict."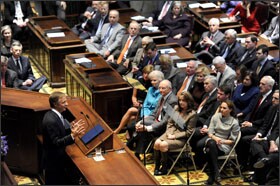 Mr. Haslam pointed to the state's support for elementary and secondary education, which received nearly 12 percent higher funding in fiscal year 2012 than the prior year. In fiscal 2013, the governor proposed to spend $51 million to upgrade school technology infrastructure; $34 million for capital improvements, including school security; and $35 million for teacher salaries. He asked for $22 million to build a new high school for the Tennessee School for the Deaf, in Knoxville.
The governor also called for expanding private school vouchers, backing the Tennessee Choice & Opportunity Scholarship Act introduced Jan. 31, which would provide up to 5,000 vouchers in the 2013-14 school year for students in the lowest-performing public schools, each equal to the state's average per-pupil public school spending. The number of vouchers would gradually grow to 20,000 in 2016. Gov. Haslam countered criticism that vouchers would drain financial resources from schools struggling to improve: "Last year, we committed $38 million over three years to schools in the bottom 5 percent of the state. This year we're adding $9 million more," he said. "Not only are we not draining resources from them, we're giving them additional support."
Fewer than a third of adults in the state earn at least an associate degree, and Gov. Haslam launched a "Drive to 55" to ensure more than half of Tennessee adults will have a degree by 2025. As part of the initiative, Gov. Haslam called for the state to create Western Governors University Tennessee, an online, competency-based program to help at least 800,000 adults with some college credit complete their degrees. Mr. Haslam also proposed using $35 million in reserve money from the Tennessee Student Assistance Corp. to provide $2 million a year in ancillary scholarships to "fill the gaps between students' financial aid and the real costs of college including books, supplies, room, and board."
The proposed budget would also provide $60 million for facilities maintenance and building projects on college and community college campuses. Finally, the governor said the state department of children's services would increase pay and tighten job qualifications for nearly 200 case managers. "Children's services deals with very difficult family situations, and we ask a lot of our caseworkers who are walking straight into these homes to protect Tennessee children," he said. "We should be paying them more, and we should also do a better job of setting them up for success by making sure they have the skills and experience it takes to do these emotional and difficult jobs."
—Sarah D. Sparks
TEXAS
Gov. Rick Perry (R) • Jan. 29
School choice was a prominent theme in Gov. Perry's address, as he called for an expansion of charter schools and an introduction of private school vouchers for students who attend low-performing public schools.
He also urged lawmakers to support legislation that would allow high school students to have more flexibility in choosing their courses, and he commended progress that's been made around the state in increasing the numbers of African-American and Hispanic students who are taking the sat and act college-entrance exams.
—Lesli Maxwell
UTAH
Gov. Gary Herbert (R) • Jan. 30
Gov. Herbert singled out education for sustained focus during his State of the State speech. He vowed to make it his top budget priority and reiterated a call to ensure more Utahns earn a college degree or postsecondary certificate.
"Education is the largest and most important investment Utah makes," the governor said. "While we recognize that money isn't everything," he said, "we should still take note that while so many states face shrinking budgets and bleak forecasts, Utah has the means, the vision, and the commitment to rank education as its top priority."
Mr. Herbert echoed the call of his Education Excellence Commission to have two-thirds of Utah's adult population hold a college degree or postsecondary certificate by 2020. "Right now, just 42.6 percent of our workforce meets that standard," he said. He also said he would request $20 million to improve education in the stem subjects: science, technology, engineering, and math.
—Erik W. Robelen
A version of this article appeared in the February 06, 2013 edition of Education Week as State of the States