About this time last year, having just evaluated applications for federal funds under the U.S. Department of Education's Teaching American History grant program, I wrote in these pages of my discouragement about the lack of evidence in those applications of teachers' aspirations for themselves. ("'Teachers of Ambition',"Commentary, Sept. 8, 2004) I was writing as a teacher of history and as a colleague of teachers. This year, having once again assessed applications to the same program, I write as a voter and taxpayer as well as a historian and teacher. The reason? It looks increasingly as if money is being wasted—and being wasted not because of the applicants' errors but because of a defect in the federal regulations governing the grants.
No one who reads applications in any competition for funds is ever fully satisfied with them. At least I rarely am. Sometimes I'd like to shake applicants by the throat, especially those with fundamentally good proposals, because of the obvious questions they fail to ask and address. Last year, I was struck by the inertia and ambitionlessness of teachers, at least of the teachers portrayed in the proposals. This year, it seemed to me that projects were decidedly deficient in expecting teachers to read—to read works of history, to read them extensively and deeply, and to come to terms with their significance and implications.
— Steve Dininno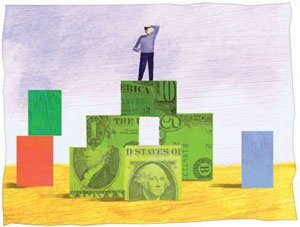 What's more, I was struck by how many projects were organized from the top down. As is so often the case in the schools, initiatives to maintain teachers' knowledge of their subjects seemed to originate with administrators, often under the spur of available funds, and rarely with the teachers themselves. Seldom was a teacher's voice to be heard in these proposals. Even more dismaying, all too rarely were applications written with fluency and verve. Why can't people associated with the nation's schools write snappy, colloquial prose rather than that ghastly subspecies of English, bureaucratic edu-speak?
But these matters, as serious as they are, didn't trouble me this year as much as something else. What most forcibly caught my attention in this round of applications was the absence of any evidence that the institutions and school systems applying for federal funds had given any thought to institutionalizing and continuing the programs set up with public monies, once those monies were no longer available to them.
That this year's Teaching American History applications showed no evidence of thinking far enough into the future is surely an indictment of those who submitted them. But it's also due to a large hole in the federal regulations governing the program. Provision for the continuation of these projects, some of them of great promise, after grant funds have been expended is not required for the receipt of public funds.
It reflects sloppy thinking and blindness to experience to expect a culture of learning in any particular school or school system to be built upon three years of federal funding—indeed, upon three years of anything.
Complaints have been leveled at the Teaching American History program since its inception. "It's just money thrown at a genuine problem" has been among the most often heard complaints. Yes, much money is being offered, always in competitive applications, to repair grievous defects in the preparation and intellectual nourishment of history teachers. But critics fail to see that at the very least, those funds are doing no harm; in many cases, they're doing much good. These same critics, however, even if unaware, are on to something else: The good that's being done, at least temporarily, is likely to dissipate without a toughening of federal standards. And I see no evidence that either Congress or the Education Department recognizes that danger.
Learning isn't a short-term affair. To keep abreast of a field, to participate in its ongoing debates, to maintain oneself as a thinker in a discipline like history is never-ending and hard won. Learning and the will to learn must be sustained—by individual teachers and by the institutions of which they're faculty members. Here's where school systems so abysmally fail their teachers—and thus their students: There's rarely a culture of learning in the schools, especially in public schools, which are the focus of the Teaching American History program. Thus, when the federal government comes along to provide funds to help teachers enlarge and sustain their learning, the news is greeted, as it should be, with elation.
But it reflects sloppy thinking and blindness to experience to expect a culture of learning in any particular school or school system to be built upon three years of federal funding—indeed, upon three years of anything. Nevertheless, from the applications for Teaching American History funding I've read, you'd never know otherwise. What provisions are applicants making to continue to involve their teachers in learning beyond the period of any grant? What are they doing to encourage their teachers to think of themselves as thinkers and not just teachers? We're not told, because those questions are so rarely asked. While you'd hope that applicants would have the wit to look ahead on their own, nothing that the Education Department requires of them encourages them to do so.
And so funds are granted and disbursed, lively and intellectually productive programs are set in motion, and teachers—at least for a time—get to fill their minds again. But what then? It's too early to expect significant and useful follow-up studies to indicate the long-run consequences of Teaching American History grants for individual schools and school districts. But it is a principle of institutional life that without the sustained—the ceaseless, active, engaged—application of leadership, will, funds, aspiration, and planning, no short-term efforts, however welcome they may be, will avail to make much of a difference in any particular institution's life. In this case, without the issuance of additional regulations for applicants, and thus the creation of additional incentives in this otherwise worthy competition, little is likely to come of Teaching American History programs over the long run.
What I complain about here is not distinctive to this program or to federal programs in general. It has long been a defect in the programs of other government agencies and of private institutions. The National Endowment for the Humanities, for instance, has never been willing to require its grant recipients, especially those receiving funds for teaching-related projects, to show evidence of a commitment that grantees will continue their funded endeavors for at least a decent time after their grant period ends. Another example: The James Madison Memorial Fellowship Foundation, like its sister fellowship-granting federal agencies, has never provided funds to its fellows' schools to ensure that those schools use the fellows' new knowledge on a continuing basis. Private foundations have long followed the same insouciant path. Only the Fund for the Improvement of Postsecondary Education consistently, as part of its review process, looks for evidence of the sustainability of projects applying for FIPSE funds.
Without the issuance of additional regulations for applicants, little is likely to come of Teaching American History programs over the long run.
One can't really expect the Teaching American History grant program to follow an example that doesn't widely exist. It would be nice, however, if it were to set a better example.
What's to be done? First, the Education Department should, with all urgency, amend the regulations that govern the Teaching American History program to require the provision of evidence about efforts to sustain each project beyond a grant term. The department should do so before the next competition. And if it can't do that, application materials should make clear the importance, if not the requirement, of evidence of sustainability. Second, prospective applicants for Teaching American History funds should take it upon themselves to gain a leg up in always-tough competitions for federal funds by thinking ahead about how they'll institutionalize the programs they aspire to set up with federal support. What will all the institutions involved in each applying project do to sustain it? What funds will they commit? What efforts are already under way to do so? What are planned? Who will have responsibility for seeing to the project's future? What experience in similar efforts do those people have?
These are common-sense questions for any applicants for any funds. That they're so rarely asked is witness to the inexperience and inattention of too many people in positions of responsibility in the nation's schools. But that they're so rarely asked is due as well to the failure of the Education Department to serve the public as well as it should. No school system, except my own local one, owes me, as historian and taxpayer, an accounting of the funds it uses. But the federal department owes to all Americans, as well as to the Congress that authorizes and votes appropriations for its programs, a better stewardship of their taxes. What's hanging in the balance in this case is the welfare, not just of the nation's teachers, but of its young people.
A version of this article appeared in the September 28, 2005 edition of Education Week as 'Learning Isn't a Short-Term Affair'