If school finance has seasons, then these are the bitter-cold days of winter for districts everywhere, even those in the sunniest of climes.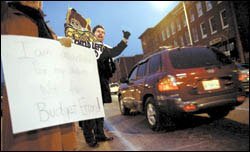 Anthony Schell, a Spanish teacher at Baltimore's Mergenthaler Vocational-Technical High School, protests the idea of employee furloughs at a Jan. 28 rally organized by the city teachers' union.
—Photograph by James W. Prichard/Education Week
From San Diego to Baltimore, districts are being forced to make painful budget cuts as political and economic forces converge into one of the deepest school fiscal crises in decades. Some, having largely spared the classroom in successive years of reductions, now have no choice but to pare back textbook purchases and lay off teachers.
Minneapolis is proposing to eliminate 289 teaching jobs and increase class sizes next year as part of an effort to plug a projected $28.6 million gap in its fiscal 2004 budget.
Baltimore, facing a projected $31 million deficit this year, wanted to furlough all 12,000 of its employees for several days, but union opposition scotched the idea. Instead, it will likely treat 30 top administrators to three or more unpaid days off, and have to find other ways to end the year in the black.
Portland, Ore., is weighing the possibility of chopping nine days off the school year. Austin, Texas, might have to eliminate as many as 450 full- and part-time teachers and teaching assistants from its payroll to close an anticipated $59 million hole in next year's budget.
Many districts have begun to put resources behind the student-achievement mandates of the federal "No Child Left Behind" Act of 2001 just as their states, struggling with budget crises of their own, are cutting back aid, said Anne L. Bryant, the executive director of the National School Boards Association, based in Alexandria, Va.
"You put those things together, and it feels like there is a new agenda without the resources to meet it," Ms. Bryant said. "The angst is, on a Richter scale, over the top."
Looking for Relief
In San Diego, whopping proposed cutbacks in education funding statewide prompted the school board to vote on Jan. 28 to cut another $47 million from this year's $1.1 billion budget, only months after slicing out $10 million. The new round of reductions will eliminate 239 nonteaching positions such as landscapers, bus monitors, and administrative clerks, and rule out textbook and furniture purchases, said Steven Baratte, a spokesman for the 140,000-student district.
The district faces the prospect of having to cut $150 million or more from its budget next year.
Educators in Baltimore rally for support as severe budget problems hit urban schools.
—Photograph by James W. Prichard/Education Week
In the Los Angeles district, with 737,000 students and a budget of nearly $10 billion, officials are trying to reduce this year's budget by $240 million, and will have to chop the same amount from next year's, said spokeswoman Cricket Bauer. School leaders hope to persuade the California legislature to deliver some relief, but failing that, have said they might have to increase class sizes for the second time in less than two years, and make other cuts in administration or programs.
Austin is feeling an advance pinch in next year's $705 million budget because of stagnant property values, a state cap on districts' tax levies, and a Texas law that compels it to share money with less wealthy districts, said spokeswoman Kathy Anthony.
District leaders, she said, are hoping the Texas legislature will help the 78,500-student system avoid laying off 450 full-time and part-time teachers and teaching assistants by raising the levy cap and suspending the share-the-wealth provision.
Baltimore, with 95,000 students, had hoped to save $6.8 million by furloughing all of its employees or by laying off 450 workers if the furlough plan failed. But it dropped both ideas as union members, parents, and teachers picketed and packed hallways at a Jan. 28 school board forum.
Now, the district must find other ways to plug this year's $31 million hole in its $909- million budget. The Baltimore Teachers Union, which represents 10,000 teachers and paraprofessionals, contended that the district could pare back administrative costs and personnel before seeking money from teachers and the classroom.
"The first option is always to go at the teachers," said Carla Tyler, a union spokeswoman. "We feel like they're not really lifting up all of those rocks that they could to look for all of those cost savings."
Portland's budget problems are among the most severe, fueled by a school financing arrangement in Oregon that relies on income taxes—a source that is running short in a time of high unemployment. Voters statewide were offered the chance to raise their income taxes to plug a huge deficit in the state budget and forestall cutbacks to education and other services, but they defeated that measure last week. ("Oregon Rejects Tax Hike That Would Have Helped Schools," this issue.)
Now Portland and other Oregon districts have to find other ways to shore up their budgets. Portland, with 53,000 students and an annual budget of $342 million, already sliced 15 days from this school year's calendar, a move still being mediated with the city teachers' union. Now it is considering cutting another nine days from the year.
And the district still would face $60 million or more in red ink in next year's budget, according to spokesman Lew Frederick.
"We've cut people, we've cut programs, we've cut books, we've cut everything you can imagine for the last nine to 10 years," he said. "Then people say you've got to cut more, and you want to go over and slap them."
In Seattle, where school officials are still reeling from a fiscal crisis caused by overspending last year, the 47,800-student district expects to close this year in the black, aided by $12 million in cuts to its $443 million budget, spokeswoman Lynn Steinberg said. ("Budget Shortfall Fuels Dissension in Seattle Over Superintendent," Nov. 13, 2002.)
Most of this year's cuts in Seattle were found in paring back administrative personnel and services, but professional development also was reduced, 10th grade summer school eliminated, and textbook purchases put off.
The district has put unused office and school space up for sale to replenish reserves from which it borrowed during last year's crisis, Ms. Steinberg said. And still, Seattle faces a projected $8.7 million shortfall next year, caused by a combination of rising costs, in areas such as transportation and contract-mandated pay and benefits, and declining state revenue.
'One Tough Year'
Bracing for what could be a $100 million budget shortfall in Boston attributed to declining state revenues and climbing costs for the upcoming school year, district officials there have asked principals to cut their 2003-04 building budgets by 10 percent, or $40 million.
That would still leave Boston with a gaping $60 million budget deficit, which likely would lead to larger class sizes, school consolidations, and staff layoffs, said Jonathan Palumbo, a district spokesman. The 64,000-student district is already trying to cope with a $15 million deficit in its $650 million budget this year by freezing vacant positions and office and classroom supplies.
Despite the financial derailment, Mr. Palumbo said, "the superintendent's message all along is, 'Let's not let one tough year take away all the progress made in the past six or seven years.'"
In Florida, the Miami-Dade County schools are receiving less state aid this year because of the 366,000-student district's shrinking enrollment. About 7,000 fewer students than projected enrolled this school year in the nation's fourth- largest school district.
Climbing charter school enrollment, increased participation in a corporate scholarship program for private schools, and a decline in immigration contributed to the student-population drop. ("Miami-Dade Will Launch Choice Plan," Nov. 6, 2002.)
Judith A. Webb, the chief budget officer for Miami-Dade, said the enrollment dip cost the district roughly $26 million out of its $2.5 billion budget for 2002-03.
While more than half that decrease in funding translates into positions that weren't filled to serve students who never materialized, the district tapped an $11 million emergency reserve fund to cover the rest of the shortfall.
Minneapolis, too, is patching a $28.6 million hole in next year's approximately $450 million budget caused in part by declining enrollment. It has 45,000 students this year, 1,400 fewer than anticipated, and that monetary dip was aggravated by increasing health-insurance expenses and other costs, said David Jennings, the district's chief operating officer.
Now, the district is faced with the possibility of having fewer teachers and bigger classes.
"While the choices we're making are painful," Mr. Jennings said, "there just aren't that many choices."