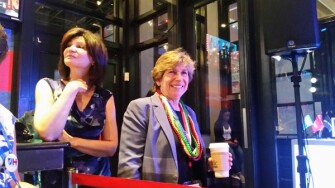 Philadelphia
She's doing a fair bit of walking as she makes the rounds during the Democratic National Convention here on Wednesday, but American Federation of Teachers President Rand Weingarten actually has a car on her mind.
This year represents a reset, in Weingarten's view, thanks to the Every Student Succeeds Act. Its emphasis on a greater range of academic subjects, de-emphasis of testing in accountability, and greater policy flexibility for states and districts offer schools a new "engine" in ESSA, she said.
And she wants her union to be the "vehicle" for those changes, after nearly eight years of President Barack Obama's administration that often left the AFT on the outs and very frustrated with Democrats in Washington.
"I love President Obama," Weingarten said between a DNC convocation being led by her partner, Sharon Kleinbaum, and a meeting of the DNC's Labor Council downtown. But under Obama , she added, "We had an environment where we led with accountability instead of where we led with teaching."
Many educators here at the DNC have standardized testing on their minds. But ESSA doesn't change the basic required state testing regimen of the No Child Left Behind Act. We asked Weingarten how Clinton, given ESSA, could substantively address some teachers' ongoing criticisms about the volume of tests.
She didn't directly offer possible policy routes for Clinton, but did highlight the need to create a "pro-public-education environment" and for the next president to use the bully pulpit to do so.
"We trust that this is going to change," Weingarten said of the pre-ESSA environment in classrooms, "but it hasn't changed" yet.
Unions: We 'Kind of Did' Write the DNC Platform
Both Weingarten and her counterpart, National Education Association President Lily Eskelsen García, are in the City of Brotherly Love supporting the Democratic nominee Hillary Clinton, whom their unions endorsed early in the Democratic primary. They both spoke briefly on Monday night at the DNC. But not everyone on the convention floor was pleased with the unions' decision to quickly jump on board with Clinton. (More on that below.)
The conventions are both energizing and exhausting, Weingarten said. However, switch the subject to the GOP's nominee, Donald Trump, and she shows anger and exasperation, albeit in different forms.
When Trump is brought up during a panel discussion about K-12 hosted by the Atlantic, Weingarten and National Education President Lily Eskelsen García, seated next to each other, seem to sag, then they lean in close to each other and share something between a groan and a grin. Then Weingarten weighs in with her support for Clinton: "She listens to people all the time."
Their enthusiasm for Clinton, and the party's overall direction, is clear. During the Atlantic panel, Eskelsen García proudly points to the Democratic Party platform on education that opposes using tests to evaluate and trigger consequences for students, teachers, and schools. She adds that the union might have written the key elements of the platform and then adds, "I think we actually kind of did." (We chronicled some of EskelenGarcía's time at the convention yesterday.)
However, when we pointed out later that Trump doesn't talk about education much, and asked Weingarten whether she thought a President Trump might treat K-12 issues with a sort of benign neglect, she bristled, saying that the question had a faulty premise.
As she has claimed before, Weingarten said Trump's rhetoric about various groups of people has poisoned classrooms and undermined the spirit of "civitas" (Latin for citizenship") in schools that teachers must cultivate: "It's worse than ignorance."
Asked if that would, among other things, make teachers all the more important, she replied, "It makes them more important, and it makes their job harder and harder."
Ironically enough, a short time later at the DNC's Labor Council meeting, Weingarten spoke at the podium not too long after New York Gov. Andrew Cuomo gave remarks backing organized labor. Unions have had high-profile disputes with Cuomo in the Empire State, particularly over teachers' evaluations.
But on Wednesday, that fight was far in the distance, as Weingarten asked the crowd: "Do we need to do what Andrew Cuomo said we need to do across the country?" The crowd signaled its approval.
Losing Leverage
Weingarten has repeatedly said that while she's glad her union is not monolithic, the AFT went through its normal democratic processes, listened to its members, and made the right choice in endorsing Clinton. But as we pointed out yesterday, some teachers are still frustrated with how quickly the AFT and NEA jumped on board with Clinton in the Democratic primary.
Chuck Pascal, a former school board member and Pennsylvania delegate who was pledged to Vermont Sen. Bernie Sanders, told us on the convention floor Tuesday night that Clinton was still wishy-washy on key issues like charter schools, which Pascal views critically.
"I think there are other people who are pushing her in the correct direction, while other people are trying to pull her in the other direction," Pascal said, despite Clinton's stated concerns about charters earlier in the campaign.
As for whether the unions lost any kind of leverage by endorsing early, and therefore missed the opportunity to snare more of the spotlight, Pascal's thoughts are clear.
"If they had waited longer, maybe there would have been more conversation about public education during the campaign," he said.
Hitting Her Stride
For most of the month, Weingarten has been on what she calls a "marathon" that includes AFT's own national gathering in July and the DNC.
But since her first Democratic convention in 1992, Weingarten has learned a few tricks to keep her energy up, or at least keep it from bottoming out.
Weingarten said she tries to get at least four hours of sleep a day. She tries to drink more water and less coffee. And there's one more lesson—it's about shoes.
"Flats," Weingarten said emphatically. "That's the most important thing: Your feet."
Photos: American Federation of Teachers President Randi Weingarten, center, waits with National Education Association President Lily Eskelen García, left, to participate in a panel discussion hosted by the Atlantic on Wednesday, July 27; Pennsylvania delegate and Sen. Bernie Sanders supporter Chuck Pascal. (Andrew Ujifusa/Education Week)
---
Follow us on Twitter at @PoliticsK12.