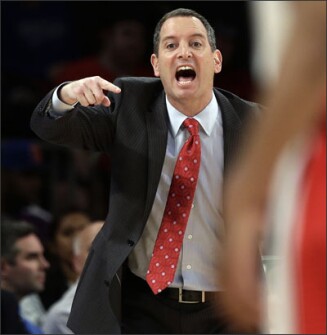 Rutgers University men's basketball coach Mike Rice came under scalding hot water Tuesday when ESPN aired a video of him throwing basketballs and cursing at his players.
For a man who likely promised parents during the recruiting process that he'd treat their sons with the utmost respect as student-athletes, the video shows the exact opposite came true when these players stepped on campus.
Beyond the physical abuse the players endured, Rice dished verbal abuse, too. In the video, which you can see below, Rice spews profanities at his players, including calling one a "f---ing fairy." (Keep in mind, a Rutgers student committed suicide a few years ago after his roommate livestreamed him having a gay encounter in his dorm room.)
Rutgers athletic director Tim Pernetti first viewed the video in December, according to ESPN's Outside The Lines show, and suspended Rice for three games as a result.
The fact Rice wasn't fired on the spot back in December generated nearly universal outrage on Twitter after ESPN aired the video on Tuesday.
After seeing the footage, CBSsports.com columnist Gregg Doyel took to Twitter and immediately called for Rice's head:
Every hour that passes and Rutgers hasn't fired this guy, someone above him should go, too bit.ly/10n4a4u

— Gregg Doyel (@GreggDoyelCBS) April 2, 2013
In a column filed later Tuesday, Doyel calls Rice "a bully," asking how badly an employee has to behave at Rutgers to lose his job.
He wasn't the only CBSsports.com staffer to do so, either. Fellow college basketball reporter Gary Parrish wrote that not only did Rice deserve to get the ax, but that Pernetti's job is likely now in danger, too.
You'll find similar takes on every major sports website. ESPN.com reporter Dana O'Neil wrote that Rice's actions were "abusive, cruel, and out of bounds," and said "it's about time we drew the boundaries."
A version of this news article first appeared in the Schooled in Sports blog.