Corrected: A previous version of this story included a misspelling of Brent Wilder's name.
Small, quiet Linfield College—set in bucolic Oregon wine country, about an hour outside Portland—is not for every student.
On a rainy Monday morning here in April, an introductory environmental-studies class has just one attendee. Only two other students are on the roster, and, as the professor points out, one is at a track meet.
The main campus of the private, nonprofit liberal arts college is on 185 mostly green acres and has only 1,700 students, most of whom live in the residential halls.
It's a stark contrast to the better-known large public universities where commuting is common, and lecture halls often hold several hundred students. Yet Linfield is the kind of postsecondary institution that Oregon's version of GEAR UP, a federally funded college-access program, is now trying to get more rural, low-income, and first-generation college-going students to see as an option.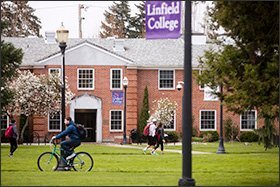 "We believe, based on [national] research, that there's a great importance in students finding a good fit for college," said Adrienne Enriquez, a program manager for Oregon GEAR UP, which stands for Gaining Early Awareness and Readiness for Undergraduate Programs. Students and faculty in the rural GEAR UP schools "didn't necessarily have as much knowledge and information about the private colleges in the state as they might have about the four-year public universities," she said.
Oregon GEAR UP has partnered with The Alliance, a consortium of 18 small private nonprofit colleges in the state, to help educators and students from remote areas learn about these schools.
"There are a lot of myths out there about private education that just aren't true," said Brent Wilder, the vice president of The Alliance. "That it's only for affluent individuals, that our campuses aren't diverse. … We have the highest graduation rate in Oregon among students of color."
Through the GEAR UP program, small groups of teachers, administrators, and counselors come together from different parts of the state to visit private college campuses over a few days. GEAR UP—which was slated for a slight funding increase under a budget agreement expected to be approved by Congress last week, but is among the education programs President Donald Trump would like to cut in a 2018 budget—pays for their travel and lodging and reimburses districts for substitute teachers.
For the third straight summer, Oregon GEAR UP is also running a Private College Week camp, during which high school students visit several colleges, staying on campus at one of them, and learn about admissions processes and financial aid.
Research on 'Fit'
The program also aims to inform college faculty and admissions officers about the small, rural schools GEAR UP students are coming from.
"It's a two-way street," said MorraLee Keller, the director of technical assistance for the National College Access Network, which is not involved in the program. It's important "for colleges to understand more about the high schools other than looking at a paper transcript that comes in ... to understand characteristics that might be unique or perhaps the academic rigorousness of the district."
In describing the need for this kind of program, which is unique to the Oregon version of GEAR UP, Enriquez said that visits to the larger universities were scaring off some students from rural communities.
"They're visiting classrooms that hold more people than live in their town. They go through the lunch line and they have to go through turnstiles, and they've never seen those," she said.
A few years ago, a group of students from the tiny logging community of Powers came off a tour of the 20,000-student University of Oregon not wanting to go to college at all. In a post-visit survey, they indicated, "College is not for me. It's too big and too scary,' " Enriquez said.
The colleges that students see during the weeklong summer camp generally have between 1,000 and 4,000 students.
College "fit," including the financial, cultural, social, academic, and geographic factors that make an institution a good choice or not for a student, has been the subject of much research over the past decade. In the 2016 book Matching Students to Opportunity: Expanding College Choice, Access, and Quality, Jessica Howell and her co-authors explain that college fit, and in particular going to a school that matches a student's academic credentials, is positively associated with earning a degree.
"By and large, we know that when students enroll in a college that isn't a good fit for them, that's usually because they didn't consider colleges that would have been a better fit," Howell said in an interview. "We need to open up students' eyes early in the process so they know their options."
Graduation-Rate Advantage
Private schools can be an especially good option for first-generation and low-income students, advocates for college access note, because graduation rates there tend to be higher than at the public universities. For example, at Linfield, the four-year graduation rate in 2014 was 61 percent. (Nationally, it's about 55 percent for private, nonprofit schools.) At Oregon State University, which has more than 20,000 students, it was 31 percent, according to the Education Trust's College Results Online tool.
Sometimes, students don't know about the private colleges, perhaps because no one from their area has ever gone to them, or because their school counselors and teachers are more familiar with state schools.
And other times, students, as well as their families and counselors, believe they simply can't afford anything other than a state school.
"I have some kids this year that were interested in some of the private colleges, and the only thing I knew about them really is that they're really expensive," said Elizabeth Rosen, a high school counselor in Boardman, who was on the recent Linfield tour with GEAR UP.
It's true that private schools tend to be quite expensive. The total cost of tuition and housing at Linfield, for instance, is about $50,000 a year. For students living on campus at OSU and the U of O, it's about half that.But experts say private institutions can put together hefty financial-aid packages that often bring the cost below what a student would pay at a state university.
"The private school model tends to be high sticker price, high discount rate," said Howell, who is the executive director of policy research at the College Board. "Students don't realize it's like shopping for cars—the sticker price isn't what you're going to pay."
In addition to need-based aid, federal and state grants, and college work-study, private colleges often give merit-based scholarships. Merit awards can be harder to get at large institutions given the sheer number of applicants, said Keller of the NationalCollege Access Network. "You may find that a student who may not have hit the benchmark at a big four-year public may hit it at a small private," she said.
But even with a generous aid package, the numbers don't always work out. The average net price for low-income students at the Oregon state universities is about $13,000. At private schools including Linfield, Lewis & Clark College in Portland, and Pacific University in Forest Grove, it's closer to $20,000. However, at Reed College, among the nation's most academically prestigious private colleges, low-income students only tend to pay about $9,000.
Daniel Urdelas, a freshman at the private, nonprofit Pacific University, said he realized he wanted to go to a small school while attending the GEAR UP summer camp two years ago. "When I thought about the college experience, I mainly only thought about the big schools—OSU and U of O," he said. Upon seeing the private colleges, "I think what appealed was the intimateness of the atmosphere. … It was really much more toned down, casual, and comfortable."
The University of Oregon did offer to pay his tuition, but "Pacific seemed like they kept throwing grants at me and scholarships," he said.
The state option may have been several thousand cheaper in the end, but Urdelas, who is from Lincoln City,a small coastal town, decided it made sense to pay more for the right fit. At Pacific, which has fewer than 2,000 students, "I feel comfortable talking to my professors outside of class in office hours. I feel like I mesh OK with the vibe here," he said. "I might have gotten a little lost at a bigger school."
Coverage of the experiences of low-income, high-achieving students is supported in part by a grant from the Jack Kent Cooke Foundation, at www.jkcf.org. Education Week retains sole editorial control over the content of this coverage.
A version of this article appeared in the May 10, 2017 edition of Education Week as Oregon GEAR UP Links Rural Students To Private Colleges