American Indian students who share in the proceeds of the local casino are getting school lessons on how to hang on to their chips.
For as long as many young people here can remember, the local Indian casino has been luring the outsiders in: newlyweds, retirees, sightseers, and snowbirds, from Chattanooga and Charlotte, Asheville and Atlanta. They roar up the steep mountain switchbacks, park their pickups and chartered buses, and hit it big or bottom out at the slots and digital blackjack, where that fabled jackpot is just one wager away.
But just a few miles down the road, students at Cherokee middle and high schools have a more surefire opportunity to pocket hefty winnings—without ever setting foot in the casino.
Upon graduation, students from the tribal-run school system are eligible to receive lump-sum payments, with the amount this year reaching $36,967.78 per person. The money comes from the revenues of Harrah's Cherokee Casino & Hotel, which is owned and operated by the Eastern Band of the Cherokee Indians. Proceeds from the gambling operation are poured into new roads, housing, health care, college funds—and for the past five years, a designated pool of money for students.
Tribal leaders in this community nestled high in the Smoky Mountains established the payment program, known as the "per-capita," around the time the casino opened, in 1997. All enrolled members of the Eastern Band of the Cherokee—adults and children alike—receive yearly sums. But while adults collect their per-capita in the form of two checks a year, such money is not released to young people until they have finished school, or turned 21.
Cherokee leaders hoped the payment system would provide young adults with a financial head start, as well as an incentive to graduate.
Yet for some teenagers, the only guarantee associated with the per-capita seems to be that they will spend it—and quickly. They buy cars, clothes, cellphones, motorbikes, satellite dishes—whatever they need, or rather, whatever they want.
"They tend to go want to buy the biggest, baddest truck they can find," says Fred Harris, the principal at Cherokee Middle School. "Our concern is getting them information."
Cherokee High School graduate Shannon Bark spent much of her per-capita payment and now works at tribal-run recreation center in addition to being a mother and college student.
—Photograph by Allison Shelley/Education Week
To that end, officials in the 1,300-student Cherokee Central school system, which like Harrah's is located on the tribal land, have launched classes to encourage students to invest the per-capita money, or at least take prudent care of it. Those efforts, launched over the past two years with help from a local bank and a nonprofit organization, are for now relatively small-scale. But tribal and school officials are thinking of making such lessons mandatory, so that all students are at least given access to financial advice.
"The per- capita has helped a lot of families here, but it's not going to change the life of any one person unless they learn to save it and invest it," says Kathy S. Wolfe, an elected school board member who is of Cherokee descent. "We're trying to touch every grade. It's a big thing for the board."
A few years ago, a teacher talked to Shannon Bark about saving her per-capita. She wishes she'd listened. Not long after graduating in 1999, Bark used her $12,000 payment to buy a 2000 Honda Accord, which she later traded in for a 2001 Honda Passport, an SUV. She had a little left over, but says that disappeared quickly, too.
Now 22, Bark wishes she had the money back. She has a 17-month-old daughter, and $215 a month in day-care costs. She works 40 hours a week at a tribal-run recreation center, while also studying full time at Western Carolina University, in nearby Cullowhee.
Like other Cherokee students, she receives money for college from a casino-funded assistance program, so the per-capita isn't needed for that.
"Leave it in there" is her advice to students today. "Everyone I know," Bark says, "has [bought] a car with that money."
For some people, financial savvy comes naturally. They balance their checkbooks like CPAs and stay as debt-free as credit counselors. They save for emergencies and stow away money. They build wealth.
Mark Little, who teaches a course titled Personal Financial Management at Cherokee High School, does not count himself as one of those people. But he's trying. By this summer, the business and computer instructor hopes to have eliminated most of his debts. He's using some of the same advice he gives students each day in class. It's a matter of principle. He says he'd be a hypocrite if he didn't live what he taught.
"It gives me credibility," Little says. "Money's a very emotional issue."
He also sees it as an increasingly important topic in Cherokee. The 43-year-old teacher, a former automotive machinist, first came to the community, located in an area known as the Qualla Boundary, in 1995. He began working as an assistant basketball coach and substitute teacher in the schools, whose student enrollment is almost entirely Native American, and he later became a business teacher. He loves his job. He moved here with his wife, who is Cherokee. They have four children, all of whom are eligible for the per-capita.
For years, Little talked about personal finances in his classes when he could. But seeing so many spend their per-capitas so quickly made him rethink that approach. Last year, he was granted permission to devote an entire elective course to the topic. His first class started in the spring of 2003 and was open to freshmen through seniors.
He's building it from scratch. The teacher picks out lessons from books such as Dave Ramsey's Financial Peace, and he requires students to draw up monthly budgets based on different financial assumptions. He teaches about assets, liabilities, and the benefits of compound interest. His message is often direct. At six-feet-plus, with a power-forward's frame and a firm gaze, Little is well-suited to deliver those messages.
"If you're overspending, stop overspending," he says. "It's not touchy-feely."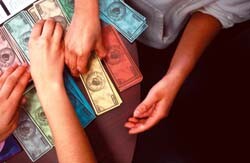 Students at Cherokee High School play a financial-strategy board game called "Ca$hflow" in teacher Mark Little's class on personal financial management.
—Photograph by Allison Shelley
Yet the teacher, like other educators here, knows that prosperity is a relatively new concept for his students and their families. For years, Cherokee's economy was mostly seasonal, and at best uneven. The busy days ran from late spring through about Labor Day, when its mountain air drew heat- sapped tourists and its rivers enticed anglers, rafters, and hikers. The rest of the year was leaner. Motels closed for the winter. Gift shops boarded up. Jobs became scarce.
With the opening of the casino in the fall of 1997, more of a year-round industry began to take hold. Built for more than $80 million, the casino drew 3.1 million visitors during its first year. Today, it employs more than 1,700 people, and paid out more than $37 million in wages last year. The casino has added 20,000 square feet of floor space to its operation since it opened, and a second hotel is under construction.
"There are way more jobs than we ever had before," says Kim Lambert, the program manager of the tribe's education and training office. "Everybody's living standard has been raised."
Nationwide, 223 American Indian tribes are operating 330 casinos in 28 states, which took in $14.5 billion in revenue in 2002, according to the National Indian Gaming Commission, the federal agency that regulates the facilities. Under federal law, tribes must use casino revenues for specified purposes, such as government, social services, and charitable works, and the Cherokee casino's revenue feeds those sources, too. Tribes are also allowed to use a portion of revenues for per-capita payments, and about one-third of all gaming tribes do so, according to the National Indian Gaming Association, a Washington advocacy and lobbying organization.
Adult members of the Eastern Band of the Cherokee receive per-capita checks in December and June. Six year ago, the yearly distribution was $2,200 per person; by last year, it had climbed to $6,646. For students, the money is kept in a growth fund until they graduate from high school, or receive a GED credential, and turn 18. (Some members decline the money for personal or religious reasons.) Young people who drop out of school also receive that accumulated sum, but not until they turn 21. Students must fill out an application to get the money, and they can leave it in the fund if they wish.
The Cherokee school system used to be overseen by the Bureau of Indian Affairs of the U.S. Department of the Interior. Today, it is run solely by the tribe. The middle and high schools, which have a combined total of about 500 students are housed in the same building on a road lined with tribal offices and stores on the banks of the Oconaluftee River. The school building is a few miles from the casino.
Teachers at different grade levels had been mixing personal- finance lessons in business classes for years before the new high school and middle school programs. But it was clear more needed to be done, recalls high school Principal Ken Ball, who is the top administrator for both the middle and high schools.
In Ball's view, the schools have a "professional and moral obligation" to offer students training in personal finance. "We owe it to them to make them aware of their options and what this money can do for them," he says.
The principal, who is white, grew up in Cherokee and lives a few minutes from the school, in a cabin up a steep incline that some days challenges even his Ford F250 diesel truck. On the wall behind his desk hang two Cherokee pieces of art his students call "God's eyes"—circular, multicolored designs of wood and straw. An American flag and a Cherokee High football helmet are propped up not far away.
Ball, 57, has seen that the casino has had a direct impact on the school. Free and reduced-price lunch rolls have dropped in half from two years ago. Students show up dressed in nicer clothes. Yet the per-capita payments also have unleashed other, less benign forces, Ball says. He has grown weary of turning away offers from for- profit outsiders wanting to offer students advice on how to spend their money. About twice a year, he says, businesses will even come seeking permission to put up advertisements in the school, touting promotions. "Ironically, those fliers coincide with the payments," the principal says with a wry smile.
Ellison C. Rudd, a vice president at First Citizens Bank in Cherokee, helped start a financial-management course for students after seeing so many graduates walk into his bank and cash their first per-capita checks for several thousand dollars.
—Photograph by Allison Shelley
Efforts to establish personal-finance training are not uncommon among Indian tribes with casinos, according to the National Indian Gaming Association. "It is important for all American Indians, and all Americans, to understand the importance of sound financial planning," Ernest L. Stevens Jr., the chairman of the association, said in a statement. "We encourage financial literacy programs."
Ellison C. Rudd, a vice president at First Citizens Bank in Cherokee, took it upon himself to help nurture such literacy. He had grown weary of seeing students walk into his branch with per-capita checks totaling several thousand dollars, cash them, and walk out. Last fall his bank employees, using a curriculum provided by Junior Achievement, began teaching 7th and 8th graders about personal finance over an 8-week period during their social studies classes.
That training, Rudd argues, will eventually help bolster and diversify Cherokee's economy. Next year, those finance classes will be expanded to the high school, with financial support from Harrah's Cherokee casino.
Lynne Harlan, a tribe member who is now a public relations assistant for the casino, also longs to see a wider array of retailers in the community: shoe stores, furniture outlets, and appliance distributors. One set of entrepreneurs can make it happen: "The kids—when they see they can start their own businesses with the money they have," Harlan says.
But some tribe members, while they applaud the schools' efforts, also warn that adults, and particularly non-Indians, should be careful not to over-prescribe how students should spend their money. Others note that much per-capita spending, such as on new stoves, roof repairs, and clothes, is both good and necessary.
"You're talking about people who had very low incomes before this," says Deborah Lambert, the student counselor at Cherokee High. "Part of me, as an enrolled member, thinks this is a value decision. Who is anybody to say there's something wrong with buying a car? We have enough sense to know what to do with our money."
Mark Little's hope is that graduates will set priorities for their spending. He uses different classroom tools to make that point. One day in March, he had his students divide into small groups and play a board game called "Ca$hflow."
Efforts to establish personal-finance training are not uncommon among Indian tribes with casinos, according to the National Indian Gambling Association.
Each student starts with a specific career and income level. A player rolls the dice, then moves from space to space, with each stop posing a new business opportunity or financial challenge. The goal is to make enough sound moves to leap from the section of the board known as "The Rat Race" to one called "The Fast Track." Players record their moves on balance sheets, adjusting assets and liabilities with each roll.
For the purposes of the game, senior Rose Long is a police officer. She has a monthly income of $3,000, a mortgage of $46,000, and $2,000 in credit card debt.
After several rolls, the 18-year- old has passed through a few paydays and made only one minor purchase: a painting for $200. More importantly, she's paid off her retail debt, and reduced her monthly expenses from $1,880 to $1,830. That gives her with an extra $50 with every paycheck.
But then her security is shaken: She rolls a two and loses her job. That costs her a few paychecks. Eventually she recovers, rolls again, and lands on a space called "The Market." It seems like a prime opportunity. She can buy stock at $10 a share.
The 18-year-old, however, is skeptical. The stock's trading range is only $10 to $30 a share. She decides to pass on it. "You break even," says Long, clad in a burgundy sweatshirt and jeans. "There's better ones out there."
"That's one of the things about building wealth," Little reminds the class a minute later. "You can't force the opportunities. You have to wait for the opportunities to come."
Long has such a plan. In a few months, she'll graduate, in all likelihood with a sizable per-capita. The teenager says she intends to work and eventually go to college, probably to study art at Western Carolina University.
Her per-capita, meanwhile, will sit untouched and grow. Her advice to younger students is simple. "Stop thinking about the things you want to buy," Long says. "I don't really need it [now]. There's no point in spending anything."