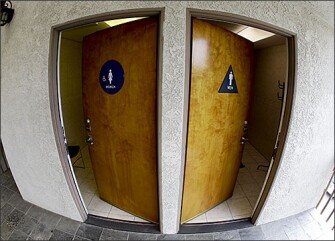 Calling new federal guidance on the rights of transgender students "blackmail," Texas Lt. Gov. Dan Patrick urged superintendents in the Lone Star State not to obey the Obama administration's instructions to school districts.
Patrick, a Republican, said Friday that Texas is prepared to lose the roughly $10 billion in education funding it receives annually from federal agencies as a consequence of not complying with their interpretation of Title IX, the Associated Press reports.
"We're not going to be blackmailed by the president, and we're not going to sell out our school children for 30 pieces of silver," he told reporters.
The guidance, issued by the U.S. departments of Education and Justice this morning, puts schools on notice that failing to recognize a transgender students' gender identity is a violation of the federal sex-discrimination law. Among other things, the guidance says schools are required to let transgender students access the sex-segregated classes, teams, restrooms, and locker rooms that match their gender identity, even if it differs from their sex at birth.
Texas Lt. Gov. @DanPatrick on Obama administration guidance on transgender bathrooms: "We will not be blackmailed" //t.co/28tFsicoo8 -- CNN Newsroom (@CNNnewsroom) May 13, 2016
The Obama administration calls its guidance an interpretation of existing federal law but some, including other Texas officials, have said it is trying to use a backdoor to force a new policy on school districts without going through the necessary legislative process.
"This is the kind of issue that parents, schools boards, communities, students and teachers should be allowed to work out in a practical way with a maximum amount of respect for the individual rights of all students," Senate education committee Chairman Lamar Alexander (R-Tenn.) said in a statement. "Insofar as the federal government goes, it's up to Congress to write the law, not the executive departments. And guidance issued by the departments does not amount to federal law and should not be treated as such."
Others took to Twitter.
Is there any issue the Obama Administration believes can be left to state and local government?

-- Ben Sasse (@BenSasse) May 13, 2016
I announced today that Texas is fighting this. Obama can't rewrite the Civil Rights Act. He's not a King. #tcot //t.co/vDgfQPZXjR

-- Greg Abbott (@GregAbbott_TX) May 13, 2016
This isn't over. The federal interpretation of Title IX is the subject of four separate lawsuits in North Carolina alone, and several others are pending in other states.
This isn't the first time Patrick has been in the news over this issue. He recently called for the resignation of Fort Worth Superintendent Kent Paredes Scribner after that district adopted transgender student guidelines.
Photo: The doors to public restrooms are propped open at a office complex in Anaheim, Calif. --Chris Carlson/AP
---
Related reading:
Follow @evieblad on Twitter or subscribe to Rules for Engagement to get blog posts delivered directly to your inbox.
A version of this news article first appeared in the Rules for Engagement blog.