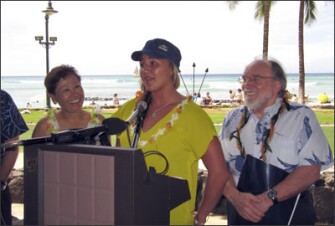 Hawaii public high schools will begin offering surfing as an official school-sanctioned sport as early as the spring of 2013, Gov. Neil Abercrombie and the state department of education announced Monday.
In doing so, Hawaii will become the first U.S. state to offer surfing as an official school sport.
"Hawaii is the birthplace of surfing. From Duke Kahanamoku to the thousands of residents and visitors who surf both recreationally and competitively, the sport is rooted in our culture and way of life," said Gov. Abercrombie. "Bringing surfing to our students is another step in our collective goal to transform public education and provide our children with rich and diverse educational opportunities."
The Hawaii state board of education first approved surfing as an official high school sport back in May 2004, but funding, safety, and liability concerns prevented the sport from being recognized until Monday.
The department of education will rely on outside funding sources to help contribute to the sport, to ensure that other programs don't suffer as a result of surfing being offered at schools.
Education board member Keith Amemiya, the former head of the Hawaii High School Athletic Association, estimated the cost of surfing in the first year to be $150,000 when speaking with the Associated Press.
"Because of these lean fiscal times, none of the DOE funding will be used to run the events," he said. "We're counting on the private sector and the public."
Amemiya told the AP that private sources had already committed $50,000 for the first year of surfing.
Joining Gov. Abercrombie at the press conference was Carissa Moore, 18, who recently became the Association of Surfing Professionals women's world champion. Not surprisingly, Moore was quite pleased about the decision to bring surfing to Hawaiian high schools.
"I think this is really exciting that surfing is going to be a part of schools' sports programs," said Moore. "Surfing has been a really big part of my life and has taught me a lot of valuable lessons: what hard work and perseverance can do, time management, and how to stay organized."
Photo: World surfing champion Carissa Moore talks to reporters on Oct. 3, as schools superintendent Kathryn Matayoshi, left, and Gov. Neil Abercrombie, right, look on during a news conference at Waikiki Beach in Honolulu to announce that Hawaii is becoming the first state in nation to have surfing as an official high school sport. (Jaymes Song/AP)
.

A version of this news article first appeared in the Schooled in Sports blog.