Remember the rage on social media over the ice-bucket challenge that raised awareness for ALS, the push-up challenge that raised awareness for veteran-suicide prevention, and all the other worthy causes that have found a vibrant life of their own on the web? Now that the first semester of this school year is nearly under our belt, why not help spread the news about a School Friendship Challenge?
Each year, multiple millions of dollars in grant money is awarded to schools and other educational organizations to reduce incidents of bullying. According to the U.S. Department of Education's most recent "Indicators of School Crime and Safety" report, the percentage of the students between the ages of 12 and 18 who reported being bullied dropped to a low of 21.5 percent in 2013, down more than 10 percentage points from 2007. Contrary to the popular narrative, this number includes online bullying as well as bullying in physical schools.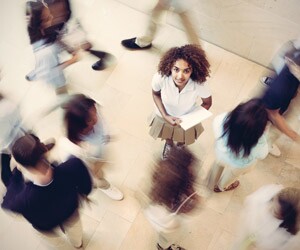 But the reduction in bullying is not exclusively the result of intervention programs. Certainly we should applaud the anti-bullying programs for their success in increasing student awareness and sensitivity. But I believe that, more than all the prevention programs, the cause of this decrease in bullying is a new phenomenon in the lives of students: A majority of young people today obsessively live within the world of their smartphones and don't want to take the time away from their screens to find and harass another student.
Although the statistics from the Education Department might suggest schools have become friendlier and more engaging, what you see when you walk the halls of many schools today are hundreds of adolescents with their heads down, ear buds in, and eyes glued to a screen. One could easily observe that students now exist within a much more impersonal and disconnected environment. The School Friendship Challenge could create a friendlier and more connected atmosphere and school community. The School Friendship Challenge is not just for students, but also for all the adults in a school building, including teachers, administrators, secretaries, maintenance workers, and cafeteria staff.
Lift your head from the screen and smile at the person nearest to you."
Here's the idea: Each day at school, for the rest of the year, simply make a gesture of acknowledgment toward someone you don't know.
What is a gesture of acknowledgment? Just a simple "hello," "good morning," or a nod with a smile—a sign of friendship that recognizes the presence of someone you didn't know before. That's all. Lift your head from the screen and smile at the person nearest to you. Maybe in that room of chaos (think: school cafeteria), you could even introduce yourself to someone in the lunch line.
The School Friendship Challenge is meant to empower every person in a school by creating a sense of connection. After all, each person in the building shares the same goals: academic success and school wellness. The likelihood of reaching these goals is greater if you exist in a friendlier, safer, and more positive building. So jot a note to yourself. On second thought, let me take that phrase back—I am dating myself. I meant to say: Put a daily reminder on your smartphone that states, "Today, I will make a gesture of acknowledgment to someone I don't know at school."
If you participate in the School Friendship Challenge, you won't have to wait for a report from the Department of Education, you won't have to complete a survey, there will be no need for an evaluation. In a short period of time, you will realize that you go to a school where both adults and fellow students know you and care about you.
A version of this article appeared in the November 16, 2016 edition of Education Week as The School Friendship Challenge