By Amanda Avallone, Content Manager for Next Generation Learning Challenges
"What was your favorite childhood book?" Early in my career as an educator, this was the kind of question I asked each student on the first day of Grade 9 English. Not very creative or probing, I'll admit, but it was a first step in building a relationship with the 100+ newly minted freshmen I would see throughout the year. Looking back, my opening activities seem pretty superficial. I did not think to ask about my students' dreams or unique strengths, and I certainly did not inquire into their preferences for learning.
To be fair to my novice teacher self, I am not sure what I would have done with the results of a more thorough inventory. Working within the confines of a prescriptive grade-level curriculum, I could offer students few choices. For instance, had they expressed a strong interest in reading contemporary novels, this information would hardly have been actionable--the class set of Great Expectations was already stacked up and ready to go.
The landscape of education is transforming, however. As more and more educators work to replace factory-model schools with personalized, student-centered learning experiences, knowing our students has taken on new meaning. In this edition of the NGLC Practitioner's Guide to Next Gen Learning, we consider this more profound kind of knowing and its role in personalizing teaching and learning by asking these questions:


What is a learner profile? What does it include?
How can this information support deep, authentic, and more personalized learning?
What have educators in the Next Generation Learning Challenges (NGLC) community learned about using learner profiles to help students chart their unique pathways to success in school and adulthood?
What does knowing a student look like?
"If we really believe that teaching is about the student, then it sure would help to actually get to know the students in deeper ways." This statement by Emily Puetz, Learning Architect at ReSchool Colorado, sounds a lot like common sense, but it is not as common as one might think. In the past our data about students has been narrowly defined. At this time of year, educators in diverse school settings are examining student test scores and other achievement data to understand where students are relative to grade-level content standards. Valuable conversations about fragile or missing skills are taking place, informing decisions about student placement and interventions needed to support academic success.
Educators in next generation learning schools, however, are guided by broader definitions of success and a set of forward-thinking competencies--the knowledge, skills, and habits students will need not only to survive but to thrive as adults. Unfortunately, in most schools, data on dimensions other than academic achievement do not pop into a teacher's data dashboard or arrive in a digestible report from the district.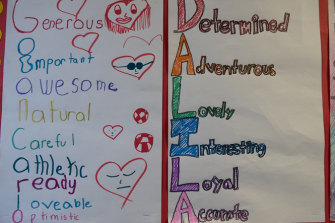 This is where the learner profile comes in. According to Education Reimagined, a personalized learning approach also considers "such factors as the learner's own passions, strengths, needs, family, culture, and community." As a first step toward charting a student's personalized pathway, the learner profile encourages a fuller understanding of who each child is. For example, Emily rattles off a list of just some of the information ReSchool's Learner Advocates might collect about the children they serve: learning styles, what they are curious about, what motivates them, social-emotional needs, challenges, even the ideal noise level of the learning environment. Profiles can also include character and leadership traits like gratitude, optimism, and self control or student work products, like a "personal best" portfolio.
These printer-friendly templates for 2nd-3rd graders and 4th-5th graders at Chicago International Charter School (CICS) West Belden, managed by Distinctive Schools, capture students' interests, strengths, learning environment preferences, and thinking/learning styles. The poster project (see example above) also invites students to explore and express their character. What makes up a learner profile varies from school to school, but the goal is to include more than just where the students are performing and consider who they are, what inspires them, and how they best learn so that they can take the wheel and drive their own learning.
In his TED Talk "The Myth of Average", Todd Rose advocates for a more flexible learning environment, one that rejects the notion of the "average student" and honors young people's individuality--what he calls their "jagged profiles" of strengths and interests, as well as weaknesses. Personalized, student-centered learning aspires to do just that.
A Myriad of Tools for the Task
As engagement with next generation learning grows, so do the number of tools and techniques educators, students, and parents can use to co-create a robust learner profile. Many of these are relatively low-tech and free, like this Learner Preference Inventory used at CICS West Belden with students as young as Grade 1 or this Character Growth Card from the Character Lab, which ReSchool's Learner Advocates administer to elementary school students. Options for older students include free online tools like Learning Heroes Character Strength Finder andThrively's survey of strengths, interests, and aspirations, both of which are used by ReSchool to match high school students with out-of-school experiences aligned to their goals and passions.
To support students' self-knowledge and ownership of their learning, the members of the NGLC community we spoke to include the students and their parents in conversations about strengths, interests, and learning goals. Interviews, data conversations, and student-led conferences all provide a forum for building--and building on--a fuller and more nuanced profile of each learner. According to Emily, the tools themselves are useful, but the conversations about "this is me and this is what I love" that happen in tandem are what matter most.
Similarly, Sherre Vernon, CAO at Thrive Public Schools in San Diego, CA, highlights what she refers to as foundational practices of observing and listening. Although technology is central to their blended learning model, when it comes to really knowing who students are and supporting them to know themselves, Thrive relies on decidedly low-tech culture-building structures like Responsive Classroom's Morning Meetings, Summit Public School's one-on-one mentoring program, and, for older students, story-telling and listening circles derived from the Ways of Council. "We emphasize the human touch. Even though we work in a digital environment, it's these practices that truly set us apart and set the tone for our community."
The First (But Not the Only) Step
Administering interest inventories and collecting other types of student information are not new practices. For decades educators have used tools like this to help build strong relationships with their students. What's different about the learner profile is the ways it is used to set a personalized, student-centered pathway toward student-selected goals. In a personalized learning environment, educators offer choices, and students, over time, make more of the decisions about what, how, or even where they will learn.
Barbara Bray and Kathleen McClaskey, co-founders of Personalize Learning, LLC, make this connection between the learner profile and student choice very explicit in "Personalize Your Learning Environment." Drawing upon Universal Design for Learning (UDL) principles, they urge educators to provide options for how students access, engage with, and express their learning. Through making choices and exercising agency, students can acquire the skills and executive function they will need to direct their learning, careers, and lives as adults.
In addition to empowering students to make choices about their learning environment, learner profiles are a key first step for student goal-setting and designing a personalized learning plan (PLP) to achieve them. As Emily observes, "There are a lot of tools out there, but it matters less what the learner profile is and more about how it is used--it should be the starting place from which we build and match learners to learning experiences." In Vermont, which has engaged with personalized learning for over 15 years, all students co-create a PLP (with parents, educators, and advisors) no later than grade seven. This student-facing framework explains the dynamic process of creating a learner profile, setting goals for college and career, and establishing a plan to reach them, as well as opportunities to reflect and revise.
This evolution from learner profile to student-owned pathway is key at Building 21 (B21), a competency-based model with high schools in Philadelphia and Allentown, PA. At B21, students are referred to as designers, and much of the learning along their pathway occurs in project-based studios and intensives tailored to their interests and career goals. Tom Gaffey, chief instructional technologist for B21, stresses that theirs is a work in progress, but he invites us to "imagine a time where designers are picking their studios every 10 weeks by what they are most passionate about, what competencies they need, and what's currently available." To offer this degree of student choice and agency, B21 challenges many of the traditional notions of what school is and can be in order "to create a model that breaks down time-based, grade-based, place-based structures so personalized learning can thrive."
A Verb, Not a Noun
All of the educators we interviewed spoke to the dynamic nature of the learner profile. Sherre recommends that educators "be open to surprises about students' strengths and how much these can change." Emily, too, cautions against pigeonholing students based on their profiles. "It's not 'this is who I am, full stop.' Each experience informs, sparks, or uncovers new interests." Even though it will change, doing the work of creating a learner profile is worthwhile, she argues, because it is "an opportunity for students to express who they are and to work in their sweet spots from the start."
The parting advice from our educators is this: just as learner profiles evolve over time to support personalization at the student level, so should their schools and the entire learning ecosystem. If students are to move from self-awareness to exercising agency, the learning environment needs to transform to provide opportunities for self-direction and real choices, not trivial variations along the lines of "canned peas or frozen peas?"
To Kendra Rickerby, founder of Revivify Learning Systems and Vermont's former Co-Lead to the New England Secondary School Consortium, this means prioritizing systems thinking as a prerequisite to changing instructional practice. It also means making a serious commitment to supporting students to take responsibility for their learning. Products like learner profiles and pathways serve as useful hubs for communication between educators, students, and parents, she says, but "if the shift to personalization is just creating more work for adults, then the way you are implementing personalized learning needs to be rethought."
For Rui Bao, head of data and new schools for Caliber Schools, technology can foster an environment that is personalized but not overly burdensome for educators. At Caliber, she says, "we are constantly looking to strike the right balance for teachers: providing enough automation so that creating the learner profiles and pathways doesn't overwhelm them, but still allowing space for personalized, qualitative insight."
Based on his experiences at B21, Tom calls attention to a school's system of structures and policies, comparing it to a planet's gravitational pull. "Your policies can impose limitations and be like Jupiter," where educators are so burdened with limits that they cannot move freely enough to personalize learning. A better alternative, he argues, one that realizes the unique potential of each student, is to remove structural constraints and "be like the moon, where you--educators and students alike--can jump as high as you want."
Additional Resources
Here are some other learner profile tools and resources referenced by the educators who participated in this story:
The opinions expressed in Next Gen Learning in Action are strictly those of the author(s) and do not reflect the opinions or endorsement of Editorial Projects in Education, or any of its publications.