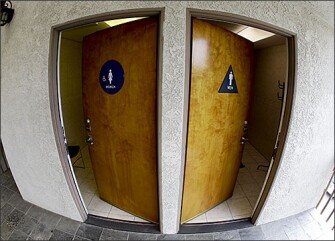 North Carolina legislators will hold a special session to repeal a controversial state law that includes a measure limiting which bathrooms transgender students can use in public schools, Gov.-elect Roy Cooper, a Democrat, said Monday.
Along with many other provisions, HB2, which was approved and signed in a whirlwind special session in the spring, requires public buildings, including schools, to restrict restroom access based on sex at birth, even if that sex differs from a person's gender identity. That measure was the subject of several competing lawsuits between the state and the U.S. Department of Justice, which argued that HB2 violates several federal civil rights laws.
State lawmakers agreed to repeal the law after the Charlotte City Council voted to repeal a local nondiscrimination ordinance that inspired the state measure, Cooper said, according to the Associated Press.
"Senate Leader Phil Berger and House Speaker Tim Moore assured me that as a result of Charlotte's vote, a special session will be called for Tuesday to repeal HB2 in full. I hope they will keep their word to me and with the help of Democrats in the legislature, HB2 will be repealed in full," he said in a statement.
Under the Obama administration, the Justice Department and the U.S. Department of Education have argued that the sex discrimination protections in Title IX apply to gender identity as well as biological sex. The departments released guidance in the spring putting schools on notice that they would be found in violation if they restrict bathroom and locker room access based on biological sex rather than gender identity.
That interpretation is the subject of much federal court litigation, including two multistate lawsuits against the federal agencies and a Virginia transgender student's case against his school district, which is due before the U.S. Supreme Court in the spring. A federal judge in Texas issued a ruling this fall, temporarilyputting the guidance on hold nationwide while he hears a case on the issue.
President-elect Donald Trump has not said how his administration will handle the issue, but transgender student advocates are anxious that a reversal in federal interpretation of Title IX by his socially conservative cabinet picks may unravel progress they've made on the issue in recent years.
Current Gov. Pat McCrory, a Republican, and Republican leaders of the state legislature issued separate, strongly worded statements on the planned repeal.
#ncgov McCrory says he'll call #hb2 repeal session. #ncga #wral pic.twitter.com/zUTbHGGFSW

— mark binker (@binker) December 19, 2016
#ncga leadership on potential #hb2 legislative session. #wral pic.twitter.com/uenHhgB43J

— mark binker (@binker) December 19, 2016
Photo via AP.
---
Related reading on transgender students:
A version of this news article first appeared in the Rules for Engagement blog.