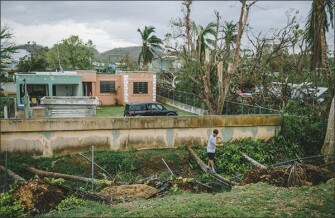 How are Puerto Rico's schools recovering after Hurricane Maria? My fantastic co-blogger, Andrew Ujifusa, and Swikar Patel, the deputy director of photography and video producer for Education Week, were on the ground there during the past week exploring what's next for the U.S. territory's schools.
Here's a quick look at the very good work they've done:
•Wondering what it's like to be leading a school system with nearly 1,200 shuttered schools? Andrew caught up with Julia Keleher, Puerto Rico's education secretary and got a look at what her life has been like since the storm. She's very motivated, given that some of the students in her care and their families have lost everything. "It's the most vulnerable of the vulnerable," Keleher said. "That's kind of heartbreaking, but it's inspiring. It makes one very committed."
And she's hoping Congress will give her a hand in reopening some of the schools, something along the lines of the millions in restart aid given to school districts recovering from Hurricane Katrina, which hit New Orleans back in 2005. "Those restart funds were huge [after Katrina]," Keleher said. "If we're strategic about it, it's only going to advance our reforms quicker."
•Students may not be able to attend regular classes at most schools. But that doesn't mean there isn't learning going on. Andrew visited a school in Bayamon that offered a read-aloud to students. The book's basic story line? Animals survive something like a hurricane.
•Isabel Rodriguez Santos, who was named Puerto Rico's teacher of the year a decade ago, talked to Andrew about her decision to stay on the island and help her students recover, even though some in her family are urging her to come to the U.S. mainland.
"I have relatives in the U.S. who call and say, 'Come on, you got a profession, you speak English, you've got to move here.' I say no," she said. "This is my island. My students need me."
•Since the hurricane hit, Aida Díaz, the leader of the Asociación de Maestros de Puerto Rico, has been tracking down her union members and giving them aid. And she knows that teachers, in turn, will have to provide emotional support to children. "We have students that can't sleep after the hurricane," Díaz said. "We have students that see rain and start crying. We have to work with all of them." Watch an interview with her here.
•Schools that are in decent shape have been converted to other, more urgent needs. Andrew and Swikar checked how one school provided 500 hot meals to another that is seving as a shelter.
•Even in schools that are serving as shelters, parents are trying to help their kids keep learning—and keep from getting bored. "I have [their] notebooks with school assignments that I can give to them," one parent told Andrew.
•What's the hurricane recovery look like through the eyes of a fifth grader? Andrew talked to Odaric Rodriguez Ortega, who misses his history class and can't stop thinking about all the people on the island who are "lost and hungry."
•Celebrity chef José Andrés plans to use Puerto Rico's school cafeterias to feed massive amounts of people recovering from the storm. Don't miss the video:
And for a collection of images from the trip, check out these great photos from Swikar.
But don't just rely on these teasers. You'd be missing out if you didn't read the stories, in full, for yourself.
Photo Credits: Swikar Patel for Education Week
---
Follow us on Twitter at @PoliticsK12.