At the end of April, the White House announced that Anthony Mullen, a special education teacher in Greenwich, Conn., had been selected as the 59th National Teacher of the Year. A plain-spoken, unvarnished man of 50, Mullen worked as a New York City police officer for 21 years before leaving the department in 2000 to pursue his lifelong dream of becoming a teacher of students with special needs. Mullen is now a teacher at Greenwich's ARCH School, an alternative high school housed in a tiny building with four undersized classrooms. Many of his students have behavioral and emotional disorders and are often on their last academic stop when they reach him. Anthony Mullen in the Classroom

We recently spoke to Mullen about his method of building connections with hard-to-reach students, his experience at the White House, and what he hopes to accomplish as NTOY.
The following are edited excerpts from that conversation.
How did you find out you were selected to be the National Teacher of the Year?
It kind of went down like a national security secret. We—the four NTOY finalists—had been instructed that we would receive a phone call about one week after our interviews and presentations in Washington, D.C. If the National Teacher of the Year Director, Jon Quam, called it meant that you had not been selected. If your state Commissioner of Education called, it meant that you had been selected.
The school secretary called me from my classroom and told me that the Connecticut Commissioner of Education, Mark McClellan, wanted to speak with me. That's the moment I knew.
I have to add that the most difficult task after receiving the phone call was not being able to tell my students and colleagues. The official announcement would not take place for another couple of weeks.
How and when did your students find out?
My students learned about my selection while I was in Washington. They were ecstatic. Many newspapers came to my school and took pictures of my students and interviewed them. I don't think they ever felt so important in their lives. I still have the pictures from the local papers.
What was your experience at the White House like?
It was unbelievable just being in the Oval Office, meeting with the president, and then going out in the Rose Garden. Even now, it just feels surreal. You go into what's called the Roosevelt Room, which is adjacent to the Oval Office. You're sitting there waiting and an aide tells you, "In eight minutes, you're going to go through that locked door, at the end of the Roosevelt Room, through a short hallway. Then you'll be taken into another locked door which is to the Oval Office where you'll be greeted by the President of the United States."
And then the one fellow came in and said, "The president's going to be delayed. It's going to be 11 minutes before you get in to see him." I took a breath and leaned against the locked exit door. Within 30 seconds, the door opens up and somebody grabbed my hand and said, "Hey Tony, how you doing?" And I turned around and it was the president.
Your trajectory to becoming a teacher was not direct. How did you get to where you are today?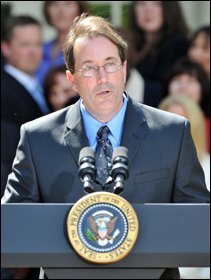 I worked 21 years in the New York City Police Department before becoming a teacher. Family circumstances prevented me from completing a college degree until I was in my 30s and only one college at the time—Long Island University—offered a special degree program that accommodated the fluctuating work schedules of a police officer. I earned a B.A. and continued going to school to earn my master's degree in education.
Is there anything about teaching that reminds you of being in the police force?
There are a lot of similarities between teaching and the police force besides the obvious one that they're both public-service professions. Both professions allow you to have a very intimate relationship with strangers who shortly don't become strangers. You get involved in their lives at important junctures.
As a police officer, your relationships are very temporary, because you're usually in a crisis mode responding to someone who's in distress and you have to resolve that immediate situation. In teaching, you're dealing with students who are in distress, but fortunately you have more time to deal with them. Both of these professions require caring individuals who are people persons—people who actually want to improve the lives of others. It's this tremendous opportunity to help students, to really be part of their lives and that is what I've always wanted to do.
Can you describe the school where you teach?
The ARCH School is a very special place. The students and staff are like a family in many respects, sometimes functional and sometimes dysfunctional. And that's what makes the school such a great learning environment. It's a place where teenagers mature and learn about themselves, and more importantly about the needs of others. We teach a lot of academic classes but we always try to sneak in lessons about how to become a better person—the so called "soft skills"—communication, life, and social skills. Too many of my students have never benefited from the thousands of mini-lessons parents provide their children. We have the opportunity to do that in my school because we have a more intimate relationship with our students and we have more time to spend with them to address a lot of their emotional needs.
How is it that you've had such success with kids who are really hard to reach?
I paraphrased in one of my speeches an observation that Tolstoy made about the nature of unhappiness. He said that all happy people are happy in the same way, but that all unhappy people are unhappy in their own way. I always remember that idea because it reflects my students. They suffer from depression and bi-polar disorder, anxiety, and a myriad of mental health problems. The staff at my school is very successful with our student population because we give them what they really want and can't get from a rigid high school schedule—and that's our time.
We don't pretend to be therapists, we don't play the role of psychologists, we just lend an ear. And when a student is having severe emotional difficulties, we all come together and figure out a way to make the day a little brighter for that student.
I'm not a psychologist, but I've been working with troubled young people for almost 30 years and even with the saddest and most depressed kids, if you give them a little time and throw a football around with them, they'll start talking to you because they are looking for answers. It's a very big responsibility and we treat it very seriously because we know that whatever conversation we have with them will affect their decisions.
In your NTOY application you wrote about a "newly minted" teacher who was struggling and how you mentored her. In your early days of teaching, who mentored you?
I had the great opportunity to visit the classroom of Diane Rhoda, an art teacher at Blue Mountain Middle School, a couple of times in my first year of teaching. I was doing inclusion and I noticed that when I went to different classes with the same group of kids, some were complete chaos and others were productive. The one class that they excelled in was hers. She had this kind of magic chemistry with the kids.
Diane Rhoda not only gave me the organizational skills to be a good teacher, but she always talked to me about what it's like for the students. I took her lessons with me when I went to the high school knowing that no matter how angry a teenager may seem there's a story there. She taught me how to be a caring and effective teacher. I'll never forget her.
You have mentioned publicly that you intentionally went after a difficult teaching job. How did that affect your initial attitude about your classroom?
I wasn't thinking I'm gonna walk into the class, they're all gonna love me, and everything's going to go well. I knew that I would be challenged, that it would be very difficult. I knew that because I had dealt with many of these kinds of students when I worked for the police department, particularly when I worked for the narcotics unit where we dealt with a lot of the drug gangs.
When I worked in New York City in Washington Heights and in Harlem, there were the same type of kids that I work with now. When you finally remove this mask that they have, you find just a 14-year-old kid who wants to be a 14-year-old kid and not act like he's 20 and he's a hired killer.
You've also spoken publicly about the role passion plays in keeping kids focused. What's the connection?
Children who have behavioral emotional disorders have been yelled at their whole lives. They come from an environment where yelling and screaming is the norm. If they go into a classroom and there's yelling and screaming going on or you're too rigid, it's not going to work. What they want is order because they come from a chaotic life. They have a feel for passion. They can sense it. And as soon as they sense that you really care, not only about them, but about their future, they open up to you. And you have very few behavioral problems in the classroom.
During the Rose Garden NTOY ceremony, the president talked about how he and the first lady did not come from "fancy backgrounds." And they have both talked about how education can lift children out of difficult circumstances. How do you convey that point to your students?
I was very happy that the president made those remarks because too many children, particularly teenagers, feel hopeless because of the difficult circumstances they find themselves in. They live for today and they don't really see the value of investing in tomorrow. I tell my students over and over again that life will get better, that origin isn't destiny. And although I don't share all the tragedies I faced in my own childhood or as a teenager, I do manage to let my students know that their story is my story. We share a common bond that is felt, if not spoken.
What will the coming year look like for you?
I'm on sabbatical for one year. National Teacher of the Year is actually a 12-month position, which started June 1st and goes until June 1, 2010. I'll be speaking to many education groups, business groups, and government agencies. I'm also hoping to reach people who are policymakers.
I'm looking to bring greater public awareness to what I believe is the most critical problem facing American education: the dropout crisis. More than one million students will drop out of our nation's schools this year and they face a bleak future. They're not going to be able to find any meaningful employment without a high-quality academic or vocational education.
I'm concerned that too many people mistakenly believe that somehow, somewhere these dropouts will find work. Maybe 20 or 30 years ago dropouts could find work in factories and get paid a modest wage, but those jobs don't exist anymore. And government policymakers and business leaders need to know that today's dropouts are essentially unemployable, that they will not be able to compete in the global marketplace.
If we have roughly 14 million students in high school and 1.2 million dropping out, that's a travesty.
What is the solution?
The solution right now to preventing the dropout rate is to not put 100 percent focus on high schools and all things academic. It's important that every student gets an academic background, but we've lost vocational education. Most of our high schools are geared towards getting students into college. And yet we have this population of students—millions of students, literally—who want to do what our ancestors have done for thousands of years: They want to work with their hands. They don't want to sit in a desk all day. They want to build, they want to create, they want to design. And we're losing that because we're so concerned that they take the extra science, the extra math, the extra history and all these things to go to college when all these vocational opportunities are passing them by.
Will you be able to have an audience with Arne Duncan?
I'm hoping to. We spoke in Washington, D.C., at the White House and then I was seated next to him at the black tie dinner affair they had. We spoke for about 40 minutes. He's very engaging and we share almost identical philosophies on the dropout crisis. He asked me at the end if he could reach out to me when he's speaking to graduate schools of education, particularly in dealing with the dropout issue. I told him I'd be there in a heartbeat.