From a massive philanthropic commitment to new state-level support, to a rising backlash from some concerned parents and Silicon Valley critics, 2017 was a big year for personalized learning.
Generally speaking, the term refers to an educational approach in which the pace of learning and the instructional strategies being used are adjusted to best fit each child's unique strengths, weaknesses, and interests. Technology is often seen as playing a critical enabling role—by allowing real-time measurement of what each student knows, the development of profiles of each individual student, and an array of strategies for matching students with the right supports and learning experiences.
But this modern version of personalized learning is still relatively new. And as Education Week has chronicled over the past year, even the definition of the term can be hotly contested.
With that in mind, here are 10 big personalized-learning trends from 2017, as covered by Ed Week.
---
1. The Chan Zuckerberg Initiative goes all-in on a new vision of personalized learning.
In June, Education Week talked with Jim Shelton, the president of education for CZI, about the group's work. Shelton described a new notion of "whole-child personalized learning." He said CZI will soon support that vision with "hundreds of millions of dollars per year"—likely to come through a mix of donations, investments, and advocacy and lobbying work, all of which CZI can undertake with minimal public disclosure requirements.
That kind of money would vault the Chan Zuckerberg Initiative up among the highest-giving educational philanthropies in the country—right there with the Bill & Melinda Gates Foundation, with whom CZI is already partnering to support personalized learning.
We also covered CZI investments in state-level personalized-learning work, as well as its move to hire its own personalized-learning engineers.
---
2. States start to take on the challenge of personalized learning.
Indeed, statehouses have become an active front in the push to advance personalized learning.
As part of our November special report, Education Week reporter Daarel Burnette broke down the efforts taken by 15 states to waive regulations, set up innovation zones, and more.
Kevin Bushweller, the executive editor of EdWeek Market Brief, also took a deep dive into Vermont's ambitious-but-messy statewide personalized-learning experiment.
And back in February, we also covered Rhode Island's statewide personalized-learning push, centered around developing a common statewide vision for what personalized learning entails, supporting and expanding related models in Rhode Island schools, and establishing a research network that can help guide implementation.
---
3. Concerns about personalized learning start to mount.
For that same November special report, I took an in-depth look at some of the main criticisms that have started to emerge around personalized learning: that the hype behind the movement outweighs the evidence; that there are unacknowledged tradeoffs in teaching and learning when schools adopt a personalized approach; and that the tech sector is pushing personalized learning too aggressively, before K-12 schools can fully consider the potential for harm and unintended consequences along the lines of what we've recently seen with personalized consumer platforms.
While the story didn't land clearly on one side of these debates, it apparently did strike a nerve in a K-12 field that seems hungry for honest, balanced, hype-free considerations of this big new trend: 'The Case(s) Against Personalized Learning" was my most-read story of the year.
---
4. New research paints a decidedly mixed portrait of personalized learning's effectiveness.
The two biggest studies of personalized learning this year came from the RAND Corporation.
The first looked at 40 personalized-learning schools that have received funding from the Gates Foundation. It found modest improvements in test scores, plus big implementation challenges.
The other examined 10 high schools that were redesigned to focus in part on personalization, with support from the Carnegie Corporation of New York. It also found big implementation challenges.
This November Q&A with RAND researchers synthesizes the findings.
---
5. Some big names in the personalized-learning movement take big hits.
Summit Public Schools—a California charter network that has worked with Facebook and CZI to develop its own personalized-learning platform—has pushed hard to get about 300 other schools to adopt its technology. But Summit has run into some resistance, including a couple districts that have voted to stop or roll back their use of the platform after parent concerns.
California's AltSchool also came under fire recently, after it announced that it was listening to investors and pivoting to software sales while closing and consolidating some of its private "micro-schools" that had been open for less than three years.
And in May, global publishing giant Pearson announced that it would phase back its partnership with adaptive-learning company Knewton,
---
6. Schools find that implementing personalized learning is exceptionally hard work.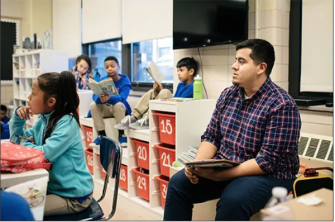 As the personalized-learning movement has taken root, schools have been tasked with finding ways to make an appealing-sounding idea work in the real world.
In November, Education Week looked at how three schools are wrestling with three big personalized-learning challenges: teacher training, adjusting to self-paced student learning, and maintaining high standards while meeting every student where he or she is.
---
7. New efforts are launched to help teachers and schools.
In August, we took a look at efforts by two big players in the education-technology field to help ease the transition to personalized learning.
The nonprofit group Digital Promise announced its Dynamic Learning Project, funded by Google, which will embed former classroom teachers inside 50 low-income middle schools to help staff learn to use technology in "transformative" ways.
And the above-mentioned Summit Public Schools network launched a new teacher-residency program. Billed as the first of its kind in the country, the Summit Learning Teacher Residency aims to help prepare teachers specifically to work in new, more personalized classrooms where project-based teaching, regular use of data, and ongoing mentorship of students and families are central parts of the job description.
---
8. Teachers' union questioned on personalized learning.
I'll admit that this one caught me by surprise.
In June, the NEA Today (the official magazine of the 3-million-member National Education Association) published an article titled 'As More Schools Look to Personalized Learning, Teaching May Be About to Change.'
The social-media backlash was swift and fierce, and educators like New York teacher and school board member Chris Cerrone told Education Week he was upset that the union was "promoting something that really takes away from genuine teaching and human-to-human contact."
Definitely something to watch heading into 2018.
---
9. The role of algorithms in K-12 education comes under scrutiny.
Many personalized-learning products, services, and approaches rely on algorithms—to track student progress, recommend content and lessons, flag students for extra support, and more. For one example of how this looks in action, check out my March story on the "curriculum-playlist" model employed by the 50 or so schools using a program called Teach to One: Math.
Recently, though, broader societal concerns have emerged about the roles of algorithms in decision-making and resource allocation, especially with public goods like education.
In April, we talked with RAND researchers about what these concerns look like in K-12.
And last month, we took a look at proposed legislation that would have required public agencies in New York City (including the department of education) to open-source their algorithms (including for such functions as high-school assignment and teacher evaluation.) A revised version of that bill calling for further study of the issue was eventually passed, pointing to algorithmic transparency as another personalized-learning issue to watch in the coming year.
---
10. Some researchers are already looking to the next frontiers of personalized learning.
And to really leave your head spinning, I'll close this list with my February Q&A with three researchers from the Center for Human-Applied Reasoning and the Internet of Things at the University of Southern California.
The focus of their work? A 'moonshot' investigation into whether deploying sensor networks and other new technologies in the classroom might yield valuable new data on student learning, without compromising student privacy.
Photos:
Facebook CEO Mark Zuckerberg speaks at an event in 2016 iin Barcelona, Spain. --Manu Fernadez/AP-File
James H. Shelton, head of the Chan Zuckerberg Initiative's education division, at the organization's offices in Palo Alto, Calif.--Ramin Rahimian for Education Week
Max Ventilla, founder and CEO of AltSchool, poses for a portrait at the AltSchool headquarters in San Francisco in 2015.--Ramin Rahimian for Education Week-Fil
Fifth grade teacher Elias Hernandez observes 4th grade teacher Jannette Moya at Belmont-Cragin Elementary School in Chicago.--Alyssa Schukar for Education Week
As many as 67 math students might be working in a single Teach to One classroom at Nathan Hale Middle School. Some work on "live investigations" with a teacher to solve a problem, while others work independently on Chromebooks.--Mark Abramson for Education Week

A version of this news article first appeared in the Digital Education blog.