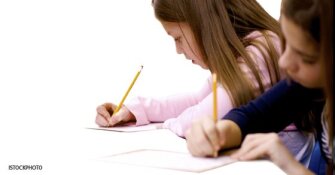 Thanks to a $2 million grant, Atlanta plans to train teachers in a longstanding approach to teaching reading, reports the Atlanta Journal-Constitution.
The grant comes from the Atlanta Football Host Committee, Chick-fil-A Foundation, Chick-fil-A Peach Bowl, and College Football Playoff Foundation, and it aims to train more than 1,500 teachers by 2020, the newspaper reports.
What's most interesting is that the district will use an approach that's been around for decades, known as Orton-Gillingham. It has roots in the scholarship of two early 20th century scholars; in fact, one of the key instructional texts outlining the method was published in 1946.
To be clear, Orton-Gillingham is less a "program" in the way we tend to think of them today than a set of teaching principles and methods that many other programs have adopted. Generally, Orton-Gillingham includes systematic instruction in phonics, sound-letter correspondence, and a "multisensory" approach that incorporates auditory, visual, and motor skills. For example, the practice of sounding out the syllables of a word while tapping the length of one's arm seems to come from Orton Gillingham. It was also originally designed as a 1-on-1 approach, but has since been adapted for small groups and whole-class instruction.
Despite being around seemingly forever, it remains popular, especially for teaching struggling readers, and seems especially favored by teachers of students with dyslexia. Orton-Gillingham even has its own academy that accredits schools and programs that train teachers in its methods.
Wondering about the programs' research base? The federal What Works Clearinghouse, which is supposed to help guide educators to research-backed prgrams, doesn't rate Orton-Gillingham because it found no studies of the approach addressed its review criteria or met its evidence standards, although those are quite rigorous (and some would say overly stringent) criteria. Some other reviews point out the strengths and weaknesses of some smaller studies. Finally, much depends on the quality of the teacher who's implementing the approach, of course.
As with other heavily phonics- and sounds-based approaches to reading, Orton-Gillingham has sometimes been accused of being too rigid, but proponents say that it offers a lot of flexibility for teachers to adapt to their students' needs.
A version of this news article first appeared in the Curriculum Matters blog.