What role should community colleges play in preparing the early-childhood education workforce?
A new report from Bellwether Education Partners, a national nonprofit that focuses on changing education for underserved students, addresses this question.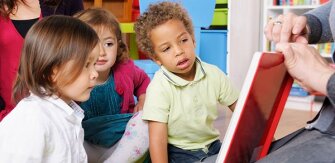 In recent years, policymakers have increasingly called for early-childhood educators to have four-year degrees, but historically many day-care workers and preschool teachers have started their training at two-year schools.
The Bellwether report entitled, "It Takes a Community: Leveraging Community Colleges to Transform the Early Childhood Workforce," lays out some of the challenges for early-childhood education students at the community-college level.
"If you look at most states, there is not a seamless pathway if you start at community college and you're trying to get to a four-year, early-childhood degree program," said Marnie Kaplan, the report's author and a senior analyst at Bellwether. "It is a very hard landscape for people to traverse. It's not always clear for students how to do it if there's not good advising at the institution level."
Part of the problem is that many early-childhood education degree programs at community colleges were designed to be terminal degrees. Students in these programs often don't get the general-education courses that four-year programs expect them to have, and credits for the education-specific courses they take often don't transfer.
Community college students in general also tend to be older and often have to juggle family and work responsibilities, which make obtaining a degree more difficult.
The report also stresses that there's generally very little information available about the quality of early-childhood education programs at community colleges, and few such programs exist at the four-year level.
Financial Barriers to Education
One of the major challenges many students face is figuring out how to pay for higher education. Most workers in early-childhood education have low salaries, and obtaining a degree is unlikely to raise their pay that much. Kaplan says in most cases a two-year degree is only worth $2 more per hour. These students are also usually ineligible for loan forgiveness unless they work in a public pre-K program.
These financial realities also hurt community colleges, which have to abide by the federal gainful employment rule, which was enacted by the U.S. Department of Education in 2010. It evaluates graduates' post-college earnings and typical student-loan debt. Programs that fail to meet certain debt-to-earnings ratios are at risk of losing the ability to qualify for the use of student loans and Pell grants. The report also points out that in 30 states community colleges receive performance-based funding, which means they get more state dollars for programs that lead to higher-paying salaries.
"They may invest more in programs like welding, workforce programs that lead to people who are able to make a lot more money," said Kaplan. "A scheme that focuses on performance-based funding does not incentivize investing in these socially critical programs that are low-wage."
The report spells out several suggestions for helping early-childhood workers get more education. One of the keys is getting two- and four-year colleges to collaborate. Kaplan stresses that they should make it easier for students to transfer. She also says states should collect data to determine which programs are the most successful at preparing early-childhood educators so best practices can be replicated on other campuses.
The report also includes recommendations for the field at large and for the federal government. It calls on the field to develop a clear vision for the role of community colleges and to address labor market challenges such as low salaries and poor working conditions, while it tasks the federal government with ensuring that financial aid better serves early-childhood educators.
Photo: Preschool students listen to their teacher read them a story. (Getty)
---
A version of this news article first appeared in the Early Years blog.