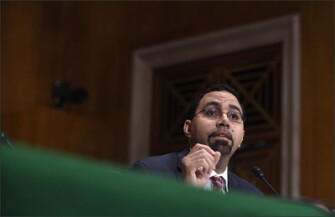 Acting U.S. Secretary John B. King Jr. is one step closer to being a full-fledged cabinet official—the Senate education committee Wednesday approved his nomination by a 16-6 vote.
The nomination will now advance to the floor of the chamber. Sen. Lamar Alexander, R-Tenn., voted in favor of King, even though he said they don't agree on everything. He said he had urged President Barack Obama to officially nominate an education secretary who is "accountable" to the Senate, during the first critical year of implementation for the Every Student Succeeds Act, the newest version of the Elementary and Secondary Education Act.
The education committee held a collegial confirmation hearing for King late last month.
But a number of Republicans voted no, including Sens. Mike Enzi of Wyoming, Richard Burr of North Carolina, Johnny Isakson of Georgia, Rand Paul of Kentucky, Pat Roberts of Kansas, and Tim Scott of South Carolina.
All of the Democrats on the committee voted to confirm King, with Sen. Patty Murray of Washington, the top Democrat on the panel expressing strong support for him. Sen. Elizabeth Warren, D-Mass., however, expressed serious doubts about the Education Department's general counsel's willingness to go after colleges that are "feasting on taxpayer dollars" while not offering students a quality education.
Warren also is worried that the "trillion dollar student loan bank inside the department" doesn't put students' interests first. She said she can't support King's nomination on the floor until he addresses those issues.
King took the helm of the Education Department on an acting basis by replacing U.S. Secretary Arne Duncan, who had a toxic relationship with many in Congress by the time he left office.
---
Follow us on Twitter at @PoliticsK12.