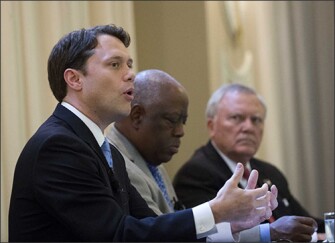 Atlanta
When education comes up in the Georgia governor's race between incumbent Republican Nathan Deal and Democratic challenger Jason Carter, one theme is clear: money talks.
That came through Monday in what was billed as the first time Deal and Carter—a state senator and grandson of former President Jimmy Carter—had shared the same room during a campaign event.
The two candidates spoke for about 45 minutes here at a discussion hosted by the Professional Association of Georgia Educators, an 84,000-member organization that isn't a labor union but represents various educators' interests. The predominant topic? The state's education budget, and just how badly Georgia schools were starved for resources during lean budget years in the Peach State.
I touched on K-12 spending as a state political issue nearly two months ago, when Carter's campaign said Deal had the "worst record on education" of any governor in Georgia history. Spending on public schools has gone up in recent years, but it's far below the levels called for in the state's funding formula, last updated in 1985.
By one estimate, Deal's budgets have fallen short of the state's Quality Base Education formula by about $4 billion during his nearly four-year tenure as governor.
Carter used that trend to excoriate Deal for starving schools of revenue and forcing a stomach-churning loss of teachers in the state to the tune of 9,000 educators lost. But Deal stressed the recent infusion of cash he gave schools this budget year (more on that below) and said that furloughs are a thing of the past for nearly all districts.
In the process, the governor painted Carter as a calculating latecomer with a disturbingly thin record. And Carter accused Deal of overseeing a broken system of education governance. In case you're wondering, they're in a tight race.
Holy Grail and Empty Rhetoric
Carter was not subtle in his remarks about K-12 spending, arguing that Deal's "draconian cuts" were affecting more than just teacher morale and students' ability to learn. Under Deal, districts have had to hike their own property taxes, Carter said, and the state's long-term business climate is at risk because its educational system wouldn't attract businesses to Georgia.
"Education is economic development," Carter said, linking Deal's education record more than once to the statistic that Georgia ranks 50th in unemployment among the states and the District of Columbia.
The solution to the "complete shell game" that constitutes education budgets in Georgia, Carter argued, was for the state to create a separate K-12 budget that lived apart from the rest of the state's spending. That would enable the state to grasp the "holy grail" of state policy and properly fund schools, he said. In the process, this standalone budget would protect districts' budgets, he said, and enable the state to ensure that schools get they help they deserve to deal with the 27 percent of Georgia children living in poverty.
But Deal cited the fact that Gov. Robert Bentley, a Republican in neighboring Alabama, has called for a special legislative session this year to weaken the hold that state's separate K-12 budget has on revenues. And Deal argued that Carter's appetite for this idea was quite recent, since he failed to formally introduce such a proposal during his time in the legislaure.
Deal, in turn, wasn't shy about using Jason Carter's famous grandfather for his own purposes—repeating a line he's used before, Deal told the audience that during Jimmy Carter's last year as Georgia governor in 1974, education was only 51 percent of the state budget, below running the average of 54 percent during Deal's administration. And he repeatedly slammed the Democratic candidate for being long on pleasing rhetoric but short on details for the new revenue sources that would drive bigger K-12 budgets in a Carter administration. (Both candidates are against tax hikes as a solution.)
"Where's the money going to come from?" Deal demanded of Carter, highlighting once again his own recent campaign push to paint Carter as an opportunist:
.@carter4governor voted for all budgets until he decided to run for Gov; he then voted NO to largest increase in ed. funding in 7 years.

— Nathan Deal (@NathanDeal) September 9, 2014
Still, Deal flashed his conservative colors by downplaying the importance of spending. "Money alone is not the solution to all the problems in education," he said.
Deal also reminded the PAGE forum that many districts with high levels of per-student spending nevertheless have relatively low test scores to show for it.
So what's in store for the underfunded Quality Basic Education formula? Deal wants to update it to reflect new priorities in education, he told PAGE members, but Carter said no new formula will work if sufficient money isn't pumped into it.
'Governor Grab-Bag'
Some of the sharpest disagreements between the two candidates were also on display when it came to charter schools. Deal made headlines last week for praising Louisiana's state-run Recovery School District and announcing that he would lean hard on the legislature to craft a plan to significantly expand the presence of charters in the state.
That approach didn't sit well with Carter. The Democrat expressed incredulity that, in his view, Deal would unthinkingly snatch up other state's trendy policies instead of crafting a long-term plan for school choice that fits Georgia's needs. It's a rhetorical grenade he's liked tossing at Deal recently:
Jason: There's no vision in the governor's office for what our education system should be. #gapol

— Jason Carter (@carter4governor) September 12, 2014
To stress his point, Carter referred to Deal at the PAGE forum as "Governor Grab Bag."
Carter said that while he supports charters' ability to innovate, "We've become distracted by charter schools." He also hit Deal for backing the charter school amendment to the Georgia Constitution in 2012 that allowed the state to authorize charters—Carter said this merely created unnecessary government bureaucracy that trampled on the rights of district leaders.
Playing defense, the governor stressed that he had no intention of simply cribbing from Louisiana's state-operated district, and that the media had twisted the meaning of his remarks about charters. In fact, he pointed out how stringent the state has been when it comes to approving charters. In 2013, Deal pointed out, only one applicant out of 16 was approved by the state to open a new charter.
Regarding charters' relationship to the overall K-12 system, Deal said the key question is, "How do we ensure that local schools have as much flexibility as possible?"
But Carter scoffed at the idea that idealizing the flexibility practiced by charter schools, rather than focusing on higher K-12 spending and teacher retention, would be a panacea for K-12.
"When you try to pay someone at the end of the month with 'flexibility,'" Carter told the PAGE audience, it doesn't work.
And in case you're wondering, the Common Core State Standards did not come up once during discussion between Carter and Deal.
I'll have more from Georgia in the coming days, including an update on the state superintendent's race between Democrat Valarie Wilson and Repubilcan Richard Woods.
Photo: State Sen. Jason Carter, left, the Democratic candidate for governor in Georgia, speaks as his opponent, Republican Gov. Nathan Deal, right, and moderator Charles Richardson, of the Macon Telegraph and the Page Foundation, listen during a forum sponsored by the state's largest teachers' association in Atlanta on Sept. 15. --John Bazemore/AP
A version of this news article first appeared in the State EdWatch blog.