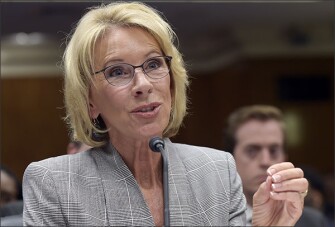 U.S. Secretary of Education Betsy DeVos hasn't testified before the House or Senate education committees since becoming secretarymore than a year ago—and Democrats aren't happy about that.
For one thing, it's a departure from the record of her recent predecessors, each of whom had appeared before the two education committees at least once—and in many cases, more often—by this point in their tenures. And even when you widen the lens to look at other committees on Capitol Hill, DeVos is still behind the pace of her predecessors.
All in all, DeVos has testified before Congress just four times so far, including her confirmation hearing in January of last year, and three education spending committee appearances.
That's not to say DeVos is dodging lawmakers. The party in control of Congress—in this case, the GOP—gets to decide when a cabinet secretary appears before Congress. "Every time the Secretary has been called up to testify she has made herself available to do so," said Elizabeth Hill, a spokeswoman for the department.
Still, top Democrats on the House and Senate education committees—Rep. Bobby Scott of Virginia and Sen. Patty Murray of Washington—are not happy that they haven't gotten a chance to hear from DeVos directly. They have big concerns about the way DeVos is implementing the Every Student Succeeds Act, her school choice agenda, and what they see as her rollback of Obama-era civil rights protections. They want to question her about those issues in person.
House Republicans say they fully intend to have DeVos speak to the committee, they've just run into scheduling conflicts.
And a spokeswoman for Sen. Lamar Alexander, R-Tenn., argues that the Senate committee has done plenty of oversight, including holding hearings on just about every top political appointee nominated to serve at the U.S. Department of Education. That's a big change from the Obama, Bush, and Clinton years, and was done at the Democrats' behest. A Senate GOP aide also noted that the Senate Health, Education, Labor, and Pensions Committee has been focused on health care, combatting the opioid crisis, and other issues that aren't part of DeVos' purview. The aide said Democrats just want to grill DeVos to score political points, not because they want to work with her on policy. (More on all that below).
So how often did DeVos' predecessor's appear on on the Hill?
John B. King Jr., President Barack Obama's second education secretary, testified six times in his 11 months as secretary or acting secretary. (DeVos has been in office for 14 months.)
Arne Duncan, Obama's first education secretary, appeared up on the Hill nine times in his first 15 months, including at least three times before the education committees.
Margaret Spellings, President George W. Bush's second education secretary, testified nine times in her first 15 months. That included at least one appearance between each of the education committees.
Rod Paige, Bush's first education secretary, came before lawmakers nine times in the first 15 months of his tenure, including once each before the education committees.
Democrats say they want to question DeVos' choice to approve ESSA plans that they and some civil rights groups think flout the law. (DeVos has a different take.) They want to hear more about why her budget proposals have sought to slash popular programs, such as money for teacher quality. And they want to question her about her plans to roll back or revise Obama-era rules dealing with discipline and special education.
"Congress cannot perform its oversight responsibilities when the administration refuses to appear before authorizing committees," Scott said. "Secretary DeVos has proposed two budgets that slash investment in education and divert public dollars to private schools; approved 39 state ESSA plans, some of which fail to comply with the law's core equity requirements; and, moved forward with a harmful deregulation agenda and agency reorganization, both of which lack transparency. It is past time that Secretary DeVos appear before our Committee."
Earlier this year, Scott sent a letter to Rep. Virginia Foxx, R-N.C., asking her to give the committee a chance to hear from cabinet officials on their budget requests.
Murray is on the same page.
"It's no surprise that Secretary DeVos wouldn't want to come testify after she made it clear that she doesn't have the answers that parents, teachers, and students are looking for. But as the Department continues to roll back protections for students, undermine our public schools, and improperly implement our laws, it is absolutely critical Secretary DeVos comes in front of the Committee and explains herself," Murray said in a statement.
DeVos was slated to testify before the House Committee on Education & the Workforce in December. Lawmakers ended up canceling her appearance because of a scheduling conflict. But they plan to have her appear before the committee, said Michael Woeste, a spokesman for Rep. Virginia Foxx, R-N.C., the committee chairwoman.
And on the Senate side, a spokeswoman for the education committee noted that DeVos has met with top lawmakers from both sides of the aisle. Democrats, she said, asked for hearings on a range of top education nominees, and have been slow to confirm them.
"Chairman Alexander meets with Secretary DeVos regularly. He recently met with her and Sen. Murray in his office to discuss school safety. Secretary DeVos has testified before the Senate Appropriations subcommittee and she will do so again this month," the spokeswoman said. And she said, Democratic senators have held up at least five key nominees, "By contrast, Chairman Alexander promptly considered and approved President Obama's Education Department nominees."
And a Senate GOP aide said Democrats just want to question DeVos as "part of their theater of resistance. ... The only reason they want a hearing is to try to embarrass her or provide some scorn," the aide said.
Elizabeth Mann Levesque, a fellow at the Brown Center on Education at the Brookings Institution, said that the legislative agenda may be an important part of the reason DeVos hasn't been up on Capitol Hill much.
Some of Duncan and Paige's early appearances were aimed at touting their administration's visions for rewriting the Elementary and Secondary Education Act. But Congress had just passed a reauthorization—ESSA—by the time DeVos assumed office.
And it took Congress longer to finish a tax overhaul and attempt to rewrite health care legislation than expected—lawmakers haven't had time to dig into big education bills, like revamping career and technical education and higher education, Mann Levesque said.
"If the legislative agenda isn't focused on education issues, there are just going to be fewer hearings related to legislation that an education secretary would weigh in on," Mann Levesque said.
What's more, Congress is more likely to engage in rigorous oversight if the opposite party controls the administration.
Democrats, Mann Levesque said, haven't been shy about grilling DeVos. "Even if Republican members of the House or Senate do have an issue with how a law is being implemented, there are other avenues to question the secretary without opening her up to questions from the opposing party," she said.
But DeVos—and her team—may find themselves raising their right hands and swearing under oath more often next year, depending on the outcome of the mid-term elections
"If the Democrats take over, I would certainly expect there to be oversight hearings and for them to call Secretary DeVos in," Mann Levesque said. "That would not surprise me in the least."
Photo: U.S. Secretary of Education Betsy DeVos testifies before a Senate spending committee in June. --Susan Walsh/AP
Maya Riser-Kositsky, Librarian and Data Specialist contributed to this article.