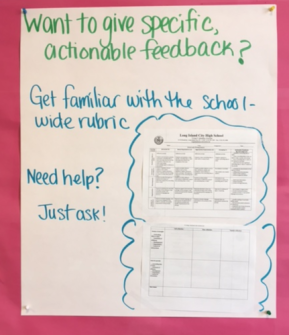 Honestly, after the rocky start at my new gig, I'll take whatever victories come my way and this week ended with what feels like a great one.
Since the start of school, the technology in my center hasn't been working and it has caused a lot of frustration among the staff and me. I've struggled to be useful. At least that's how it feels.
Being the newbie at this very big school, there is a lot for me to learn and I'm eager to know it all.
I'm lucky to be developing relationships with my colleagues which is really beginning to pay off as names and faces become familiar and I start to feel more like myself, connected and engaged with what they need.
After a touch of a personal struggle I was able to get the help I needed to get all of the computers and printers in the center working. My colleagues are happy and it is very satisfying to tell people, "Yes! They work. Come and do some work."
In addition to this victory, I was able to help a new teacher make the copies he needed and prepare for a pre-observation. I like feeling helpful.
Everyday, I've been trying to focus on the one or two things I have been able to do for my peers to make their lives easier and more productive. Whether it is listening or pointing them in the right direction, at least it has been something.
Yesterday I started taking down older stuff from the center and started making it new. I tallied up the results of the needs assessment survey I sent out and I know how folks are using the lab and what I can do to start shifting the culture in here. One person at a time, I've been able to have conversations truly getting an understanding of what they need from me so that I can do what is best for them.
Today someone needed help with an easy way to provide actionable feedback and I was able to provide them with the school-wide rubric and make some suggestions for class. Then I thought it would be a good idea to hang a poster and keep extra copies on hand. Another small victory, but a useful one.
As the days turn into weeks in my new home, I'm hoping to really become a part of the culture. Both helping within the structures that exist and helping them grow their toolboxes.
Looking forward to being able to offer help in many ways in the future and celebrate the amazing things already happening.
What is one small victory that happened for you this week? Let's celebrate!
The opinions expressed in Work in Progress are strictly those of the author(s) and do not reflect the opinions or endorsement of Editorial Projects in Education, or any of its publications.