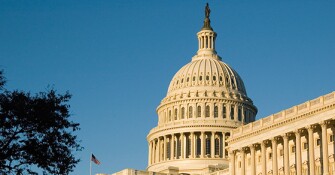 Back in May, education research watchers may have been at least half-optimistic when the Institute of Education Sciences escaped mostly unscathed in President Trump's proposed fiscal 2018 budget, which introduced sharp cuts to federal education and social research programs in other agencies.
As it turns out, the Education Department's research agency hasn't dodged the budget bullet quite yet. As part of the House's fiscal 2018 omnibus spending bill being debated this week, GOP Rep. Francis Rooney of Florida offered an amendment to strip more than $195.3 million from IES' fiscal 2018 budget, for which the White House had proposed $617 million.
That would slash nearly a third of IES's current budget, based on Congress's April budget agreement for fiscal 2017—which itself was below fiscal 2016 levels. Rooney—a major GOP donor and first-term Congressman on the House Education and Workforce Committee and the conservative Republican Study Committee—did not include why he wanted the cut, but the amount matches IES' $195 million research, development and dissemination budget, which includes most of its core research competitions, as well as the federal Research and Development Centers, the Education Resources Information Center (ERIC) and the What Works Clearinghouse.
"These would just be devastating cuts. There's almost no word I can say that would be strong enough," said Ruth Curran Neild, the director of the Philadelphia Education Research Consortium and a former acting director of IES. "You are just wiping the whole thing out ... right in the context of implementing ESSA, when all of this was understood to be so critical to states and districts. It's hard to overstate the problems that would cause."
Because IES research grants are funded annually, the cuts would likely stop new research competitions and make it difficult to continue many current projects. Research advocacy and professional groups including the American Educational Research Association, the Consortium of Social Science Associations, and the Knowledge Alliance each urged their members to protest the proposed amendment.
"IES, a premier federal source for education research, evaluation, and statistics, must be fully funded so that educators, policymakers, and other stakeholders can continue to improve outcomes for all students," said Felice Levine, AERA's executive director, in a statement on the proposed cut.
Ironically, Congress will be debating the cuts at the same time the full House Committee on Government Oversight and Reform holds a hearing on soon-to-be-introduced legislation by House Speaker Paul Ryan on improving federal systems and protections for data collection and research evaluations. That legislation is intended to begin to implement recommendations by the Commission on Evidence-Based Policymaking.
Photo Source: Getty
Related:

A version of this news article first appeared in the Inside School Research blog.