Debbie Stier, the author of The Perfect Score Project: Uncovering the Secrets of the SAT (Harmony, 2014), chronicled a year-long project in which she took the SAT seven times to help motivate her teenage son Ethan to study for the SAT.
BookMarks caught up with Ms. Stier over email about the project's origins and her thoughts on how students can prepare for the SAT. The second installment covering Ms. Stier's suggestions for parents and educators to help support students' efforts will be posted tomorrow.
What is The Perfect Score Project?
The project was initially an attempt to motivate Ethan to care about the SAT enough to study hard and reach his potential. However, I didn't expect Ethan to pull off a perfect SAT score.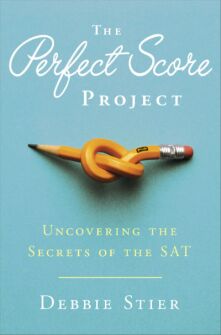 I started my research by subscribing to the College Board's SAT Question-of-the-Day. The questions were like a puzzle first thing each morning, and a week or so in, I got hooked and, in a moment of unbridled enthusiasm, declared I was going to try to get the perfect SAT score. Not too long after I decided I would take the SAT myself, my personal project became a book project, for which I took the SAT every time it was offered in 2011 (seven times in all), the year before my son would be taking the SAT. I also took the test at five different testing locations. At that point the project turned into a "consumer reports" on test prep and the test itself.
The real miracle of our family SAT project wasn't our score gains. The real magic was that my teenage son morphed from a little tadpole happy to slide by in school doing the least amount possible into a goal-oriented and motivated young man. Ethan learned how to work, and he gained confidence by reaching (actually, surpassing) his own score goal. He ended up using the lessons he learned from the SAT project and finished high school with his highest GPA ever, post-SAT. He entered college with expectations and confidence I don't think he would have had had we not done the family SAT project together.
How did modeling the behavior you hoped to instill in Ethan affect his study habits for the test?
By the time I reached adulthood, I was hard-working and goal-oriented, but my hard work mostly took place out of sight, in my office at work. Everything changed when I studied for the SAT. When he saw me studying and my scores increasing, it registered, probably more than he let on at the time.
Ethan set his own SAT score goal, which we agreed on, and mapped out a study plan, which he stuck to. His plan was methodical and long-term, lasting almost an entire year. We plotted his scores on a graph, and a few months into his plan he saw the line going in the right direction. That motivated him. He loved to study his numbers on those graphs!
Ultimately, he beat his score goal by 30 points and the confidence he gained from reaching his goal was marked. I don't think he'd ever accomplished a big goal like that, and I'm not sure he really believed he could.
Before the project, Ethan thought that if someone did better than he did in school, it was because they were smarter than he was. "Not true," I'd tell him (as I'm sure most mothers would say). "They studied harder than you," I'd tell him. After achieving his goal, Ethan started to believe that he could "do it" (whatever "it" might be) through goal-setting, mapping a methodical plan, and then following through on that plan.
The project taught Ethan that he could achieve much more than he thought he could through sustained hard work. He took that work ethic with him through the rest of high school, and his GPA improved as a result. He's also continued to employ that strategy in college.
How can developing a love for the test material turn the SAT preparation into a positive experience for young people?
I always say, "love it and it will love you back."
"Love" (I'm obviously using the word loosely here) is where the rubber meets the road--whether we're talking about cooking, studying, or getting in shape. My experience is that I achieve more if I can somehow find the love for what I'm doing.
I think the same goes for school. My kids will sometimes say, "I hate this or that assignment, or teacher, or book." I always come back with the same idea: "Can you stay open to the possibility that we might find something for you to love about it?" which will usually get me a "yes." Then I go down the list.
One final note: not being prepared is a miserable experience no matter how you slice it. Being prepared feels good.
A version of this news article first appeared in the BookMarks blog.