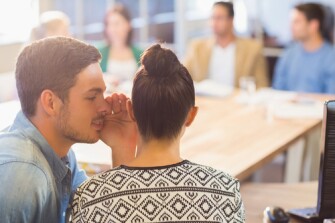 It usually starts small. For example, we question one of their directives or an initiative. After we walk out of the room, the people who are packing up their belongings still sit in the room after we leave. Based on experience, they know what's coming, and they sit there anyway. The teacher or leader in charge with the big idea makes a negative comment about our not being on board with them.
...and then leaves it at that.
Perhaps one person stays behind to hear a bit more of the juicy details, and then another calls the person in charge to get a little more of the back story about why we would disagree with them. Momentum begins to build from there. What started out as a comment after we left the room has now flowed into a conversation with one leader or teacher...and then another.
A few weeks later another administration or professional learning community meeting ends, and we leave to go back to where we need to be, and the person facilitating begins dropping more hints that we're not on board with the decision. They don't say anything to us. They don't call or meet with us to get your reasoning, because it's much easier to work on the folks left in the meeting after we leave. A few more people come into the fold, because they certainly don't want to be on the outside looking in, so they stay to listen and perhaps even add to the conversation.
Momentum continues to build.
Bullying and talking behind ones back doesn't start and stop with elementary, middle and high school students. It's part of adult behavior as well. And it happens in classrooms, faculty rooms and closed door administration meetings as well. It's more high stakes at the adult level, because the person doing the talking, spreading the rumors, has more to lose than they did as a students.
There are always meetings after the meetings.
Where Compliance Begins
In a climate or culture where we know that our lack of support or disagreement with decisions will get us talked about after we leave, compliance happens more and more. Even when our group is supposed to be working in collaboration. After all, who wants to be talked about after they leave the room? Cliques don't end when we leave high school. They remain when we're there to work as teachers and principals too.
As a former principal I used to think this didn't happen, but over the last few years I have come across more and more examples of how it does. Although discourse should be part of the learning process in schools, many leaders (teacher or admin) want to be surrounded by "Yes," people. Arguing and questioning are something they find annoying. Perhaps it's because they feel like they no longer have time for talk, and other times it can be chalked up to the fact that they don't have all the answers and don't want everyone to know it.
Collaboration is certainly complicated.
In a Twitter chat I moderated on Saturday (#Leadupchat focusing on collaboration) leaders, teachers and specialists Tweeted how collaboration needs trust, and some shared short Tweets about how their leaders or colleagues faked collaboration when they really wanted compliance. And they could tell, that although they were there to "collaborate," it was really compliance that the leader wanted from the group.
Perhaps the leader tries to chip away at your credibility by talking about how you may not be as successful as you think or that not everyone around you loves your ideas. Of course, they never say that to you...they wait until you leave the room. It's all very pervasive.
In conversations with those colleagues around you they drop hints at your lack of success or understanding of why the initiative needs to be followed through, and it flows like a river down for other people to see and hear. Every time you leave the room, or never entered it in the first place, they give a little more information...or misinformation...in order to build their own momentum and build their own consensus. Making you look bad is merely part of the process because you are getting in the way of what they want.
Why Collaboration Doesn't Work
Collaboration doesn't work because we want people to meet us where we want them to be, and not necessarily where they are. Sometimes people in charge are okay with a lack of understanding, and will help explain things. Other times they roll their eyes, or become condescending because they want us to know they know more than we do.
In many circles, collaboration is just code for getting what we want. It's not about finding the best decision for the whole group. It's like the old days of shared decision making where you are on our side as long as you share in the decision we are making. Argue and question -- that will get you on the wrong side of the team.
Collaboration is hard because we have to suspend what we believe as individuals in order to come together as a group. Not all leaders are prepared for that because they are either too insecure to let their way go to the wayside, or they have to control the process so they get what they want. Some leaders want teachers to collaborate but do not expect it of themselves.
In the End
When we talk about things like collaboration, taking risks, growth mindsets, and innovative mindsets, we have to understand that none of them will ever happen without a proper school climate. Trust starts from the top down, and if leaders don't trust each other, the insecure ones will have a building filled with teachers and staff that may not trust them. Faculty meetings, PLC's and critical friendships will all be at risk.
It's not always easy, but being open and honest, and understanding discourse is an important part of the learning process for adults and students. The stakes are high these days, and behavior among adults changes when the stakes are so high. It can lead to disruptive and destructive behavior, and sometimes it all starts with one comment after you leave the room.
Peter DeWitt, Ed.D. is the author of several books including Collaborative Leadership: 6 Influences That Matter Most (September, 2016. Corwin Press). Connect with Peter on Twitter.
The opinions expressed in Peter DeWitt's Finding Common Ground are strictly those of the author(s) and do not reflect the opinions or endorsement of Editorial Projects in Education, or any of its publications.