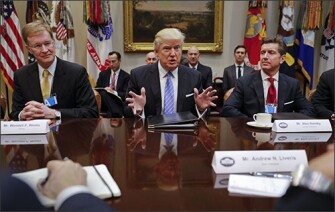 President Donald Trump has declared Jan. 22 to Jan. 28 of this year to be "National School Choice Week" and called on states and localities to expand education choice to "truly make a great education possible for every child in America."
Trump's proclamation comes several days into the pre-existing National School Choice Week, which has been celebrated since 2011. That commemoration usually features students, parents, and other advocates highlighting the benefits of charter schools and other options all over the country. Several members of Congress spoke at such an event on Tuesday in Washington. This year's school-choice week began Jan. 22, two days after Trump's inauguration, and runs through Jan. 28.
"More choices for our students will make our schools better for everybody," Trump's proclamation reads. (The top of the release from the White House press secretary is dated Jan. 26, but at the bottom Trump said he was making the proclamation Jan. 25.)
Former President Barack Obama issued proclamations for a "National Charter Schools Week" several times during his administration.
School choice happens to be front-and-center right now in national debates about education, in large part because of Trump's nominee for education secretary, Betsy DeVos. She is best known for lobbying for private school vouchers, education savings accounts, and other forms of choice. The national teachers' unions and other advocacy groups oppose her for that reason, although she has the backing of many Republican governors.
During the presidential campaign, Trump proposed a $20 billion federally backed voucher program designed to aid up to 11 million students from low-income backgrounds. It's not clear if that specific proposal has much of a future on Capitol Hill, but GOP lawmakers have generally expressed an interest in expanding choice in some way during this Congress.
Here's Trump's full proclamation:
The foundation of a good life begins with a great education. Today, too many of our children are stuck in schools that do not provide this opportunity.
Because the education of our young people is so important, the parents of every student in America should have a right to a meaningful choice about where their child goes to school.
By expanding school choice and providing more educational opportunities for every American family, we can help make sure that every child has an equal shot at achieving the American Dream. More choices for our students will make our schools better for everybody.
Our country is home to many great schools and many extraordinary teachers—whether they serve in traditional public schools, public charter schools, magnet schools, private or religious schools, or in homeschooling environments.
With a renewed commitment to expanding school choice for our children, we can truly make a great education possible for every child in America.
I commend our Nation's students, parents, teachers, and school leaders for their commitment to quality, effective education, and I call on States and communities to support effective education and school choice for every child in America.
As our country celebrates National School Choice Week, I encourage parents to evaluate the educational opportunities available for their children. I also encourage State lawmakers and Federal lawmakers to expand school choice for millions of additional students.
NOW, THEREFORE, I, DONALD J. TRUMP, President of the United States of America, by virtue of the authority vested in me by the Constitution and the laws of the United States, do hereby proclaim January 22 through January 28, 2017, as National School Choice Week.
IN WITNESS WHEREOF, I have hereunto set my hand this twenty-fifth day of January, in the year of our Lord two thousand seventeen, and of the Independence of the United States of America the two hundred and forty-first.
DONALD J. TRUMP
Photo: President Donald Trump speaks while hosting a breakfast with business leaders in the Roosevelt Room of the White House on Jan. 23. At left is Wendell P. Weeks, Chief Executive Officer of Corning, at right is Alex Gorsky Chairman and Chief Executive Officer of Johnson & Johnson. (Pablo Martinez Monsivais/AP)