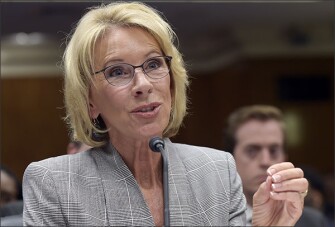 Back in February, President Donald Trump asked U.S. Secretary of Education Betsy DeVos—and the rest of the cabinet—to toss out regulations and guidance that was either "burdensome" or expensive for school districts, states, and colleges to implement. The idea was to get rid of regulations that are redundant, "inhibiting job creation," or outdated.
So how is that going? DeVos and company issued a 66-page progress report on their efforts Thursday, saying that her department was looking at 150 regulations—impacting everything from Title IX to student privacy—and 1,677 pieces of policy guidance, impacting the Every Student Succeeds Act and other key laws. You can check out a long, long list of regulations and guidance that the department is looking at, starting on page 14 of the report.
The report doesn't mention any new regulations that are headed for the trashcan, although it does note that the Trump administration has already hit the pause button on Obama-era regulations that impact for-profit colleges.
And the report gives a little bit of a behind-the-scenes look at how, exactly, the department is going through this regulatory review and potential purge.
For instance, on page 12 of the report, you can find a list of the career staffers and political appointees who are on the "regulatory reform task force." It's lead by Robert Eitel, a senior counselor to the secretary, as well as Elizabeth McFadden, the deputy general counsel for ethics, regulatory services. And it includes Jason Botel, the acting assistant secretary for elementary and secondary education; Ebony Lee, the deputy chief of staff for policy; Jim Manning, the acting undersecretary for education, and a host of others.
And the agency says it will be reaching out to advocacy groups for their feedback, including the Council of Chief State School Officers, the National Governors Association, and groups representing district and tribal leaders. The department has already asked the education community for its ideas of regulations and guidance to scrap, in a federal register notice published Wednesday.
All of these announcements on slimming down the department's regulatory role may come at a bit of an awkward time for DeVos & Company.
State leaders and their advocates say the department has overstepped its bounds in implementing ESSA. To clear things up, the department published its own guidance document—a list of frequently asked questions—but some advocates say that didn't help much.
Education Secretary Betsy DeVos testifies on Capitol Hill in Washington, Tuesday, June 6, 2017, before the Senate Appropriations Committee, Labor, Health and Human Services, Education, and Related Agencies Subcommittee hearing on the fiscal year 2018 budget. —AP Photo/Susan Walsh