UPDATED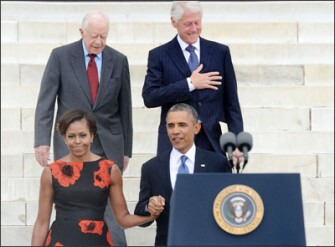 As thousands descended on Washington today to celebrate the 50th anniversary of the historic civil-rights march, schools across the country are infusing the lessons of that movement— and the epic speech by Dr. Martin Luther King Jr.—into their classrooms.
The March on Washington culminated with a 26-minute speech on the steps of the Lincoln Memorial by President Barack Obama—who made history in his own right—and who has made education a key part of his domestic policy agenda.
In reflection, he said, "Because they marched, doors of opportunity and education swung open so their daughters and sons could finally imagine a life for themselves beyond washing somebody else's laundry or shining somebody else's shoes."
Obama used education as a common thread through this lofty, sweeping speech that touched on the broad themes of economic and social opportunity.
He urged Americans to find the same courage those who marched 50 years ago did.
"With that courage, we can stand together for the right of every child, from the corners of Anacostia to the hills of Appalachia, to get an education that stirs the mind and captures the spirit and prepares them for the world that awaits them."
And, he emphasized that there are those who march—in the figurative sense—as part of an everyday struggle to improve opportunities.
"That tireless teacher who gets to class early and stays late and dips into her own pocket to buy supplies...she's marching," he said.
Yesterday, U.S. Secretary of Education Arne Duncan talked about the role of education in the current civil-rights agenda, declaring that integration alone does not lead to a world-class education.
Here's a sampling, via Twitter, of how teachers are teaching the civil-rights movement today:
@PoliticsK12 @educationweek Martin Luther ditched his speech written for him at last minute and went with his own. #courage

— kelly clarke (@kclarkeccds) August 28, 2013
@PoliticsK12 @educationweek .@BadassTeachersA I plan on telling students that real people were behind the civil rights act, not corporations

— ctbadassteachers (@ctbadassteacher) August 28, 2013
.@PoliticsK12 @educationweek ask them to think about what they would march for today. #ed #marchonwashington

— Andrew Serrano (@andrewserrano52) August 28, 2013
@PoliticsK12 I teach HS and we will be talking about students experiences and how they can make the future better.

— katherineislay (@katherineislay) August 27, 2013
@PoliticsK12 we are encouraging teachers to use it as a learning opp for civic literacy and problemsolving //t.co/wDkdu6UkIY

— GenerationNation (@GenNation) August 27, 2013
@PoliticsK12 planning on reflecting on the cycle of history, the pace of progress, and asking if Dr. Kings dream is fulfilled

— Kayleigh Durkin (@kilodelta86) August 27, 2013
President Barack Obama, first lady Michelle Obama along with former Presidents Jimmy Carter (rear left) and Bill Clinton (rear, right) attend the "Let Freedom" ceremony to commemorate the 50th anniversary of the March on Washington for Jobs and Freedom at the Lincoln Memorial on the National Mall Wednesday in Washington.
--Olivier Douliery/Abaca Press/MCT