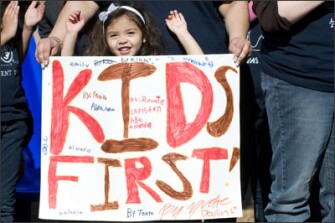 A group of California parents seeking to overhaul a low-performing school won a legal victory when a judge ruled that they collected enough signatures to revamp the school's operations and convert it to a charter school.
San Bernardino Superior Court Judge Steve Malone overruled the objections of district officials in the Adelanto school system, northeast of Los Angeles, who had concerns about a parent-led effort to bring about structural changes to a school, Desert Trails Elementary. District leaders questioned the validity of many of the signatures and argued that parents were given false information about the petition drive.
But Malone, in an order issued last week, rejected those complaints, ruling that the parents' signatures were collected in a way that "was not misleading or [the cause of] confusion."
The Adelanto case represents what is probably the most widely publicized, and contentious, effort to date to take over a school through a "parent-trigger" policy, one that gives parents broad power to shape the direction of academically struggling schools, if they can secure the approval of a majority of parents.
California legislators approved a parent trigger law in 2010, though the signature-gathering process has never been used to successfully transform one of the state's academically teetering schools.
Since then, a number of other states have either debated or approved trigger laws that give parents similar degrees of power. Backers of parent-trigger policies say they provide parents with the leverage to bring about meaningful academic improvements and changes in leadership at schools that are resistant to change. But parent-trigger plans have drawn strong resistance from some parents and teachers, who regard those policies as a divisive and counterproductive, and warn that the policies will result in parents being manipulated by charter school management organizations.
Adelanto district officials and school board members had rejected petitions submitted by parents in the community, saying those documents were riddled with flaws, from missing dates and names to questionable signatures from adults who may not have been connected to the students. Some parents, the district said, were given false information about the purpose of the petition.
But Malone said backers of changes at the schools were up-front with the public during the petition drive, and that mistakes in their documents did not confuse those who signed on. The judge ordered the board and district to "immediately begin the process of soliciting and selecting charter school proposals."
Carlos Mendoza, the president of Adelanto's school board, said the panel has not decided on how to respond to the ruling, but he hoped it would appeal.
Mendoza said he believed many parents in the community were being manipulated by backers of the school overhaul, including an organization that has been active in the effort, Parent Revolution. It's unclear, he said, whether proponents of changes in Adelanto want the school converted to a charter, or are simply seeking other structural changes—and the public has a right to know what those plans are, Mendoza said.
"I am not concerned about converting Desert Trails into a charter school as long as the board has a say with community input on what that charter school will be," Mendoza said in an e-mail. As it now stands, he added, the board and community could be subject to a "bait-and-switch" in which the school community is led to accept a poor plan for changing the school.
At a news conference on Monday, Doreen Diaz, one of the parents who organized the petition effort, called the ruling "a victory for our children," which would improve the Desert Trails school.
"We are on the way to making it a quality school for them, and there's no way we'll back down," Diaz said.
Parent Revolution's executive director, Ben Austin, called the decision "historic," in that a court was validating the parent trigger process and a community's use of the law.
"There's no roadmap, no handbook," Austin said of the parents' efforts. "That's what happens when you make history."
Photo: Alyssa Mora, 4, cheers during a Desert Trails Parent Union press conference in January, where parents called for California's parent trigger law to be enacted to force the elementary school to be converted to a charter school. (David Pardo/ The Victor Valley Daily Press/AP-File)

A version of this news article first appeared in the Charters & Choice blog.